The spice is right, come on down and join us as we take a grand culinary tour around India, without having to set foot inside a single airport.
From the mountains of Jammu in the north to the southern backwaters of Kerala; from the west Goan coast to the rainforests of Assam in the East; India's food heritage is a beautiful blend of its rich history and diverse geography. Much of it is well-represented here in the UAE, and what more enjoyable way to navigate it, than with your taste buds.
North India
Yes yes, we know you love butter chicken, that glorious golden comfort food made with lashings of rich ghee. But North India has so much more to offer. Try for instance –Amritsari kulcha, chole bhature, Kashmiri rogan josh, Rajasthani dal-bati churma, or old Delhi's version of the mughlai kabab. For North Indians dairy is often equal to, or greater than, life – so no traditional meal is served without milk-based desserts like kheer, kulfi.
Kulcha King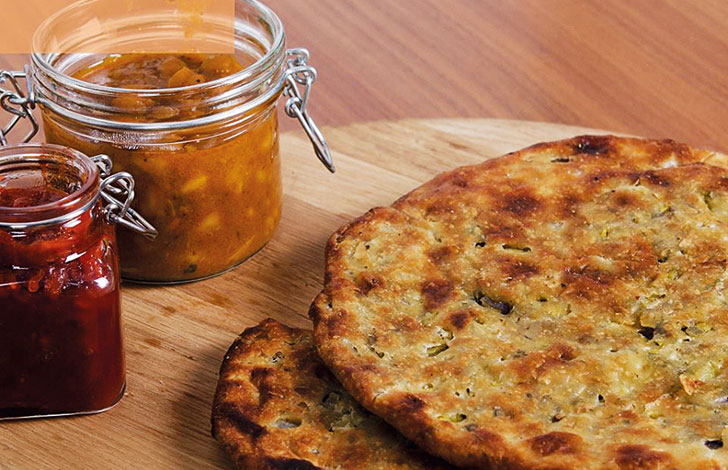 Go to this affordable Punjabi restaurant to try some authentic Amritsari kulcha. Though many struggle to differentiate between Amritsari kulcha and stuffed naan, for us – there are subtle differences that mean the former always wins over the latter. Kulcha King, located at multiple locations in Dubai serves kulchas with a bowl of chickpea masala and chutney. The combination is a stone-cold classic, and with dishes priced from AED 15 we are fully onboard. There's a variety of stuffings available, with the most famous ones being gobhi (cauliflower), aloo (potato), onion or 'all of the above'. If you can't live without carbs, this could be your new home.
Locations across Dubai. 800 585 242.
Mughal e Azam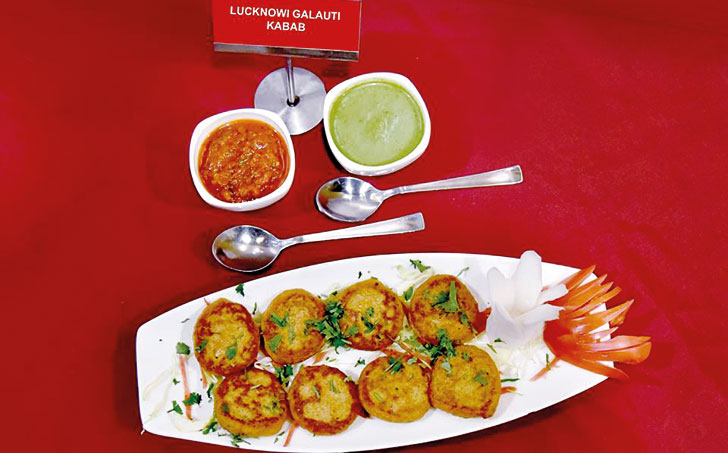 Mughal e Azam is an authentic mughlai restaurant which takes you on a flavour safari round Old Delhi. The fine-dining restaurant offers a balance of authentic flavours and techniques with origins that stretch back two centuries to the royal mughlai kitchens. This hidden gem in Discovery Gardens is home to arguably the best mutton seekh kebabs (AED 35) in Dubai. Also check out the Lucknowi galauti kebabs (AED 26), and chicken kali mirch tikka (AED 28).
Discovery Gardens. 11.30am-1am. 04 368 4280.
Khyber – DUKES Dubai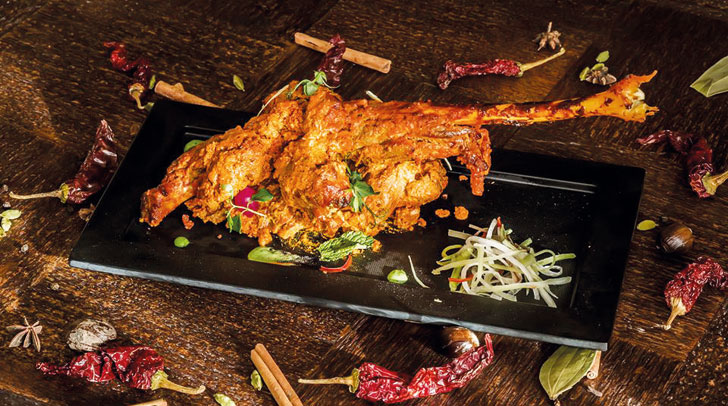 Khyber in British hotel Dukes Dubai hosts a perfect round up of North Indian dishes. The menu highlights include kebab platters (from AED 60); butter chicken (AED 95); murg methi (shredded chicken cooked with fenugreek leaves) (AED 85), rogan josh (slow cooked lamb with spices and special Kashmiri red chili) (AED 90), and an array of vegetarian dishes – bhindi masala (ladyfingers) (AED 60), shahi kofta (cottage cheese dumplings with creamy gravy) (AED 75), dal makhni (black lentils) (AED 55). There's a big dessert selection too, including gulab jamun (golden dumplings) (AED 40) and matka kulfi (AED 40). All in all, it's a good effort at a comprehensive North Indian menu.
Palm Jumeirah. 5pm-11pm. 04 455 1625.
West India
The western region of India includes the states of Gujarat, Maharashtra, and Goa. Gujarat's cuisine is famous for its big vegetarian thaalis (platters) which consist of different dishes like farsan (snacks), rice, chapati and sweets.
In Maharashtra, the coastal areas are famous for malvani and saoji cuisine (fresh coconut-based hot and sour curries with fish and seafood), while the inland areas are famous for vidharba cuisine cooked with a lot of dry coconuts. Goa is a haven for fresh fish and seafood. Famous dishes include vindaloo and xacuti.
Eric's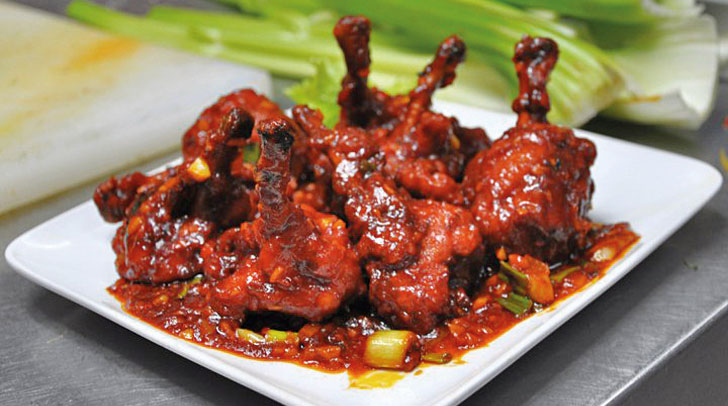 This hidden gem in Karama is without question one of the finest purveyors of Goan cuisine in Dubai. The food comes in at incredible value and is cooked with authentic local Goan spices and menu highlights include tawa prawns (AED 30), crispy baby corn (AED 28), the chicken xacuti (AED 26), the Goan prawn curry (AED 28), pan-fried fish (from AED 20). The restaurant has capitalised on its popularity and now has a branch in Al Safa.
11.30am-3.30pm, 6.30pm-midnight. Karama. 04 396 5080.
Rasoi Ghar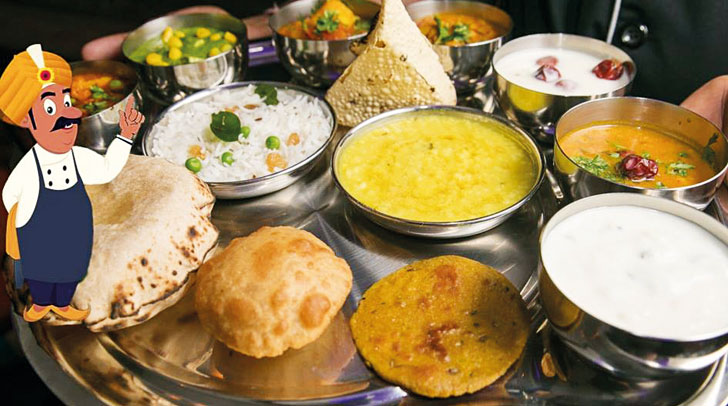 Also located in Karama, this popular Indian restaurant serves authentic flavours of Gujarat, Kathiyawad and Rajasthan. As mentioned above, this region is famous for its thaali culture, and Rasoi Ghar serves different thali seven days a week. The restaurant offers a deal where diners get access to unlimited top-ups from around AED 45.
12pm-3pm, 7pm-11.30pm. Karama. 04 388 5722.
Peshwa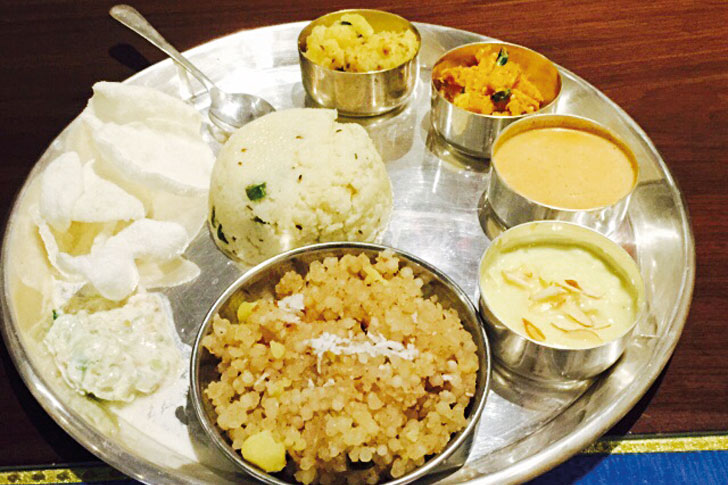 Peshwa is ALL ABOUT the wholesome Maharashtrian food. The restaurant even goes so far as to claim that it is the only restaurant in Dubai serving authentic Maharashtrian cuisine. Menu highlights include sabudana khichdi (shallow fried sago with freshly ground roasted peanuts) (AED 18), wada pav (potato dumplings) (AED 7), misal pav (dish of spicy gravy and sprouts, topped with gram flour crisps) (AED 20), malvani tikka (AED 32), prawn tikka (AED 35), matki usal (AED 20), daal methi (lentils with fenugreek leaves) (AED 22), and chicken saoji (AED 32).
9am-11.30pm. Karama. 04 379 5520.
East India
The region of East India includes the states of Sikkim, Manipur, Nagaland, Mizoram, West Bengal, Assam, Arunachal Pradesh, Meghalaya, Tripura and Orissa. The vast region comprises awesome topography – beautiful beaches and dizzying mountain ranges. Beating London at it's own game, Chirranpunji in the East of India, has the highest rainfall of any city in the world. Locals eat lots of rice, fruit and vegetables as the weather allows for bountiful harvests.
Popular dishes include momos (steamed, meat- or vegetable-filled wontons); machcher jhol (fish curry); and jhaal-muri (a spicy snack made with puffed rice and mustard oil); and kathi rolls. It's also famous for its sweet treats, the most popular of which are sandesh (made of paneer and sugar) and rasgolla (dumplings in syrup).
Yalla Momos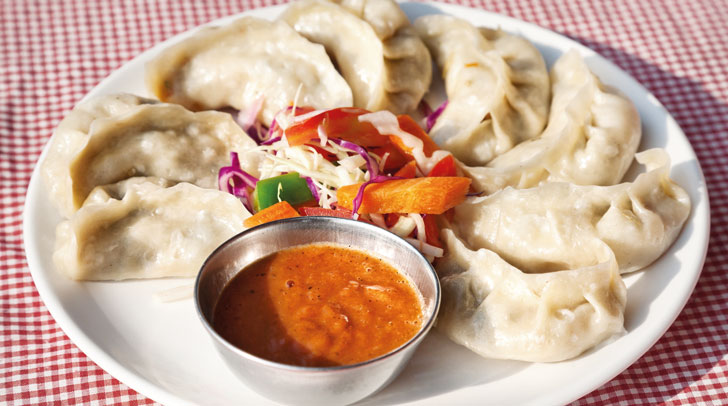 Yalla Momos has multiple outlets across Dubai, but our favourite is the one in Karama. Here you'll find massive quantities of moreish momos (dumplings). The pockets of flavour were inspired by their Chinese counterparts, but are filled with a kaleidoscopic range of Indian flavours. Dig into this desi dim sum – packed with chicken, mushroom, spinach and more (priced from AED 15).
8.30am-midnight. Karama. 04 385 2233.
South India
Karnataka, Andhra Pradesh, Tamil Nadu and Kerala are the South Indian states offering some of the spiciest food. Coconut oil is used in much of the cooking and curry leaves, mustard, asafoetida, pepper and peppercorns, tamarind, fiery chillies and fenugreek seeds feature are amongst the most popular spices.
Tamil Nadu is famous for its very spicy chettinad cuisine and is globally known for dosas, uthapam and vada. Kerala is renowned for malabari cuisine with a variety of seafood; whilst Hyderabad (Andhra Pradesh) is known for its biryani and nizami cuisine with nuts, dried fruits and exotic spices like saffron and Karnataka for bisi bele bhaat (lentil rice) and vangibath (fried aubergine rice).
Golconda Paradise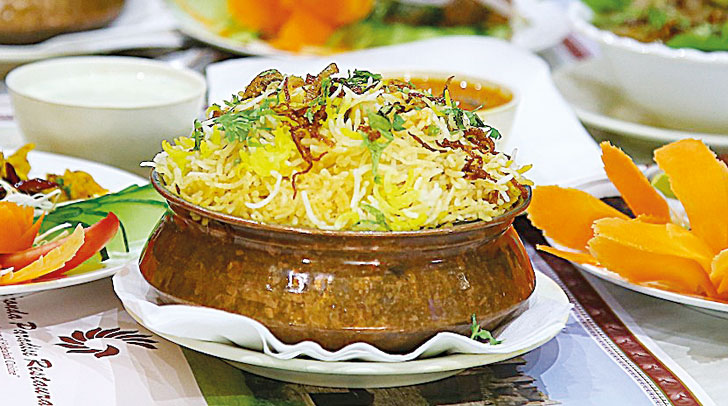 If you are looking for an authentic Hyderabadi biryani taste, hunt no further than Golconda Paradise restaurant and its homage to the humble Hyderabadi biryani. Their Kachchi Aqni ki Dum ki Biryani (AED 23) is one of the finest examples you'll find in this region. The set business lunches are great value too, at AED 22 for two courses, plus dal and bread.
12pm-11pm. Al Nahda and Oud Mehta. 04 397 9597.
Sangeetha vegetarian restaurant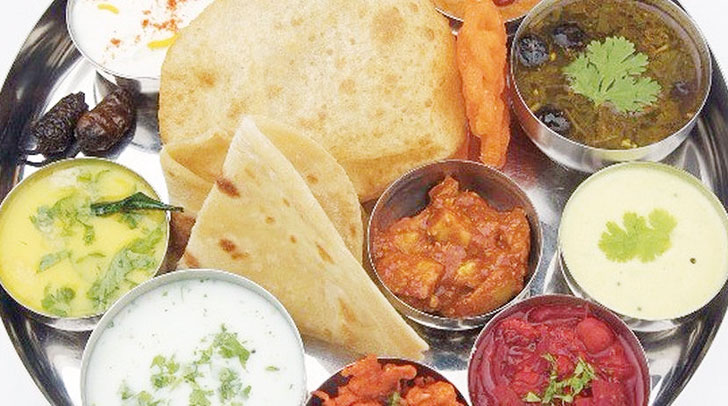 Stuff yourself with generous Chennai thali (AED 19.50), made up of least 10 delightful mini dishes. Or how about a 'quick meal' with lemon rice, sambhar rice or curd rice (AED 18.50)? For those who need a post-work boost, the best of the massive menu is Chettinad mini tiffin (AED 18.50), an evening dish of special vadas, idlis and sweets. The place is strictly vegetarian and is one of the most popular Tamil restaurants among expats.
7.30am-3.30pm, 5pm-11pm. Karama. 04 336 7111.
Calicut Paragon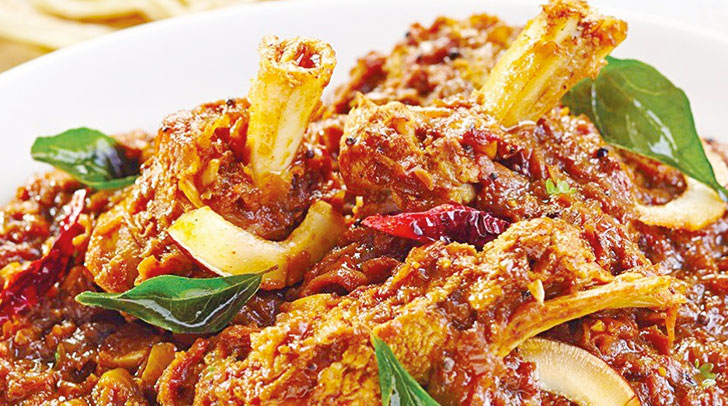 Malabari cuisine cooks seafood in local spices and serves it all on a banana leaf. Win. Among Calicut Paragon's tasty takes from the region is a delicious squid dry fry (AED 31.50). Other highlights when we visit include pearl fish cooked with traditional spices, chicken varattiyathu, malabar chicken curry and fish mango curry – prices vary, but happily not much is over AED 30. Order a few appams (hoppers) on the side to mop it all up, but leave room for the dessert menu, which includes tender coconut pudding (AED 15.75).
7am-12.30am daily. Karama. Also in Al Nadha. 04 335 8700.
MTR 1924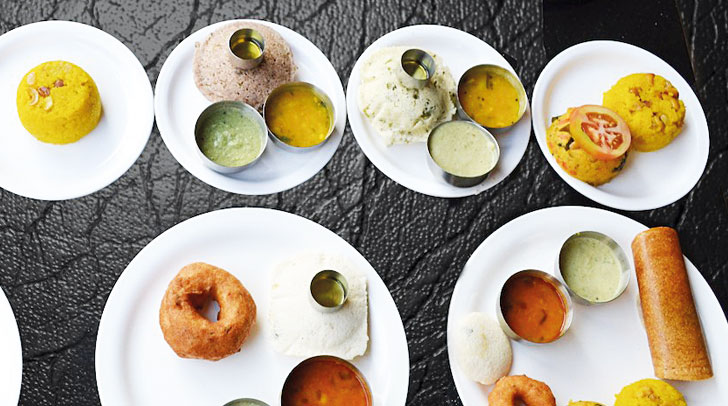 MTR (Mavalli Tiffin Rooms) has been serving authentic Karnataka and South Indian cuisine since 1924. When it arrived in Dubai, it made happy rumblings amongst Indian expats, representing a true taste of home. There is now a branch in both Mankhool and Karama. The menu highlights include vada (from AED 6.50), idly sambar (AED 10.50), poori sagu (AED 10), bisibelle bhath (lentil rice) (AED 12.50), chow chow bhath (AED 16.50), lunch and dinner platters and a variety of dosas (from AED 12).
7.30am-4pm, 6.30pm-11.30pm. Mankhool and Karama. 04 327 5909.