It calls for a ban on the use of electric shocks to treat mental illness
MPs from across the political spectrum are calling for a ban on the use of electric shock (ECT) as a psychiatric treatment in the UK and an urgent investigation into the practice.
MPs told The Independent that they were "really concerned" that voltage treatment was being given to women incorrectly, that patients were not properly informed about the potential side effects of the treatment, and that some patients had not given consent to the treatment beforehand. They got it.
read more
This section contains related articles, which are placed (in the Related Nodes field).
Public health physician Dr Pallavi Devulapalli warned that patients' well-being was "at risk" and called on the government to conduct an "urgent and comprehensive review" of the treatment.
Green Party Spokesperson for Health, Social Care and Public Health Dr. Devolapalli said he fears that "despite the reports, no new and reliable studies have been conducted on the subject of electric shock therapy since 1985. After the treatment, many people spoke of their harm and suffering, including "memory loss and fatigue".
Some patients say electroconvulsive therapy has helped improve their condition, while psychiatrists and the Department of Health and Welfare are closely monitoring the treatment to see if it can help those who have failed other treatments.
The calls come after reports in The Independent that thousands of women have received electroconvulsive therapy despite concerns that such treatment could potentially cause irreversible brain damage.
Health workers warned that severe side effects could leave patients unable to distinguish between family members or perform simple math calculations. The Independent previously revealed that ECT was disproportionately given to women, who accounted for two-thirds of the total patient population in 2019.
Robin Walker, Conservative MP for Worcester and chair of the House of Commons education committee, said he was concerned about ECT and was keen to ensure the government took an "evidence-based approach".
"In light of the concerns raised about ECT, we must call for a suspension pending a full review of the evidence and ensure that all orders are fully complied with," he added.
For her part, Marsha de Córdoba, the former shadow secretary for women and equalities, said it was "deeply worrying" that more women than men were being subjected to electroconvulsive therapy and that patients were "not receiving adequate warnings about the side effects".
The Labor MP for Battersea continued, "As this treatment can cause severe neurological disorders, I believe it should be suspended pending a review of its impact on patients' long-term health."
Dr Sue Cunliffe, who began using electroconvulsive therapy in 2004, previously told The Independent that the treatment "[அவரது]"Completely ruined life," and the psychiatrist told her she would suffer no long-term consequences.
Dr Cunliffe, a former pediatrician, said: "Eventually, I couldn't recognize my relatives or friends. I couldn't count money. I didn't know the multiplication table. I couldn't move anywhere. I couldn't remember events from one moment to the next."
Leading Liberal Democrat MP Leila Moran said her party supported calls from leading mental health charity Mind to review the way ECT is delivered, while warning that "patient experience and care" must be at the heart of any treatment.
Meanwhile, Nadia Witt, Labor MP for Nottingham East, backed the practice to be suspended pending an "urgent inquiry" and said "it is sometimes used on vulnerable women without their consent as a matter of particular concern".
Psychiatrists are legally required to obtain consent before treating a person with electric shock, but if a patient has been forcibly admitted to a hospital by law and refuses to undergo this treatment, the psychiatrist may decide that he is not competent to make this decision. His own.
Green Party co-leader Carla Denyer warned the treatment was "clearly being used in breach of specific recommendations from the National Institute for Health and Clinical Excellence (NICE)". Why "talking and other therapies are not provided". Treatments that doctors may prescribe.
The Royal College of Psychiatrists says evidence-based treatment is usually used for patients with severe depression when their condition is life-threatening or when their depression has not responded to other approaches.
A college spokesman said: "Like many medical treatments, the treatment can have side effects that vary in severity from one person to another, and the benefits must be weighed and discussed in detail with the patient, but most people who undergo ECT see an improvement in symptoms." ".
He said ECT could improve "very sick people" enough to "seek other forms of treatment" and help them "stay well longer".
"Banning or suspending ECT is preventing life-threatening patients from receiving effective treatment," the spokesperson added.
A spokesman for the Department of Health and Social Care said treatment was "closely monitored" under the Mental Health Act 1983 and they expected health workers and services to follow regularly reviewed guidance from the National Institute for Health and Medical Excellence.
"Through the draft Mental Health Bill, we are trying to strengthen this protection by mandating doctors to seek the approval of a second appointed doctor before providing treatment," the ministry representative added.
"Award-winning beer geek. Extreme coffeeaholic. Introvert. Avid travel specialist. Hipster-friendly communicator."
After victory against "Virus C" … Egypt seeks to eliminate the disease in Africa
On October 9, the World Health Organization, after an official campaign, announced that Egypt was the first country to reach "gold status" on the road to eliminating hepatitis C, also known as "Virus C", according to the organization's standards. At the turn of the millennium and reached the Egyptian government launched a national campaign to eradicate the disease in 2014.
But Egypt did not stop there, according to the newspaper report "The New York Times"The United States began to help other African countries get rid of the disease by sending medical aid to treat it.
For 7 years, Sulaiman Musa had been saving part of his little money in the fight against virus C, so the 27-year-old Ghanaian teacher living in Accra had his dreams and ambitions of getting married, building a house or lack of financial resources, starting a private project.
The US newspaper says he had good news last March when his doctor told him that the Ghanaian government had received medical donations, including treatment for hepatitis C, and that he could receive treatment for free. This aid came from Egypt.
In fact, Musa was on the pills within a few weeks, and his blood test in October showed that he was completely cured of the disease.
According to World Health Organization statistics, 58 million people worldwide are living with hepatitis C. According to its official website, although there is no vaccine for this disease, it can be cured with short-term and highly effective treatments lasting 8-12 weeks.
A significant change in Egypt.. WHO supports efforts to combat hepatitis
Under the slogan "One Life, One Liver", this year's World Hepatitis Day highlights the importance of the liver for a healthy life and the need to improve liver health, prevent diseases that affect it, and expand its prevention, screening and treatment. and achieve goals to eliminate it. The year is 2030.
4 out of 5 people worldwide don't realize they have hepatitis C, and the infection can lead to liver disease or cancer if left untreated or cured.
According to UN figures, Egypt has diagnosed 87 percent of those infected with the disease, and provided curative treatment to 93 percent of those diagnosed, exceeding the standard set for at least 80 diagnostic system gold levels. At least 70 percent of people living with "Virus C" are treated.
A different kind of diplomacy
The New York Times reported that Egypt had not given up on the idea of ​​eliminating the disease within its borders, but instead worked to capitalize on its success in a campaign of "health diplomacy" and pledged to donate medicine and share its expertise. Treating one million patients on the African continent.
Egyptian Health Minister Khaled Abdel Ghaffar was quoted by the newspaper as saying that the Egyptian government "saw an opportunity to share its expertise across borders and contribute to international health efforts." In the treatment of hepatitis, for the greater good of mankind." and strengthen its position in the international community.
According to World Health Organization statistics, about 300,000 people worldwide die annually from complications of hepatitis C infection, particularly those associated with cirrhosis and liver cancer.
The organization also said Egypt had gone from a country with one of the world's highest infection rates to one of the lowest, after reaching 0.38 percent instead of 10 percent in 10 years.
Starting from Ghana
The New York Times explained that Egypt chose Ghana to begin a partnership with the West African country in its response to the disease, considering it investing in building national health care.
Yvonne Ayerke Nartey, a Ghanaian doctor at the Cape Coast Teaching Hospital, worked to determine the number of victims and their locations in her country. Thanks to medical tests, I discovered that one in 20 people in the north of the country is infected with hepatitis C.
The newspaper added that its next step is to announce the coming treatment of the disease on local radio, Facebook and WhatsApp apps.
The drugs were already on their way from Egypt to Ghana, but the next step was difficult because Ghana has fewer than 20 doctors specializing in liver diseases. Nardi immediately started courses for doctors in each region.
"Most of them have never been treated for hepatitis C before because it's not treated here," he told the New York Times.
He explained that the first batch of Egyptian medicines will treat about 46,000 patients, and 300,000 will need treatment: "It's a big number, but we are ambitious."
According to the American newspaper, Egypt is working on parallel programs to combat virus C in other African countries such as Sudan and Chad.
"Award-winning beer geek. Extreme coffeeaholic. Introvert. Avid travel specialist. Hipster-friendly communicator."
Scientists are studying a spoon-sized sample from Bennu to determine the origin of life
Two conversations with Swindon and Khawazi and "Sales to Death" on the fourth day of "Marrakesh".
On the fourth day of the international film festival in Marrakesh, in its twentieth session, there were two dialogue segments with Scottish actress Tilda Swinton and Japanese director and screenwriter Naomi Kawase.
The film screening program continued with films scheduled in "Official Competition," "Panorama of Moroccan Cinema," "Honors," "Evolving Audiences," "Celebratory Screenings," and "Special Screenings."
An interview with Swindon
Within the framework of the section "A Dialogue with…" Swinton reviews the key stations in his professional experience, the directors he worked with and the paths of his cinematic creativity. He emphasized that the success of cinema projects lies in the nature of the relationship that unites the various parties involved in the artistic work.
The meeting with Swindon was an opportunity to see excerpts from some of his major cinematic works, which demonstrated his professional credentials.
Swinton, who was honored at the 19th edition of the Marrakesh Film Festival, said he was particularly interested in the problem of framing, and that he saw each character in a particular film as a self-contained unit.
In addition to reviewing his artistic career, Swinton shared with the audience his vision of the development of cinema in relation to several global crises, social developments and technological changes.
Swindon, who chaired the jury for the 18th edition of the Marrakesh Festival in 2019, is considered one of the most talented and renowned creators among women and children of her generation. the box She surprises the audience with every new creation. He is known as an integrated representative, with many features and choices at the diagnostic level. It gave it global presence and prestige.
Swinton recently starred in George Miller's "Three Thousand Years of Longing" (2022), Louis Anderson's "Asteroid City" (2023) and David Fincher's "The Killer" (2023). Venice Film is the official competition of the 80th session of the festival.
Interview with Kawas
For her part, Naomi Kavas spoke in her dialogue segment about her artistic beginnings, her vision of cinema and her relationship with it, stressing that filmmaking is a serious matter that monitors reality. He added that at the beginning of his career he did not see himself as a film director, before he discovered that he was called to seek answers to the questions he faced on an existential level.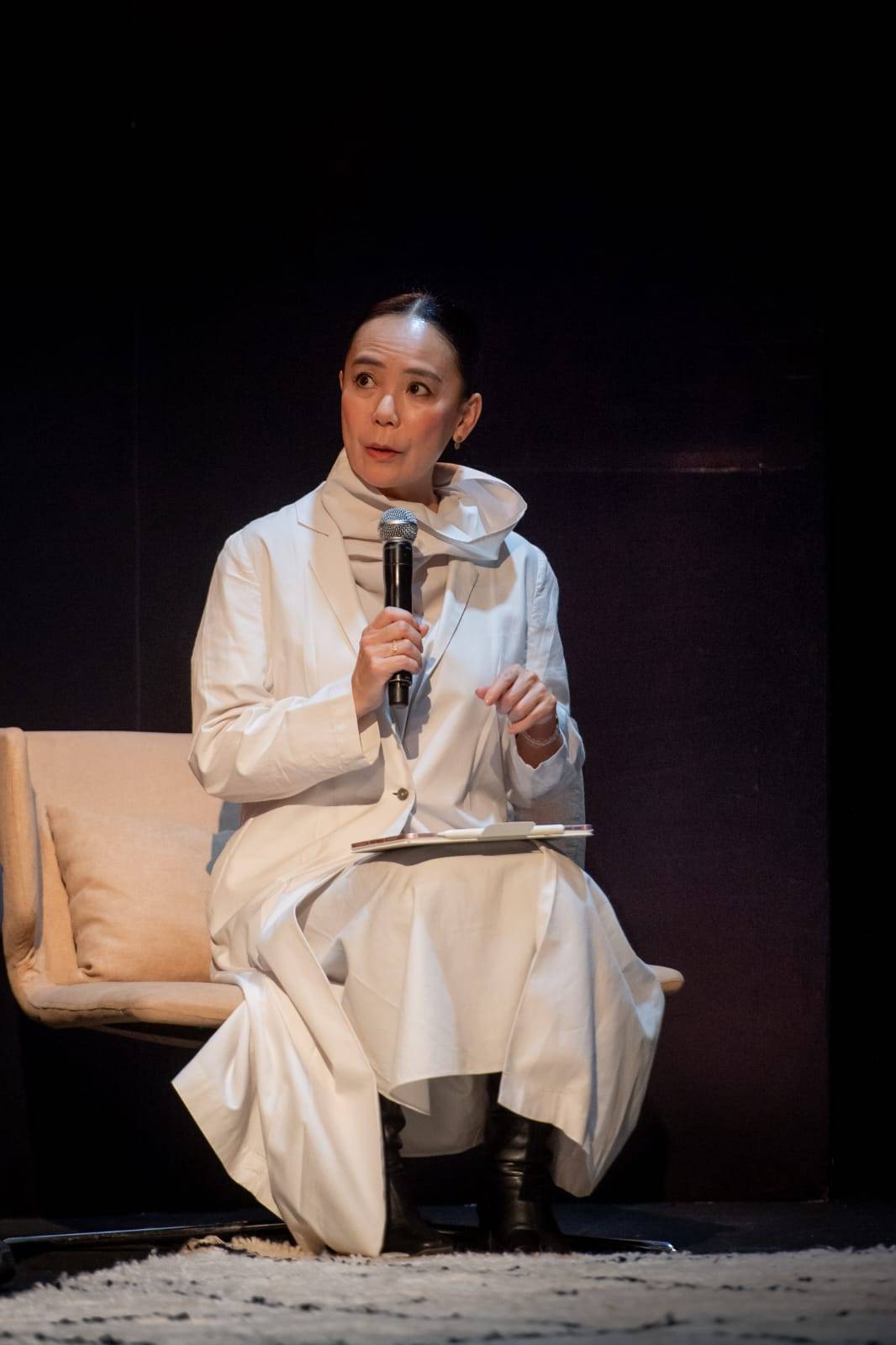 Kawasi recalls his first documentary experiences, which were immersed in thinking and portraying reality, questioning the world, tracking human frailty and the triumph of family values, while emphasizing that cinema should serve the people. I talked about the boundaries between documentary and fiction, the boundaries between reality and fiction, and I stopped at the actors' ability to act and create spontaneity, away from artificiality.
Kawasi draws inspiration from reality, while his films cross the boundaries between documentary and fiction. It has won several awards at major international festivals.
As he continues to explore new avenues of expression around the world, in 2010, Kawas founded the NARA International Film Festival in his hometown, where he dedicates his efforts to shaping the rising generations.
Kawas has written numerous articles and research, while pursuing her eclectic creativity beyond gender.
The dream of freedom and the pain of loss
The official competition of the Marrakech Film Festival continued with the competition of two new films. It is about its Turkish director Nehir Tuna's "The Dormitory" (2023) and its Colombian director Juan Sebastián Quebrada's "The Other Son" (2023).
The events of "The Dormitory" take place in Turkey in 1997, amid rising tensions between religious and secularists, when Ahmed, aged fourteen, was sent away by his father, who had recently converted to Islam. Islamic boarding school to imbibe the values ​​of Islam.
Despite trying to be an exemplary son, Ahmed struggles to adapt to the violence shown to him by the youth at the boarding school. He begins to feel isolated in his school and keeps his relocation a secret. Ahmed finds what he's looking for in his new friend, a resourceful kid who knows how to defy boarding school restrictions, so together they begin to dream of freedom.
While approaching the complexity of contemporary Turkish society, embedded in issues such as traditions or the preservation of masculinity, Duna remains his first film "The Dormitory", combining his critique of society with the film's aesthetics. He graduated from Sundance. Institute and laboratory selected to participate. Sundance Screenwriters Lab in 2019 and Directors and Screenwriters Lab in 2020.
"The Other Son" tells the story of Federico and his brother Simone, who live their youth to the fullest, until the day Simone dies as a result of falling from a balcony at a party. The family falls apart as Federico spends his last weeks of school trying to live normally. As he grieves, he tries to get closer to his brother's ex-girlfriend, Laura, with whom he seems comfortable.
A human drama about the pain of loss, the film highlights two ways to overcome the pain of losing a brother and a son. The first is through the character of Federico to leave the family for a period of time to forget what happened. , the second, chosen by the mother, is in living together… The pain of loss and recalling the memory of the deceased is the best way to honor the deceased and respect his soul.
Death for Sale (2011)
During the current session, it is one of the films selected as part of a special section honoring Moroccan director Fouzi Benzidi alongside Danish actor Mats Mikkelsen.
The film talks about the will of three marginalized and unemployed youths to overcome the social barrier and even commit crimes. Despite their different motives for robbing a jewelry store, they often disagree with each other to the point of violent fights. Malik, 26, is madly in love with Dunia and wants to free her from the world of prostitution. As for 30-year-old Allal, he dreams of making a living through drug trafficking, while 18-year-old Sophian harbors a desire to take revenge on society. It is common to rob a large jewelry store in Tetouan City. A destination desired by all three young men. Given the reality they suffer from, they have nothing to lose and fear nothing to achieve their goal.
"Award-winning beer geek. Extreme coffeeaholic. Introvert. Avid travel specialist. Hipster-friendly communicator."
Anat Login 1445 Link to Saudi Health Service site anat.sa/login
What are the steps to login? What is the link to the Saudi Health Service site? As Anah platform is considered as one of the most important and important health platform in Saudi Arabia, it provides many health needs and provides many electronic health services to health practitioners, so let's review the steps to login through the following. Ana stage.
Link to Saudi Health Service site
read more:In Simple Steps.. How to inquire about Saudi Residency Validity easily and convenientlyEnd of Service Account Scheme 1445 Public Pension System Enriches First Experience | New Al-Ittihad coach "Calardo" wins in defeating Uzbek team. Urgent: Good news to all the residents of Riyadh and the Crown Prince welcomes them. What are the best personality types? Personality Types in Psychology
The Anat platform, or the so-called "Saudi Health Service Platform", provides a wide range of health services to individuals in the Kingdom across all regions of Saudi Arabia.
This site operates in accordance with the instructions and guidelines of the Saudi Ministry of Health and if you wish to register on the site to receive the health services of the Ministry without visiting the actual sites and headquarters affiliated with the Ministry, you will have time. And try, here you are. Link to Saudi Health Service Platform "Anat Platform"..
Steps to login
If you want to complete the registration process within Anat platform "Saudi Health Service Platform", Saudi Ministry of Health has allowed you to complete the registration process in very few steps and you will complete the registration process in few minutes. Steps to register on the platform now:
to login

Anat Health Site

.

Login to Anat platform and write "username, password".
Enter your National Identification Number.

Then activate your account with your email.
Saudi Ministry of Health Contact No
If you have any inquiries or questions regarding the "Anana" service or other services included in the Saudi Ministry of Health, or if you wish to submit an objection or complaint, you can easily do so by contacting the number. 937 (Ministry's speedy and toll-free number).
At the end of our article, we learned We reviewed the steps to log into the Anat platform, including the link to the Saudi Health Service site. According to the future vision of the kingdom, it wants to develop all its individuals, centers and official institutions as a whole. With the pace of technological and electronic development in the country around the world, provide a stable and secure life to every male and female citizen.
Read more
"Award-winning beer geek. Extreme coffeeaholic. Introvert. Avid travel specialist. Hipster-friendly communicator."