Sudan Conflicts: How Residential Areas in Khartoum Turned into "Graveyards"?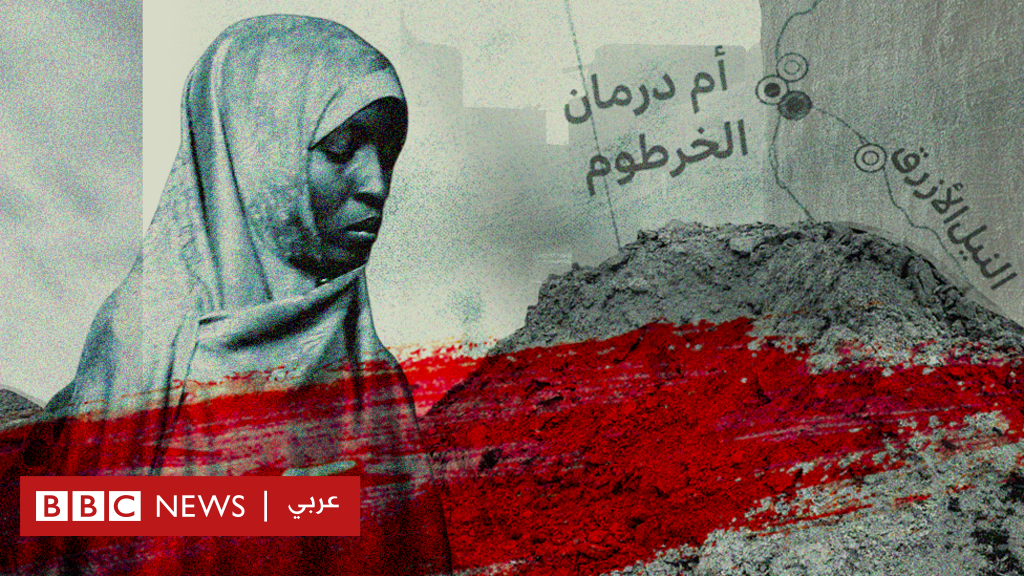 A stray dog ​​eats part of a dead body in front of the door of the house. An image that never left the imagination of Sudanese Omar (not his real name) who participated in the burial of at least 20 people in locations that varied between the courtyards of houses and the entrances to residential areas in Khartoum.
Less than an hour before I spoke to him, Omar had completed a grueling four-day road trip from his country of Sudan to Egypt. I waited about three days before he got to the point where he could receive calls, and he told us about his experience, in a phone call, his voice filled with sadness and disbelief.
"At least three people were inside the house during my burial, and the rest were at the main street entrance of my house. One of my neighbors was killed inside his house and I had to remove the tiles. A grave had to be dug in the yard to bury him. We could not move him to the grave because of conflicts."
Burial of the dead left behind in the war became necessary within the houses and residential areas of the capital, Khartoum, and as Jibril recounted to us, many corpses lay decomposing in the streets. And their body parts are devoured by stray animals.
"Often you open your door to find a dog biting off part of a dead body. We had to bury the dead, and many of their bodies were decomposing in the streets for a while. There are many tenements in the capital. Turned into cemeteries."
A few weeks ago, Omar took part – along with some neighbors – in burying four people at the entrance to the "Third Stage Extension" neighborhood in Khartoum, where he lives. He says many bodies were buried "in the Sudan University area, near the Sidon gas station and in the neighborhood near Muhammad Naguib Street."
Omar told us that there are no precise figures on the number of people illegally buried in backyards of houses and residential areas, but dozens in Khartoum could be estimated.
"Burying in homes and neighborhoods blurs the facts and deepens the crisis."
However, this method of burial has several drawbacks, which Sudanese authorities have described as inconsistent. Among its critics is Dr. Atiya Abdullah, secretary general of the Sudan Medical Association, who wanted to bury the dead in places other than cemeteries without permission, obscuring the facts surrounding the circumstances of their deaths.
"Burials in this manner are seen as hiding the facts, deepening the crisis and prolonging its duration. We know that the burials in this manner were done by the good intentions of the Sudanese volunteers, but it prevents the identification of the causes. The death, the identity of the deceased and the person responsible for his death."
Also, volunteers to informally bury the dead, Dr. According to Attia, burial rites have many considerations and may be subject to legal liability.
"During the burial, along with taking genetic samples, there should be official authorities, prosecution, forensic medicine, Red Cross and many monitoring agencies. Also, who gave them permission to bury? Burial cannot be justified under any circumstances without documentation."
"The important thing is to bury the dead, no Whatever where"
But Omar and others disagreed with this view, including Hamid, a Sudanese citizen living in the "Shambat al-Baraha" area of ​​Khartoum North. He was in an area where clashes are regularly renewed, specifically in the "18 Shambat Bahri" square, where he told me he found the bodies of three soldiers killed in a plane crash.
"I happened to be in the area and with a team, we removed the wreckage of the plane and took out the bodies. Some of them were burned, others were almost burned. We dug them up to bury them in the open courtyard around them. Through the residential buildings."
Hamid's tone changed as he recounted the moments of burying the body parts and he gradually began to cry.
Many people immediately take the initiative and bury the dead wherever they can find them, be it home, school or garden. Because it decomposes quickly due to increase in temperature. In Sudan, it is important to bury the dead wherever they are."
Hamed seemed to agree completely with Umar that leaving corpses in the streets would make them prey for the wrong animals. One thing that prompted me to ask Dr Abdullah – once again – was the reason for his opposition to the quick burial of the dead in house yards and neighborhood gates. A Sudanese doctor assured me that burying the dead in Sudan after fighting ends in places other than graves raises many questions and contributes to the loss of rights of civilians who have lost their lives.
"Especially when the investigations start, many questions surface. How did the death happen? Who died of bullets? Who died of looting? Who died of tribal issues? All these will be buried without knowing the truth. And it may lead us to a civil war. Rights are lost." Since many buried their relatives this way after the revolution.
Proper Burial Method and Potential Environmental Disasters
But how familiar are Sudanese volunteers to bury the dead in courtyards and at the entrances of neighborhoods? A question I had to turn to Hamid, who described doing this to me as an "act of charity" that many of his comrades were familiar with.
"Everybody knows that digging a grave must be at a certain level underground, at least one meter below the ground, and that is called the place of burial where the body is placed. The burial takes place. If the deceased is a Muslim, his body is covered facing the Qibla according to Islamic law, and he is a If a Christian, he will be prayed and buried."
Participants in the process of burial of the dead in places other than cemeteries are keen to clearly capture the faces of the dead so that their identities can be identified after the fighting is over and investigations are launched in this regard.
But Dr. Abdullah seemed determined to criticize this method of burial, and told me that it would result in what he described as environmental disasters.
"With this primitive method of burial, stray dogs are likely to dig up the burials easily. Bricks or other solid material are placed over the body, causing the dead to be buried incorrectly."
Home burial is the only solution.
In mid-May, video clips circulated on social media showing the moments two Sudanese female doctors of Egyptian origin were buried in the garden of their home in Khartoum's Al-Amarat neighborhood due to difficulty in exhuming the bodies. of the region, due to wars.
I contacted the brother of the two doctors, Majdolin and Magda Yusuf Ghali, and asked him about the circumstances under which they were buried in the garden of their house. His reply was succinct: "Burial indoors is the only solution now."
He was silent for a while and cried, "I never expected…I never expected. They buried me in the same pit."
I stopped the interview for a few minutes and did not ask any questions to the brother, who did not stop crying. He paused for a moment and then came back to me to resume the conversation: "They died inside the house 12 days ago and no one knew it. Neighbors complained of a foul smell coming from the house. So some went and found that they had been shot dead in an armed attack."
It took more than two days to write down the details that the brother of the deceased told me, assuring me that "many people in Sudan are now forced to bury their loved ones indoors."
Photographing and counting bodies before burial
Official organizations, particularly the Sudanese Red Cross and Red Cross, have been working to remove the bodies of the dead from the streets and bury them in cemeteries. We spoke to Hasan, one of the dead body management staff at the disaster and emergency department, who told us that his job involves handling citizen reports of dead bodies being dumped in neighborhoods and roadsides.
"I go to where the body is. I take photos from several directions and record in a file whether the deceased has any belongings or not. If he died recently or the body is rotten, I put the body in plastic. Prepare a bag for it, count it and bury it.
All these details are kept in a file, which Hassan says will make it easier for authorities to access future facts that may emerge in the context of investigations conducted after the wars are over. Horizon at the present time.
"Award-winning beer geek. Extreme coffeeaholic. Introvert. Avid travel specialist. Hipster-friendly communicator."
Scientists are tracking a tree in Brazil that was thought to have died out 185 years ago
I retired at 100… A centenarian talks about the importance of "being busy at work" to live a long life.
Madeleine Balto recently retired at the age of 100, having worked for more than 80 years – from the age of 18 to 99. According to a CNBC report, Balto believes work has contributed to his longevity.
Balto says of his previous job: "It kept me busy, and I enjoyed the work… As for retirement, I don't really like it."
The Balto family started an electric sign manufacturing business in Chicago, with Madeline responsible for office work. She often interacted with customers and it was her favorite job.
She said: "I loved interacting with people… and I was the only one in the office doing all the office work, so it was fun." "I loved going to work."
An 85-year-old Harvard University study found that positive relationships make people happier and help them live longer. For this reason, it is not surprising that Balto places a strong emphasis on the importance of family and friends.
Assistant Professor of Medicine and Genetics and Director of Human Lifespan Studies at the Albert Einstein Institute for Aging Research, Dr. Sophia Melman says. College of Medicine.
At 100, Balto maintains his sense of community by going out to dinner with his sons and attending family events. Finally attended a wedding earlier this month.
She also likes going to the Dunkin' Donuts branch every Sunday with her son to meet friends. "I look forward to it every week," he says.
Balto affirms that she is lucky; Because she has some friends of the same age who often come to her house for lunch.
She added: "They always invite me over and come over for lunch on Wednesdays at 12pm… we have fun together… without your friends, where are you, right?"
While maintaining healthy relationships is an important factor in living longer, there are other factors that contributed to Balto's longevity.
First, Mellman says, "In general, women's life expectancy is longer than men's…and we believe that genetics also has a significant relationship with longevity."
In fact, Balto's older sister lived to be 103 years old. "But she and I are the only ones who lived over 100 years," she says, referring to her parents, who died at 84, and her sisters, who didn't live very long.
I grew up on a vegetarian diet
Aiming to stay active, Balto says, "I'm still getting around better. I can walk up the stairs. I have energy; "so I'm in pretty good shape."
She also tries to eat as healthy as possible, something that started in her childhood, she explains: "When I was a child, there were seven children in the family, and my father was building a big garden, so we lived mostly. On vegetables. "There wasn't a lot of meat, we couldn't afford meat."
"I think that's probably why I eat healthier," she adds. Don't eat fast food now.
Millman says centenarians are generally more confident, and Balto fits that description. He says it's unclear whether centenarians are always positive, or whether they develop their positive outlook as they age.
Balto says she doesn't feel too nervous; Because "everything can be solved." She continues: "I'm very lucky; As I am 100 years old, I am in good health… I cannot complain about my health. "I'm walking, talking, no pain."
"Award-winning beer geek. Extreme coffeeaholic. Introvert. Avid travel specialist. Hipster-friendly communicator."
Jordanian woman with cancer during pregnancy gives birth in Abu Dhabi
Despite being diagnosed with colon cancer in the sixth month of pregnancy, a 36-year-old Jordanian woman overcame the difficulties and pains and gave birth to a healthy baby at Abu Dhabi – Burjeel Hospital. Rania Fuad Al-Sheikh suffered from severe abdominal pain throughout her pregnancy and as the weeks went by, her condition worsened and she became bedridden. Rania said: "When I found out I was going to be a mother for the second time, I felt it. Was very happy, but as my pregnancy progressed, I started suffering from severe pain and heaviness. "In my stomach and liver, in the sixth month of pregnancy, I was tired and had no appetite for food. I was transferred to the emergency room at Barjeel Hospital" Rania added: "I thanked God Almighty because we finally knew the cause of the pain and I was not sad because everything that comes from God is good. I wanted my baby to be healthy."
Dr Muhannat Diab, an oncologist at Burjeel Hospital in Abu Dhabi, said: When Rania first arrived in April, she was unable to move or speak because biopsies revealed an aggressive form of colon cancer called mucinous adenocarcinoma. While the patient was in critical condition, further tests showed that the child's condition was unstable, and realizing the seriousness of the situation, the hospital's multidisciplinary team came up with a comprehensive chemotherapy plan. When the patient was 26 weeks pregnant, after three days of chemotherapy, the patient was able to move and was discharged from the hospital a week after the first chemotherapy session. She continued to have weekly medical appointments during which the team monitored her. Until the baby is born. In the 35th week of her pregnancy, Rania completed five rounds of chemotherapy, underwent a caesarean section, and delivered her little boy weighing 2.32 kilograms.
"Award-winning beer geek. Extreme coffeeaholic. Introvert. Avid travel specialist. Hipster-friendly communicator."
The social consequences of the Al Hauz earthquake go beyond the economic damage
We read some newspaper articles on Friday and the weekend, starting with "Al-Ilm", which confirms that the earthquake that hit the Kingdom on September 8 may have social consequences, Ali Al-Shabani, a professor of sociology research. Going beyond economic and material damage, family structures are damaged when a family member dies, especially a parent, whose loss affects children and the family, contributing to the disintegration of the social fabric.
With the same media platform, the Regional Directorate of Equipment, Transport, Logistics and Water in Chichawa has taken several measures that made it possible to record the smooth flow of traffic on the classified and unclassified roads connecting the regional communities. Many areas were damaged by the Al Hauz earthquake.
According to the same newspaper, Tawfiq Al-Qurashi, head of the basic equipment department of the Regional Directorate of Equipment and Water in Chichaoua, noted that the ministry has provided about 23 vehicles, including six from the private sector, in the region. Opened 14 classified and unclassified roads and recorded smooth passage of relief convoys.Rescue teams to affected areas.
"Al-Alm" and several Moroccan economists reported that the cost of reconstruction did not exceed 5 percent of GDP. The Al Houze earthquake, although it was a humanitarian disaster, left scars in the region. And throughout Morocco, it may be an economic opportunity to start a new phase in dealing with the situation. With the rural world, it has been outside the orbits of development for decades.
The same newspaper wrote that Moroccan and foreign engineers and experts call for the preservation of historical and cultural elements in the reconstruction. Aziz Al Hilali, Chairman of the Association of Independent Engineers, said that the most difficult thing in this situation is the successful reconstruction and return to normal life. In the same context, the architects cautioned about the locations of some tents that serve as temporary shelters for residents and that they should not be installed in areas exposed to waterways or landslides.
Also, to "Bayan al-Youm" published that the primary court in Marrakesh decided to postpone the consideration of the file in which the head of the Harbil Tamansoort group and an employee of the same group were arrested for fraud, participation in it, and forging a document issued by the public administration and using it for bribery until September 25. buying Preparation of defense and review of file documents is ongoing.
The court ruled to deny the defendants provisional release, after the session was concluded, after their side submitted a motion on the matter.
The same newspaper reported that the regional governor of cultural heritage of Beni Mellal-Kenifra region, Mohamed Choukry, said that the historical monuments in Ajilal province were not seriously damaged by the earthquake in Morocco on September 8. Shukri pointed out that the Al Hauz earthquake affected ancient local buildings, stressing that these buildings are known for their architectural characteristics that reflect the identity and history of the Middle High Atlas.
As for the "Socialist Union", the National Union of Mothers and Fathers of Moroccan Students in Ukraine has written to the government and requested intervention to help the students. The association hopes to intervene through the Moroccan embassy in Ukraine to overcome difficulties and provide the students with the necessary support in their daily affairs, expressing confidence in the good understanding of the relevant ministers and their interest in its issues. sons and daughters.
In the material of the same newspaper, the news of the postponement of the 13th session of the Rachidia Film Festival, the session of director Hisham Al-Azri, which was scheduled to be organized from October 17 to 21, 2023. , as an expression of sympathy and solidarity with the victims and their families.
"Award-winning beer geek. Extreme coffeeaholic. Introvert. Avid travel specialist. Hipster-friendly communicator."