Anthony Blinken's visit to China is the first by a senior US diplomat since 2018
ReceiptUS Secretary of State Anthony Blinken to Beijing on Sunday for a two-day visit aimed at easing bilateral tensions.
He received Chinese Foreign Minister Chen Gang Blinken and his accompanying delegation At the door of a villa in the courtyard of the Daoyudai Guest House in Beijing, where he hosted The two chatted for a while before shaking hands Chinese and American flags.
Donald Trump's October 2018 visit will be the first time a US secretary of state has visited China since his predecessor, Mike Pompeo, pursued a confrontational strategy with Beijing in the final years of his presidency..
Revival of direct dialogue between the two countries
Before his departure, Blinken said in Washington that the visit should "open direct lines of communication so that our two countries can manage our relationship responsibly, including avoiding certain challenges and bad ideas and miscalculations."
>> read more "Frank and direct" talks between US and Chinese foreign ministers after rising tensions between Washington and Beijing
"Continued diplomacy is needed to ensure that intense competition does not turn into a confrontation or conflict," he said, because "the world looks to America and China for cooperation."
Danny Russell, a former senior official at the US State Department, said that "Blingen's short visit will not solve any of the major problems in relations between the US and China (…) "But his visit could revive much-needed direct dialogue and send a signal that both countries are moving away from angry rhetoric in front of the media to more relaxed talks behind closed doors."
Taiwan, barbed wire
Taiwan represents the thorniest issue between the two powers since Beijing staged historic military maneuvers around the island in August in response to then-US House Speaker Nancy Pelosi's visit to Taiwan as part of an Asia tour..
Before Blinken's visit, Chinese Foreign Ministry spokesman Wang Wenbin said the United States: "The United States must abandon the illusion of manipulating China from a position of strength. China and the United States must develop relations based on mutual respect and equality, and respect their differences."
Time is running out with both the US and Taiwan holding elections next year, and China considers one of its provinces willing to reunify by force if necessary..
American and Chinese presidents meeting in September?
US President Joe Biden hopes to meet with President Xi Jinping again "in the coming months" "with the intention of talking about our legitimate differences, but also the areas where we can agree". The two leaders held a long and cordial meeting on the sidelines of the G20 summit in Bali in November 2022.
The two leaders will attend the next G20 summit in New Delhi in September. Xi was invited to San Francisco in November when the US hosts the Asia-Pacific Economic Cooperation Forum.
France 24/AFP
"Creator. Award-winning problem solver. Music evangelist. Incurable introvert."
A federal shutdown threatens America…and lawmakers face deadlock
The U.S. moves closer to shutting down federal agencies at midnight today as lawmakers reach an impasse over agreeing a short-term spending bill and the chances of averting it dwindle.
The U.S. fiscal year begins tomorrow, Oct. 1, but bitter disagreements among Republicans over the size of the federal debt have prevented passage of bills needed to keep the government funded and open.
A hard-line Republican House of Representatives rejected any temporary measures to save the country from closing federal agencies. Yesterday, Republicans rejected a plan proposed by their leader, Kevin McCarthy, to temporarily fund the government through a draft law that voted 198 to 232.
Moody's, the credit rating agency, warned that the shutdown would be "negative" for U.S. sovereign debt, threatening its top rating and driving higher borrowing costs.
Here's what happens in the event of a federal shutdown in the US:
1. No pay for federal employees: Hundreds of thousands of federal employees will be on unpaid leave, while members of the military and other employees deemed "essential" will continue to work without pay. The American Federation of Government Employees estimates that a full shutdown would result in about 1.8 million federal employees receiving their full-time salaries, and about 850,000 non-essential employees would be placed on unpaid leave, according to the Committee for a Responsible Public Budget, an independent organization. If achieved, these restrictions will be lifted and all employees will be paid in advance, the union said.
2. Only essential services: Only essential services will continue to operate, Social Assistance checks continued to be paid during previous shutdowns, and air traffic controllers, border guards and hospital staff remained on duty, but many services are likely to remain. Surveys of food and environmental sites other than national parks, including new applications for social security and medical care, will also have a greater impact on the closure period.
3. Economic impact: Economists at Goldman Sachs estimate the shutdown will hurt economic growth by 0.2 percentage points each week in the fourth quarter, and Goldman's note suggests it could take two to three weeks to lift the shutdown. Sachs economists dismissed it as saying "no immediate concessions have been made by either party". According to the memo, "Even if the funding cuts were quickly lifted, the political environment before the (current) deadline is reminiscent of the situation a long time ago. The shutdowns."
Oxford Economics estimates that the loss of productivity of government workers irreparably costs annual economic growth 0.1 percent a week, and a shutdown could indirectly hurt the economy because unpaid federal workers would cut back on their spending.
The potential shutdown is starting to weigh on Wall Street, with major stock indexes falling as the deadline nears.
4. No information for the Federal Reserve: Economists fear that the shutdown will also stop the release of federal government data, and that raises concerns about the Federal Reserve, which will be guided by this data to approve possible changes in interest rates. . The Federal Reserve has recently slowed the pace of raising interest rates as it tackles inflation.
In the absence of new data, the US Federal Reserve will be forced to make decisions with ramifications for the economy, without a clear picture of the situation, and the impact of a shutdown in the short term will be limited in the long term. , it could become a big problem if delegates fail to reach an agreement.
"Creator. Award-winning problem solver. Music evangelist. Incurable introvert."
Robert Kennedy Jr. decided to run as an independent in the US presidential election
US presidential candidate Robert Kennedy Jr. will announce his candidacy as an independent instead of continuing his long-running bid to defeat President Joe Biden as the Democratic nominee, complicating next year's presidential election.
Kennedy, an anti-vaccination activist and member of a famous American political family, posted a video on YouTube on Friday asking Americans to join him in a "major announcement" in Philadelphia on October 9.
He said he would talk about a radical change in American policy.
Kennedy is the nephew of former President John F. Kennedy, who was assassinated in 1963, and the son of former U.S. Senator Robert Kennedy, who was assassinated during his 1968 presidential bid.
In April, Kennedy said he would challenge Biden to run for the Democratic nomination against the expected Republican nominee, former President Donald Trump.
Since then, Kennedy has complained that the Democratic Party has "basically blended together" with the Biden campaign, which has cost him a fair chance in the nomination race.
Many polls have Biden ahead of Kennedy.
Kennedy's plan to run as an independent was first reported on the political website Mediaite.
In response to an emailed question from Reuters about the report, the Kennedy campaign responded by sending out its own video.
Democrats worried that any effort by a third party could shift votes away from Biden.
"Creator. Award-winning problem solver. Music evangelist. Incurable introvert."
Only since the beginning of this year… has the UN been concerned about migrants trying to cross the "death trap".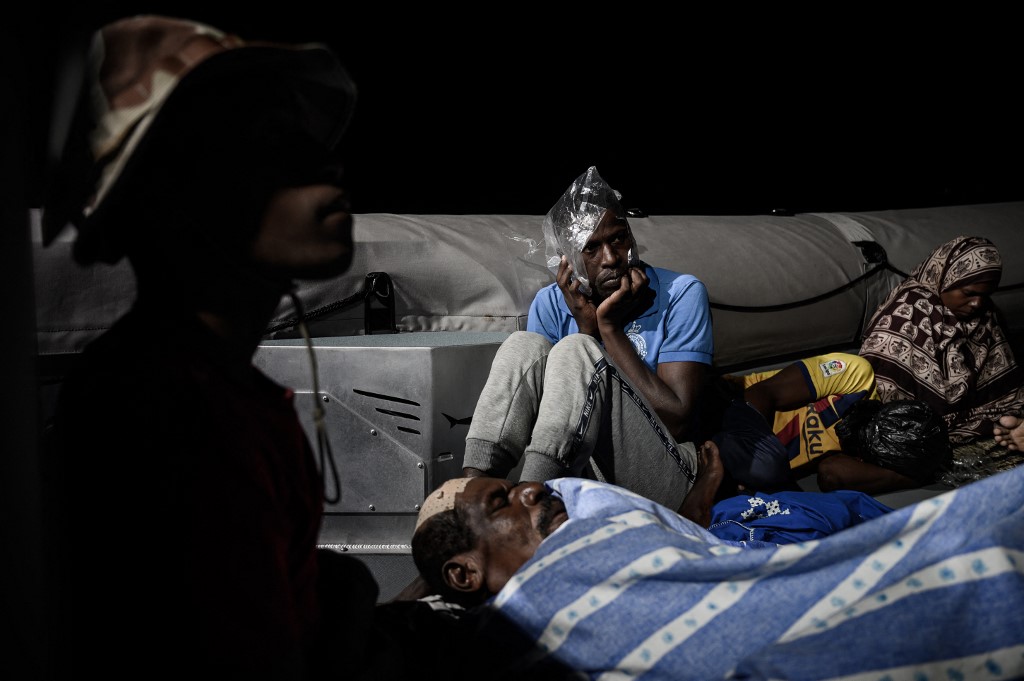 More than 2,500 migrants have died or gone missing trying to cross the Mediterranean Sea to Europe since the start of 2023, an official from the United Nations High Commissioner for Refugees announced on Thursday.
"As of September 24, more than 2,500 people are dead or missing," said Rubin Menegtivela, director of the UNHCR office in New York, during a Security Council meeting dedicated to the migrant crisis in the Mediterranean. That represents a nearly 50 percent increase compared to "1,680" people during the same period in 2022.
"Without public opinion, lives are being lost on the ground," he asserted.
He pointed out that "the journey to West or East Africa and the Horn of Africa and Libya and the starting points on the coast is one of the most dangerous journeys in the world."
He added, "Refugees and migrants traveling overland from sub-Saharan Africa face the risk of death and serious human rights violations at every step."
According to statistics announced by Ruffin Minisdiola, between the beginning of the year and September 24, 2023, a total of 186,000 migrants arrived in Southern Europe (Italy, Greece, Cyprus and Malta), including 130,000 for Italy, "an increase of 83 percent compared to the same period in 2022.
In terms of countries of departure, between the beginning of the year and August 2023, more than 102,000 migrants tried to cross the Mediterranean Sea from Tunisia, and 45,000 from Libya.
Of this number, 31,000 were rescued at sea or intercepted and disembarked in Tunisia, and 10,600 are in Libya.
Referring to the recent influx of large numbers of migrants to the Italian island of Lampedusa, the official stressed that "Italy cannot respond alone to the needs" of these migrants.
UN refugee agency to "establish a regional mechanism for the evacuation and redistribution" of migrants arriving by sea. Menaktivela reiterated the High Commissioner's call, which raises disagreements among EU member states.
For his part, Russian Ambassador to the United Nations Vasily Nebenzia, who requested the meeting, denounced the EU for its role in the "death trap" in the Mediterranean.
The ambassador said: "We have the impression that the European Union is waging an undeclared war against migrants because they have no other, safe route."
"The European Union only cares about the migration issue when it comes to Ukrainians," Nebenzia added, expressing her regret that other migrants do not enjoy "the same level of solidarity".
As for French Ambassador Nicolas de Riviere, referring to Russian contributions to UNHCR's budget, he said, "Russia is not, as always, when it comes to responding decisively to humanitarian crises."
He added, "Wagner's presence in the Sahel region contributes to the instability of the region, which fuels terrorism and leads to the migration of residents."
"Creator. Award-winning problem solver. Music evangelist. Incurable introvert."