Hollywood temporarily escaped a historic strike for actors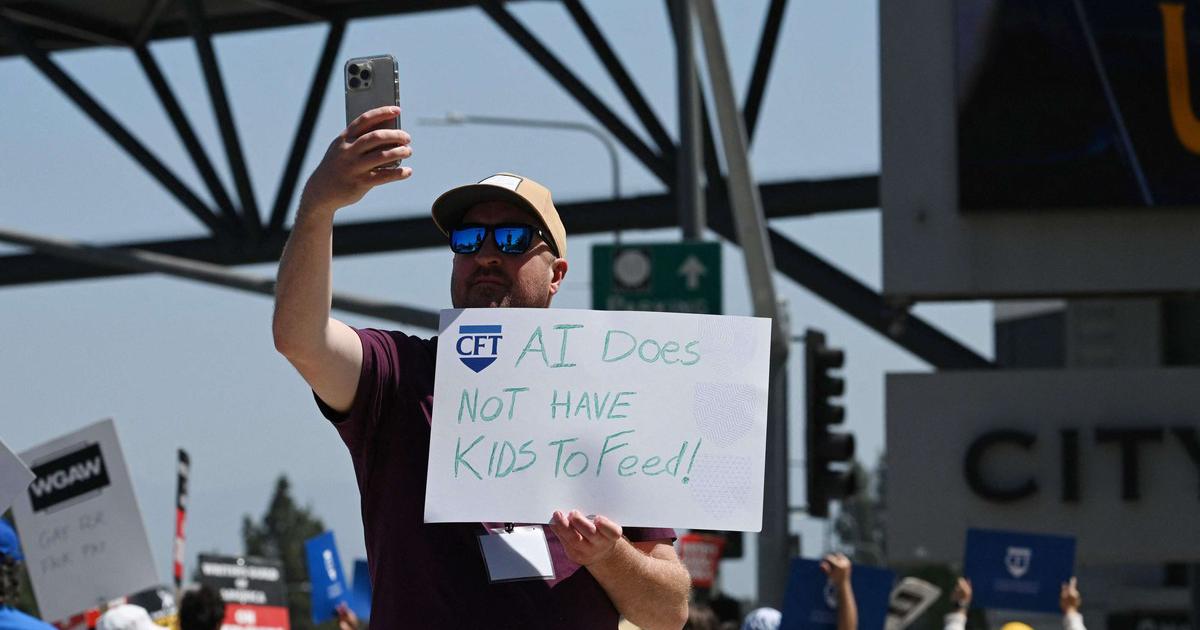 LOS ANGELES (California) – The union representing 160,000 actors agreed Friday at the last minute to extend negotiations with Hollywood studios until July 12, avoiding a strike for now.
Collective bargaining by the Screen Actors Guild for 160,000 representatives ended at midnight Los Angeles time (Saturday 07:00 GMT) but has been extended until midnight on July 12, the union said in a statement.
It also indicated that a media ban on the talks would remain in effect until that day.
The Screen Actors Guild began lengthy negotiations with the likes of Netflix and Disney, but as the midnight deadline approached, both sides announced they would continue negotiations.
Film and television circles fear that the actors will follow the example of the scriptwriters' strike, leading to a double strike, the first of its kind in Hollywood since the 1960s. Dept.
Members of the union are stars and regular actors who agree in advance to make a move when the two negotiating parties are unable to reach an agreement.
Like screenwriters, actors are demanding better pay that allows them to weather inflation and guarantees that their work won't be affected by the use of artificial intelligence programs. Especially in relation to sound reproduction.
Actors, in particular, are protesting the low pay they get for every rerun of a movie or series through streaming platforms.
These amounts are large when re-broadcasting a work on television because it is based on an approved advertising system, but they are much smaller when re-presenting the work through streaming platforms that do not provide statistics on the number of views.
"Coffee evangelist. Alcohol fanatic. Hardcore creator. Infuriatingly humble zombie ninja. Writer. Introvert. Music fanatic."
Writing in "The Night's Night" is Ahmed Balhamer's compass
Poet Ahmed Balhamar (from source)
Friday 1 December 2023 / 18:58
Emirati poet Ahmed Umar Balhamar's collection of poems "The Vase of the Night" was recently published by Nariman Publishing, Printing and Distribution House in Lebanon. The collection consists of 160 pages of medium size and 127 short and concise poems. Prose poetry.
Most of the poems have single-word titles, including Nostalgia, Dust, My Loss, Separation, My Friends, Division, Escape, Leak, Point, Measure, Exchange, Chaos, Rain, Burn, Shadow, Our Story, Limits, Days. , etc. But will not the reader find in the pages of the anthology a text entitled "The Night's Vessel," as other poets are accustomed?
Most of the poet's texts are sensitive and emotional, reflecting his outlook on life, and they carry many meanings of the night, its sadness, vocabulary and atmosphere. The poet wrote on the cover of the book covered by the darkness of a dark night, so we read there:
I wrote it in the middle of the night and on the streets of memories
It's like I'm there every step of the way
And in every word
I draw the way to my heart
So I walked with the poem in hand.
Here we see what writing represents to its poet, as poetry accompanies him on his journey as a faithful friend, leaning on his arm and strengthening him, being his compass on the paths of life.
Ahmed Umar Balhamar, who holds a bachelor's degree in engineering and works in its field, says: "I started my journey by writing 10 years ago, and then wrote an occasional newspaper article titled "Broadcast" in Al-Anba, a Kuwaiti newspaper. After that, I wrote in the Egyptian newspaper "Rose Al-Youssef" in the same year. Around a period of time, I collected the articles and published them as a book titled "Getting to Know You" by Al-Raitiyya Publishing House. and distribution house in Saudi Arabia. The articles were varied but most of them social and discussed scenes that attracted me from the reality of life and its daily occurrences.
About the development of his literary talent, Balhamar confirmed to 24: "The process of human self-development begins and does not end, it continues and does not stop. From childhood, the passion for reading and the hunger for knowledge came together. With me, it is with me to this day.
He said about the most important writers who influenced him: "I read many authors and authors, and the names never attracted me, but rather, I was attracted by the strength of the written words, their sweetness and the degree of their difference. I'm not influenced by one author over another, all the books I've read have influenced me in one way or another, there's no doubt about that." I've influenced the minds of others who read me. Yes, the process is intimate. It's possible for contagion to spread without us noticing."
Ahmed Balhamar writes in classical and colloquial, and in response to the question of who is closest to his heart, how the genre of poetry determines the moment of inspiration, he added: "All literary genres are dear and close to me. My literary taste, but colloquial dialect is closer to the listeners because It is their spoken language, but as for inspiration, a strange creature meets a person without permission or acquaintance, surprises us at strange times and places. To be frank, I do not choose the form and symbolism of poetry when I write. Words are the master of will, they impose their presence and form on the white, They decide when to start and when to end.
Commenting on the tendency of many poets to write novels in the current era, and whether Balhamer would remain loyal to the poetic field, or consider writing fiction, he says, "Up to this moment I had no idea. Writing a work of fiction, but I don't know if I will knock on this door in the future or continue. "Clinging to my old place and loyal only to poetry."
Regarding the source of inspiration for his poems or essays, he said: "Ideas are born in the conscience of the writer, through his interaction with people and society, his daily activities with them and observation of what is happening in the world around him. "
It is noteworthy that Ahmed Balhamar participated in many poetry evenings in the Emirates Writers and Authors Association and other cultural organizations, he regularly attends cultural events and events. In colloquialism, Napati Publishing House and some of his works were translated into the language.
In the collection of poems "Ana al-Layl" titled "Lost" we read:
you
Your shadow has not left you since the sunrise
Until the full moon and starry evening come
How lucky you are
My sun rose and set
And my shadow is still missing.
"Coffee evangelist. Alcohol fanatic. Hardcore creator. Infuriatingly humble zombie ninja. Writer. Introvert. Music fanatic."
Controversy over the "Napoleonic firing" of the Sphinx and the Pyramids of Giza
International director Ridley Scott's American historical film "Napoleon", which cost around $200 million, was a notable success in terms of audience and revenue, but it also provoked widespread criticism on historical and artistic levels. Indeed, particularly troop-launching scenes Napoleon Bonaparte shot at the Sphinx and the Pyramids of Giza during his campaign in 1798. The film, which is currently showing in American cinemas, presents the character of Napoleon Bonaparte in a new perspective. , she appears in him in two ways, one through his relationship with the army and his country France, and the other through his love for "Josephine".
"There is no evidence that the French campaign led by Bonaparte fired his fire at the nose of the Sphinx," said Salima Akram, professor at the American University in Cairo, and continued, "He certainly did not fire at the pyramids. We know that he did not hold the Sphinx and the pyramids in high esteem and took advantage of their presence. "
Egyptian critic Tarek El-Shenawy said, "There have been criticisms of historical errors, including the Battle of the Pyramids in Egypt, but Ridley Scott presents a visual perspective, not a historical one, and said the phrase is dynamic. Rich material for dialogue and controversy, the director's freedom to add or remove facts." dealing with." His visual vision has been documented in history.
For his part, Scott responded to these criticisms by saying, "I don't know whether Napoleon Bonaparte did it or not, but to me it was a quick way of saying that this is how Egypt was controlled at the time."
Historian Michael Bowers said: "There are events that Scott has to move quickly, and events that diverge from reality with the aim of making it easier for the audience to follow them, and to clearly understand the filming of the pyramids. In this context, nothing of the sort actually happened during the French campaign." 1798 in Egypt, but it's interesting to have these kinds of scenes in the film."
When discussing doing so with director Scott, he said, "When you said we'd shoot in front of the pyramids, you laughed, didn't you?" said. "So it will be."
"Coffee evangelist. Alcohol fanatic. Hardcore creator. Infuriatingly humble zombie ninja. Writer. Introvert. Music fanatic."
"Bee Sting": Family Stories and Secrets in Dramatic Novel Form
The novel "Bee Sting" written by Irish novelist Paul Murray, involves a family drama that is narrated from multiple angles to a family of four struggling in the midst of financial and existential crisis. Throughout its 656 pages, the mysteries, secrets and self-deception experienced by its members are revealed one after the other.
Unstable service
The novel was shortlisted for the 2023 Booker Prize, and has been described as "hilarious, heartbreaking, epic and brutally honest". The award website summarized the following: "An icy road, a charming stranger and a bee stuck in the bride's veil. Can a moment of misfortune change the course of life? "
events
The events of the novel take place in a town in contemporary Ireland where we learn about the Barnes family who are in financial trouble. Father Dickie flees to the woods after the collapse of his lucrative car business in 2008, where he works long hours on a shelter project to predict the end of the world, while his exasperated wife, Imelda, sells their wares on eBay. Their daughter Cass, first in her class, is apathetic and fears for her future. Their 12-year-old son BJ, who is in debt He plans to run away. We see each person's life through the eyes of each person during the worsening environmental disaster, paralleled by floods, droughts and the collapse of the family, the parents continuing to deny their previous lives, and the loss and turmoil of both of them. Teenage children.
Hon
Quoting novelist William Faulkner, Murray said in an interview that "the past never dies," but preferred to write about the present with all its horrors, including climate change.
The author draws the novel's characters as life-like, they have moments of love and generosity despite their faults and problems, and tracks their transformation by using a cyclical method of telling stories in each person's tongue, as change appears. Some of them are funny, others are sad. The novel initially introduces us to wife Imelda's sharp temper and materialistic tendencies, and as she lifts the curtain on her life, her marital circumstances, and the difficulties of her childhood, it appears to be the self-delusion she experiences. Purely human nature. In this way, the writer enters the characters' worlds to bring them to life with a new perspective.
curiosity
What drew critics to the novel was its interest in teenage life and friendship and family relationships, father-son relationships, sibling rivalry, tragedy, self-destruction and denial, as well as the subjectivity of misguiding people. , all on par with the creativity of Funny Moments. The British newspaper "The Daily Telegraph" described the novel as "a brilliant work of fiction, sharp in mind and keen in thought, but big in heart".
"Coffee evangelist. Alcohol fanatic. Hardcore creator. Infuriatingly humble zombie ninja. Writer. Introvert. Music fanatic."