The Ukrainian counteroffensive…requires "turnarounds" and "a lot of work" on the fronts
A recent announcement that Ukrainian forces had penetrated into the first Russian defense line in Zaporozhye province (southeast) raised hopes that Kiev would make strategic gains after criticism of a "slow" counter-offensive.
"Everything is ahead of us." Ukraine breaks the Russians' first line of defense
After weeks of demining, Ukraine was able to penetrate Russia's first line of defense, while Kiev expects to make "quick gains" as it puts pressure on a weakened Russian second line, according to an interview with British newspaper The Guardian. With the commander of the southern Ukrainian counteroffensive.
Gen. Oleksandr Tarnovsky, the commander of the southern Ukrainian counteroffensive, said weeks after clearing the mines that Kiev had managed to penetrate Russia's first line of defense near the Zaporizhia region and that he expected to make "rapid gains" as it put pressure on the second. According to an interview with "The British Guardian, Sunday" newspaper, the weak Russian line.
He said in his first interview since the breach: "We are now between the first and second lines of defense," stressing that Ukrainian forces are now advancing on both sides of the breach and strengthening their grip on land they captured during the latest fighting. .
She looked CNN This advance means that Kiev is close to penetrating Moscow's sprawling network of fortified trenches in the south.
Ukrainian soldiers said they expected battles to erupt for control of territory south and east of the village of Novoprokopivka in Zaporizhia, which Kiev defended last week "amid a grueling counter-offensive".
The network said it made additional gains as the forces approached the Russian second line of defense.
News of the latest advance comes after reports that Kiev's allies are concerned about the slow pace of the counteroffensive. CNN reported earlier this month that the U.S. is increasingly receiving "complicated updates."
This was before Ukrainian Deputy Defense Minister Hanna Malyar announced on September 1 that Ukrainian forces had breached the Russian "first line" in some areas towards Zaporizhia. However, she insisted that the situation was still difficult due to additional Russian concrete. Forts and Mines.
On September 2, the New York Times reported, citing Ukrainian military officials, that Russian forces were spreading combustible materials on mined fields and igniting them with bombs launched by drones, while Ukrainian forces were working to clear the mines.
He mentioned Institute for War Studies On August 15, officers of the 58th Combined Arms Army, a base unit on the front line in the Zaporizhia region, contacted their former commander, Ivan Bobo, as the situation on the front line continued to deteriorate.
The company said the move to seek help without trusting their new leader reflects a lack of confidence in their current leadership.
On Friday, Ukrainian Foreign Minister Dmytro Kuleba told CNN that Kiev had not failed in its latest offensive but was "moving forward" and stressed that "our allies who help us, including the United States, realize that things are moving." Forward." "The right direction… it's a tough battle."
General Serhii Baranov, head of the General Directorate of the Ukrainian Missile and Artillery Forces, told Ukrainian media on Thursday that Kiev had benefited from long-range artillery provided by NATO. He said that while the average range of Russian artillery is 24 kilometers, the weapons supplied to Ukraine can fire at a distance of 30 to 40 kilometers.
"It was able to destroy or damage enemy guns, shift enemy artillery from the front line to the rear and prevent anti-battery warfare against our artillery," Baranov said.
Ukrainian units appear to be positioned some distance west of the village of Verbov in the country's southeast, where Russian military bloggers have reported increased activity but said Russian forces have so far resisted Kiev's advance.
In its latest update, the Institute for Combat Research, Margot Grasberg, commander of the Estonian Defense Forces Intelligence Center, said on September 1 that Ukrainian artillery's capabilities were "equal or even better" than Russian forces. and was able to push Russian artillery units back from the front line, preventing them from supporting Russian forces.
But the agency said the observation "generally does not hold true across the front line," with Ukrainian units reportedly coming under heavy Russian artillery fire.
Grasberg also said that Ukrainian forces have succeeded in causing serious damage to Russian artillery radars since July.
Russian sources have repeatedly expressed concerns about the lack of anti-artillery fire since mid-July, particularly in southern Ukraine.
In recent weeks, Kiev has pushed its units toward the strategic city of Dokmok, a logistics hub for Russian forces through which a railroad runs for cargo, CNN reported.
The fighting escalated toward the northern outskirts of Novoprokopyevka, a small rural town about 4 kilometers south of Robotin, and close to a line of Russian fortifications at Zaporizhia, according to the 46th Brigade, which fought in the area.
Al-Liwa Channel said in a telegram, "Passing the heights from the northeast was able to put pressure on the enemy's right flank and reach its first line of defense located on the heights to the south."
He added: "(The Russians) are continuing to counterattack and defend strongly. We are moving and putting pressure on the aggressors, but a month's struggle shows that the enemy will not give up the lands they have captured. There is a lot. There is work ahead of us."
"Creator. Award-winning problem solver. Music evangelist. Incurable introvert."
Robert Kennedy Jr. decided to run as an independent in the US presidential election
US presidential candidate Robert Kennedy Jr. will announce his candidacy as an independent instead of continuing his long-running bid to defeat President Joe Biden as the Democratic nominee, complicating next year's presidential election.
Kennedy, an anti-vaccination activist and member of a famous American political family, posted a video on YouTube on Friday asking Americans to join him in a "major announcement" in Philadelphia on October 9.
He said he would talk about a radical change in American policy.
Kennedy is the nephew of former President John F. Kennedy, who was assassinated in 1963, and the son of former U.S. Senator Robert Kennedy, who was assassinated during his 1968 presidential bid.
In April, Kennedy said he would challenge Biden to run for the Democratic nomination against the expected Republican nominee, former President Donald Trump.
Since then, Kennedy has complained that the Democratic Party has "basically blended together" with the Biden campaign, which has cost him a fair chance in the nomination race.
Many polls have Biden ahead of Kennedy.
Kennedy's plan to run as an independent was first reported on the political website Mediaite.
In response to an emailed question from Reuters about the report, the Kennedy campaign responded by sending out its own video.
Democrats worried that any effort by a third party could shift votes away from Biden.
"Creator. Award-winning problem solver. Music evangelist. Incurable introvert."
Only since the beginning of this year… has the UN been concerned about migrants trying to cross the "death trap".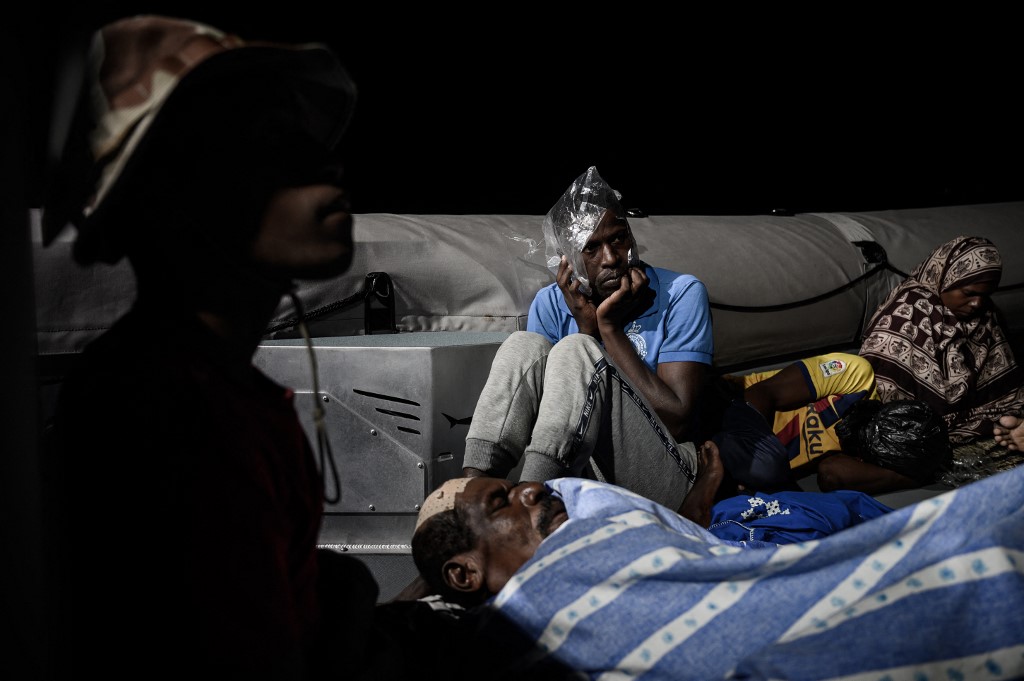 More than 2,500 migrants have died or gone missing trying to cross the Mediterranean Sea to Europe since the start of 2023, an official from the United Nations High Commissioner for Refugees announced on Thursday.
"As of September 24, more than 2,500 people are dead or missing," said Rubin Menegtivela, director of the UNHCR office in New York, during a Security Council meeting dedicated to the migrant crisis in the Mediterranean. That represents a nearly 50 percent increase compared to "1,680" people during the same period in 2022.
"Without public opinion, lives are being lost on the ground," he asserted.
He pointed out that "the journey to West or East Africa and the Horn of Africa and Libya and the starting points on the coast is one of the most dangerous journeys in the world."
He added, "Refugees and migrants traveling overland from sub-Saharan Africa face the risk of death and serious human rights violations at every step."
According to statistics announced by Ruffin Minisdiola, between the beginning of the year and September 24, 2023, a total of 186,000 migrants arrived in Southern Europe (Italy, Greece, Cyprus and Malta), including 130,000 for Italy, "an increase of 83 percent compared to the same period in 2022.
In terms of countries of departure, between the beginning of the year and August 2023, more than 102,000 migrants tried to cross the Mediterranean Sea from Tunisia, and 45,000 from Libya.
Of this number, 31,000 were rescued at sea or intercepted and disembarked in Tunisia, and 10,600 are in Libya.
Referring to the recent influx of large numbers of migrants to the Italian island of Lampedusa, the official stressed that "Italy cannot respond alone to the needs" of these migrants.
UN refugee agency to "establish a regional mechanism for the evacuation and redistribution" of migrants arriving by sea. Menaktivela reiterated the High Commissioner's call, which raises disagreements among EU member states.
For his part, Russian Ambassador to the United Nations Vasily Nebenzia, who requested the meeting, denounced the EU for its role in the "death trap" in the Mediterranean.
The ambassador said: "We have the impression that the European Union is waging an undeclared war against migrants because they have no other, safe route."
"The European Union only cares about the migration issue when it comes to Ukrainians," Nebenzia added, expressing her regret that other migrants do not enjoy "the same level of solidarity".
As for French Ambassador Nicolas de Riviere, referring to Russian contributions to UNHCR's budget, he said, "Russia is not, as always, when it comes to responding decisively to humanitarian crises."
He added, "Wagner's presence in the Sahel region contributes to the instability of the region, which fuels terrorism and leads to the migration of residents."
"Creator. Award-winning problem solver. Music evangelist. Incurable introvert."
US punishes former Sudanese foreign minister
On Thursday, the United States imposed sanctions on former Sudanese foreign minister Ali Karti, one of which was based in Russia, and accused him of exacerbating instability in Sudan, where fighting has claimed thousands of lives and displaced millions of civilians. ..
The move is the latest round of sanctions imposed by Washington since fighting broke out in Sudan in mid-April between the military and Rapid Support Forces..
Brian Nelson, the Treasury Department's undersecretary for terrorism and financial intelligence, said in a statement that "the action will be held accountable for those who undermined efforts to find a peaceful and democratic solution in Sudan."
He added: "We will continue to target those who work to perpetuate this conflict for personal gain."
The Treasury Department said it targeted Karti, who was foreign minister under former President Omar al-Bashir, noting that Karti became head of the Sudanese Islamic Movement after al-Bashir was ousted in 2019..
Karti has been a prominent figure among the veterans and loyalists of Bashir's regime since the Sudanese army seized power in 2021 and overthrew the civilian area..
The Treasury Department added: "(Karthi) and other Sudanese militants are actively obstructing efforts to reach a ceasefire to end the current war."
Also sanctioned was Sudan-based GSK Advance, which the Treasury Department said was used as a procurement vehicle for Rapid Support Forces..
The company is said to be coordinating with Russia-based military supply company Avia Trade, which has been targeted by sanctions, to arrange for the purchase of spare parts and supplies for drones previously purchased by Rapid Support Forces. Training work..
US Secretary of State Anthony Blinken said in a separate statement that Washington moved this week to impose visa restrictions on people it considers part of efforts to undermine the democratic transition in Sudan..
The new sanctions come after actions taken against the deputy commander of the Rapid Support Forces this month and sanctions imposed by the US in June on companies accused of fueling the conflict..
The measure freezes the assets of targeted individuals in the U.S., generally prevents Americans from doing business with them, and also exposes those who engage in certain transactions with them to economic sanctions..
"Creator. Award-winning problem solver. Music evangelist. Incurable introvert."