UAE authorities must ensure that Khalaf al-Rumaidi, a Turkish-Emirati national forcibly deported from Jordan to the UAE, is protected from torture and other ill-treatment and that any retrial he faces is international-compliant, Amnesty International said today. Reasonable testing standards.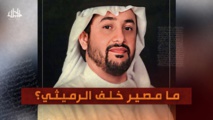 Jordan hands over Khalaf al-Rumaidi to Emirates without his lawyer's knowledge – Emirates Prisoners website
Khalaf al-Rumaidi, who has lived in exile in Turkey for the past decade, flew to Jordan on May 7 in search of a school for his children. Upon his arrival, he was apprehended by airport security personnel acting on a request from the UAE to detain and deport him. He was later released on bail and allowed to enter Jordan, but was re-arrested on May 8, then secretly deported and in violation of a Jordanian court order, according to his lawyer Assem al-Omari.
The lawyer told Amnesty International that he was not allowed to see his client after he was last seen in Jordan's Marka prison on the morning of 9 May. Al-Rumaidi was deported after the UAE Federal Supreme Court sentenced him to 15 years in prison in July 2013. "UAE-94" case It is grossly unfair and degrading against 94 dissidents, including members of the Islah political movement.
"As Khalaf al-Rumaidi's safety is at risk, the UAE authorities must prioritize his safety and allow him access to a lawyer, his family and any medical care he needs without delay," said Heba Morayef, Amnesty International's Middle East and North Region. African director. It must ensure that any retrial takes place in accordance with international fair trial standards, including ensuring that all charges against him comply with international law.
The state-owned Emirates News Agency – which announced Khalaf al-Rumaidi's deportation and arrest on Wednesday – said he would face a retrial on charges of links to the organization.It aims to challenge the fundamental principles of the government system in the UAE. ." This allegation violates the right to freedom of association or association and therefore contravenes international human rights law.
Background
The trial of the infamous "UAE-94" case was marred by massive flaws, as the defendants were held incommunicado for up to a year and many of them claimed to have been tortured to "confess". 69 people were sentenced to imprisonment for up to 15 years. Fifty-one of them have now completed their sentences, but are still being held illegally.
And in 2021 Documented Amnesty International accused the UAE authorities of depriving the families of two detainees of Emirati citizenship in the "UAE-94" case and preventing contact between the two detainees and their loved ones for months and years.
"Freelance alcohol fan. Coffee maven. Musicaholic. Food junkie. Extreme web expert. Communicator."