Asma Al Zarooni.. gives details about the place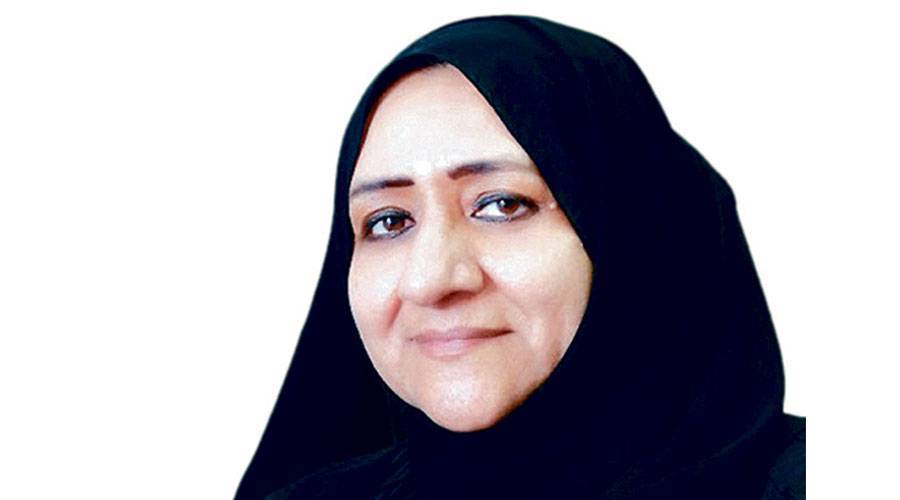 Sharjah – Ashraf Ibrahim
The writer Asma Al Zarooni, from her beginnings in the world of literature, has been associated with the worlds of stories, and she has established her poems in the gardens of life. She is one of the names that has created a special style in her Gulf environment. Short story, novel, and then children's literature, writing the usual identity of poetry, nearly thirty works in the harvest of life live in the memory of Emirati culture. A light in the eye, he devotes himself to his literary arts and tweets out of the herd, raising fascinating topics, passing time and traveling in a maze of beauty. , he took on the task of creating stories for children that could blend the reality of parents. and grandparents and their good biographies, then his work instilling morals to bring their present time back into its cycle has earned him honors and won prizes, and his short stories have been taught in academic curricula across the country. Deepen his literary career.
In his new novel, Al-Zarouni conjures scenes and characters, and he is determined to do this narrative work, for which he chose the name "Palace", the result of the aroma of his experiences on his journey. The environment in which she grew up. She leans against the wall of memories and tests her humanity, so to get an accurate psychological depiction of the heroine's pain, surgeries and psychological suffering, the writer has shot many generous scenes in parts of the story. Al-Zarouni's ability to interact with a cast of no more than ten characters in the filtered narrative he skillfully creates. He elevates the cause of this woman so that she can overcome the rigors of life. Thus, Al Zarooni flows dynamically between parts of the story and fully embodies suffering.
Although Asma Al Jarouni was involved in storytelling, which represented a special priority for her, she did not abandon poetry, which gave her freedom of expression. Its flow always settled in her conscience, and she moved it in all directions to express her feelings and models. Abyss of human life, so the shadows of poetry she aspires to collect many prose poems, to choose from her for her new collection, which is another riad in her poetic career.
Al Zarooni prides himself on his experience in writing children's literature, in which he evokes traditions of fragrance, his latest publication for children, a collection of short stories titled "Uncle Juma", in which he instills values. The tolerance that Emirati society has built up is still trying to thrive in absorbing the nectar of experiences. Humanity is available to this group to deepen the values ​​in the stories currently being written, for him and his problems. She is attached to her identity, clinging to her past and proud of her present. Currently, Al Jaroni lives in her real world with books scattered on the reading table, more available to read the authors' dedications. And take some time off from the books and writing she chose to rest on.
"Freelance alcohol fan. Coffee maven. Musicaholic. Food junkie. Extreme web expert. Communicator."
Urology conference discusses development of clinical skills and training in techniques
Dr. Abdul Qader Al Jarouni, President of the Emirates Urological Society and Chairman of the 12th Emirates Urology Conference and 20th Asian Conference, confirmed Dubai's efforts to host it for the first time in the Middle East and Gulf countries. Especially due to the lack of female elements, pointing to a comprehensive vision and training the current generation of doctors in the right scientific foundations, he pointed out a significant increase in the number of specialized doctors at that time.
He told Al-Bayan at the opening ceremony of the conference held yesterday in front of 2,500 doctors from 75 countries at the Conrad Dubai Hotel and modern equipment in all sub-disciplines in kidney diseases and urinary tract surgeries. Lectures on the use of robotics, fertilization, artificial intelligence and pediatric diseases.
Al Jaroni touched on prostate cancer, which mainly affects people over 50 years of age or those with a family history, considering early detection as the most important means of complete treatment and recovery, especially when treatments are available in the country. .
OBJECTIVES AND RESULTS
Touching on the objectives of the conference and its expected outcomes, he said, "One day it is absolutely necessary to intensify the work on day surgery and emphasize the importance of prevention of diseases related to urinary tract. field through the exchange of experience among doctors and experts from different countries of the world."
He said that the conference will be accompanied by a special scientific exhibition in which more than 65 international organizations will participate to showcase the latest scientific discoveries in the field of urology and a men's health conference in mid-December. One of the important conferences on the map of health events in the country.
Dr. Yasser Al-Saeedi, vice president of the association, said the conference, which will end today, focuses on developing clinical skills and training on the latest technologies and modern equipment in all subspecialties in kidney diseases and urinary tract surgeries.
"Freelance alcohol fan. Coffee maven. Musicaholic. Food junkie. Extreme web expert. Communicator."
HR forum discusses future jobs in Dubai
At the third session of Human Resources Forum 2023, organized by the Human Resources Department of the Government of Dubai, participants discussed the future of jobs and skills in the Government of Dubai, and several experts gave a summary of their ideas and experiences on jobs. and future capabilities.
Discussion group
During the forum attended by HR officers from Dubai government departments, a panel discussion was organized in which many experts participated. They talked about future skills and employment opportunities in the Dubai government and lessons learned from best practices. Many lectures. Presented by experts from the United Arab Emirates: Focusing on the future of work, future skills for leaders and future skills.
Abdullah Ali bin Saeed Al Falasi, Director General of the Human Resources Department of the Government of Dubai, stressed that Smart Leadership pays more attention to human resources and is keen to train the Emirate's people to lead future government jobs. His Highness Sheikh Mohammed bin Rashid Al Maktoum, Vice President and President of the United Arab Emirates, confirms the Dubai Cabinet and Ruler, "may God protect him".
He said that the Human Resources Department of the Government of Dubai is keen to develop the necessary strategies and plans to adapt to future changes and prepare sustainable pioneering talent in line with its vision focused on supporting the future visions of the Emirate of Dubai. , with innovative talents, outstanding minds, and global competitive expertise, to lead and develop the HR sector, develop smart solutions, flexible and innovative policies and transform the sector into a central organization by developing skills and minds that support competitiveness in the Emirate of Dubai.
The Human Resources Department of the Government of Dubai is preparing for the future, aiming to adopt high-performance work methods, develop innovative solutions to future challenges and lead pioneering thinking by harnessing the best entrepreneurs. Practices, in order to raise its readiness to meet current and future challenges, as well as through its strategy, focus on attracting renowned national and international talent, aligning the Emirati's capabilities with national and local strategic directions, developing skills to qualify employees, and creating an optimal environment for working in the Government of Dubai.
He also explained that the Dubai Government Human Resources Department aims to achieve leadership in the management system by launching four strategic projects as the first plan revolves around the future aspects of the workforce in Dubai. To ensure human capital and talent, preparedness, flexibility and preparedness… Human capital and workforce in the Emirate of Dubai face rapid changes in the economy, technology and labor market dynamics.
He pointed out that the second strategic plan of the Human Resources Department of the Government of Dubai is Workforce Planning, a strategic initiative aimed at anticipating the future needs of workforce and talent, ensuring preparedness and flexibility, and ensuring readiness. As the Government of Dubai addresses the challenges and needs of the labor market, the third project is the Dubai Future Skills Centre, a common framework for qualifying human resources, a strategic initiative aimed at making Dubai and its Government the best in the world. The fourth project is Engineering the Jobs of the Government of Dubai, a strategic plan to prepare an empowered workforce with specialized skills that are future-ready and globally competitive. Designing a human resource infrastructure that provides the foundation for human resource practices for departments, institutions and organizations affiliated with the Government of Dubai, including, but not limited to, compensation and payroll systems, career development and workforce planning.
Personal communication
The nature of work is changing rapidly and continuously, and the key challenge is to develop the skills students need, such as problem-solving and critical thinking skills, and interpersonal communication skills such as empathy and synergy, he said. They will create fields of work that include artificial intelligence, robotics, automation and advanced manufacturing.
He explained that the Fourth Industrial Revolution has imposed a new reality full of opportunities, challenges and new skills. While it will provide new types of work that did not exist before, it will eliminate many traditional jobs and move towards acquiring new skills. Through future challenges and growth.The greatest technology the world will witness.
Future skills
In his speech during the forum, the Director of the Center for Future Studies, University of Dubai, Dr. Saeed Al Taheri spoke about future capabilities and quoted the late founding father Sheikh Saeed bin Sultan Al Nahyan. God rest his soul," when he said: "Future generations will live in a world "that is completely different from what we are used to, so it is necessary to prepare ourselves and our children for that new world."
What we need for the future is a mindset of growth, resilience, learning and high performance and technical and specialized skills such as visioning, programming, data science, machine learning and soft skills, he emphasized. Tools such as creative thinking, complex problem solving, effective communication, leadership, working within a team, emotional and social intelligence, and other skills as per the need of the hour are needed for life-long learning, learning agility and artificial intelligence that can be developed tools, etc., data analysis and methods.
He said that 42% of jobs will be automated by 2027, and the skills of the current workforce will suffer over the next five years, with 6 in 10 workers needing training before 2027.
As artificial intelligence and automation control many tasks, he pointed out that creative thinking is the most important skill in life, and we must focus on imagination, creativity and innovation so that we do not lose our jobs, individuals and companies. Creative thinking is highly capable of innovation and resilience. At the Human Resources Forum's third session for the current year 2013, Saeed Mohammed Al-Nazari of the Mohammed Bin Rashid Center for Leadership Development spoke about the future capabilities of leaders and recently focused on the importance of building people. Regarding the importance of personal characteristics, which are one of the most important skills required by an employee, 78% of jobs require personal characteristics, such as being proficient in managing a work team and having expertise in creative thinking.
His Highness Sheikh Mohammed bin Rashid Al Maktoum, Vice President, Prime Minister and Ruler of Dubai, may God protect him, established the Leadership Development Center, considered one of the most important centers in the region, and it was completed. Since 2003, 850 leaders have been created.
During the forum, Willis Towers Watson Dubai Head of Work and Reward Yun Shing Lee also spoke about managing future talent and said that a successful strategy is to be very clear about the goal you want to achieve. At the same time being too flexible in how to achieve the goal. Constant change and changes have a negative impact on employee experience, participation, well-being and productivity.
"Freelance alcohol fan. Coffee maven. Musicaholic. Food junkie. Extreme web expert. Communicator."
Bin Duque is calling on big French companies to invest in Emirates
The Minister of Economy, Abdullah bin Duq Al Marri, called on large French companies to explore promising opportunities in new economic sectors in the UAE. , created fertile ground for the growth of large French companies and their expansion into new markets.
This happened during a meeting Bin Duque held with a group of businessmen, investors and CEOs of major French companies in the presence of Frédéric Sanchez, head of the international branch of the French employers' association.
The Ministry of Economy said in a statement yesterday that the two sides discussed enhancing economic cooperation between Abu Dhabi and Paris and creating new avenues to explore opportunities for business communities in the Emirates and France to support sustainable development. their economies, especially in new economic sectors.
Bin Duq said: "The UAE hosts 600 French companies, which employ more than 30,000 people and operate in renewable energy, transport, logistics, hotels, aviation, aerospace, banking and other sectors. In contrast, the UAE ranks second. The largest Gulf investor in France, and More than 50 companies operate in various sectors in the French market, he added: "In the next phase we will work with our partners in France to increase the number of companies operating in the markets of both countries."
The Bin Duq visited France under the leadership of the Economic Council of the United Arab Emirates to discuss strengthening joint economic cooperation in several key sectors.
"Freelance alcohol fan. Coffee maven. Musicaholic. Food junkie. Extreme web expert. Communicator."