Emirates Nuclear Company has signed 3 MoUs with Chinese companies
The Emirates Nuclear Corporation has announced that it has signed three MoUs with Chinese companies specializing in peaceful nuclear energy to explore opportunities for cooperation on new technologies in the sector.
During his visit to China, Emirates Nuclear Corporation Managing Director and Chief Executive Officer Mohamed Ibrahim Al Hammadi signed memorandums of understanding between the Corporation and the Nuclear Mobility Research Institute, China National Nuclear Corporation Overseas and DMK. China Atomic Energy Corporation.
MoUs were signed with the Nuclear Operational Research Institute and the China National Atomic Energy Corporation overseas by Ahmed Al Mazrouei, executive director of fuel procurement and analysis at the Emirates Nuclear Corporation, and his Chinese counterparts.
The first MoU will focus on opportunities for cooperation between the two sides in nuclear power operations and maintenance, while the second MoU will focus on cooperation in the field of high-temperature gas-cooled reactors.
He signed a memorandum of understanding with China Nuclear Industry Corporation, Deputy Managing Director of Nuclear Fuels Department at Emirates Nuclear Corporation, Dr. Muhammad Zouga said the agreement will focus on possible cooperation in nuclear fuel supply and investment.
During the visit, the Managing Director and Chief Executive Officer of Emirates Nuclear Corporation met with officials from Chinese nuclear-related companies.
Al-Hammadi visited the office of the International Nuclear Operators Organization in Shanghai, China, as the head of the organization, where he discussed matters related to the work of the organization with office officials. Developments and activities of the office. Al-Hammadi was elected President of the International Organization of Nuclear Energy Operators during the organization's General Assembly in October 2022.
The organization is headquartered in the British capital, London, and its more than 120 members operate 430 nuclear power plants in 30 countries around the world.
"Freelance alcohol fan. Coffee maven. Musicaholic. Food junkie. Extreme web expert. Communicator."
School trips to Expo Dubai… Unforgettable lessons to explore COP28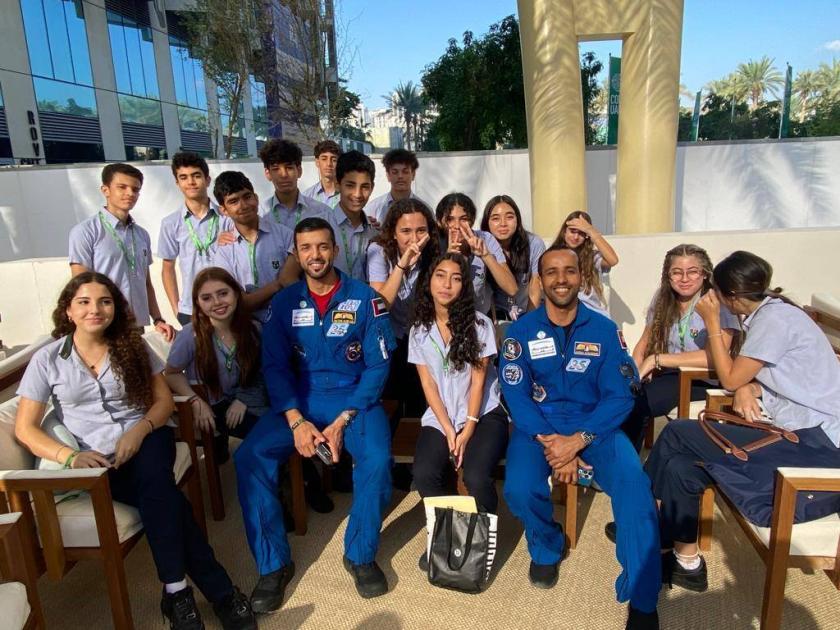 Normal
Inspiring the next generation of students, innovators and change makers
December 7, 2023
13:40 PM
School trips to Expo Dubai… Unforgettable lessons to explore COP28
School trips to Expo Dubai… Unforgettable lessons to explore COP28
After the grand success of "Expo 2020", Expo City Dubai continues its new mission to inspire the next generation of students, innovators and change makers through new, inspiring and enriching trips and unforgettable lessons within the "COP28" conference.
By filling out a simple form on the Expo Dubai website, schools had the opportunity to conduct exploratory and adventurous school trips, learning about new intellectual concepts about the Climate Summit, full of movement and activity among its visitors. A mixture of different colors dominated by "green".
"Expo" has allocated 4 school programs in conjunction with the exceptional event, namely the workshops "Charge Your Energy", "Net Zero Carbon", "Terra Science Show" and "Diving to Find the Treasure". With these various workshops and activities, schools can plan the trip based on the timing and type of content they are looking for.
Sayeed Education campuses, early in the morning, conducted various tours for children in regular classes, ensuring that they were introduced to the meanings of environment, sustainability and climate, and were eager to take souvenir photos with statistics related to climate and attendance. city.
Reda Ashmawi, General Supervisor of Students at Dubai International Academy, said: The educational environment in the UAE continues to focus on expanding students' awareness of the importance of the environment and concepts of sustainability by reducing paper use. While encouraging the use of recycled materials, the school does not use plastic containers." Rotate it. We established an "Environment Club" in the school to support innovative projects and various educational activities to protect the environment.
Enes Samir, school trip supervisor at Al Taweela School in Abu Dhabi, said the school has initiatives and projects on the topic of "sustainability", drip farming and new energy. A school trip to Expo Dubai is a relevant and inspiring opportunity for students to become intimately familiar with these terms and interact with the reality of climate action.
Abigail Muradoria, student supervisor at Citizens School in Dubai, explains that the students are enjoying a cultural trip to Expo City for the third time, to connect them with sustainability and agriculture projects and raise awareness of the importance of protecting communities and the environment. . There are workshops and activities including visiting some local and international pavilions, eating healthy foods and avoiding plastic use. (wham)
"Freelance alcohol fan. Coffee maven. Musicaholic. Food junkie. Extreme web expert. Communicator."
Dive into the Ultimate Relaxation at Rus Elite Spa
Located in the heart of Dubai, Rus Elite Spa stands as a beacon of relaxation and rejuvenation. This premier European spa in Al Barsha,, Dubai, offers an unparalleled experience that combines the best of European and Russian spa traditions.
Expert Therapists from Across Europe
The spa boasts a professional team of therapists from countries like Russia, Ukraine, Belarus, Poland,Turkey , Uzbekistan, Croatia, Slovenia, and Lithuania. Each therapist brings their unique touch, ensuring that every guest receives a personalized spa experience.
Unique and signature Massages and Services
Strawberry Massage: Dive into a fruity relaxation with durations ranging from 60 to 120 minutes.
Thermal Fire/Spirit Healing Massage: A 90-minute transformative experience.
Chocolate/Cream Massage: Indulge in a sweet escape for 60 to 90 minutes.
Honey Massage: A sticky-sweet relaxation lasting from 60 to 90 minutes.
Lomi-Lomi Massage: Experience Hawaiian healing for 60 to 120 minutes.
And many more, including Aromatherapy, Hot Stone, Deep Tissue, Swedish, and the luxurious 4 and 6 Hands Massage. For those seeking a complete body treatment, the spa offers combinations of massages with Moroccan baths.
COMPLIMENTARY SERVICES FOR OUR GUESTS : steam rooms and saunas are included.
WE ARE USING ONLY HIGH QUALITY ORGANIC SPA PRODUCTS SUCH AS OILS, SOAPS AND BODY SCRUBS
Special Deals and Packages
Our Dubai SPA center continually offers special deals like the VIP Treatment, which includes a 30-minute full-body scrub followed by any 60-minute massage. The Royal Body Treatment combines a 60-minute massage with a 60-minute Moroccan bath. There are also options for massage combined with waxing and complimentary access to the steam room and sauna with any massage.
A Glimpse into Rus Elite Spa
Nestled on the R Level of the prestigious 5-star Elite Byblos Hotel, Rus Elite Spa is more than just a spa; it's a complete wellness retreat. With state-of-the-art facilities, it offers amenities like a sauna, steam room, and a rooftop swimming pool. The tranquil atmosphere and exceptional service make it a must-visit destination in Dubai.
What Guests Are Saying
The testimonials speak volumes about the quality of service at https://ruselitespa.com/.  Guests like Khalid Salame and Abdirahman have praised the spa for its friendly staff, ambient rooms, and high-quality massages. Others, like Chathura Jayasinha and Ali Soliman, recommend the spa for its professionalism and the relaxation they found during their visits.
Connect with Rus Elite Spa
For those eager to explore more, check out the full menu of services or find them at the Elite Byblos Hotel, behind the Mall of the Emirates in Al Barsha 1, Dubai. Have free valet parking.
"Professional coffee fan. Total beer nerd. Hardcore reader. Alcohol fanatic. Evil twitter buff. Friendly tv scholar."
Experiences dedicated to spreading environmental awareness among students
The Green Education Center – Legacy from the Land of Zayed, run by the Ministry of Education as part of the COP 28 conference, has received 384 male and female students from 12 schools across the country. Students interacted with the educational and recreational activities provided by the center, designed to increase their environmental awareness through experiences that combine fun and knowledge.
Interactive platforms dedicated to focusing on environmental diversity in the UAE received significant response from students, in addition to a "Sustainability Craft" game inspired by the natural and biological diversity of the UAE and a room designed to provide educational content on climate issues. In cooperation with "SEE" company.
The list of schools that visited the center include: "Virgin International School", "Atbal Al Khair" School, "Arbor" School, "Dwight" School, Halimah Al Sadiya School, Al Tabianiya School, Al Fath School, Abdul Rahman Al Nasser School, Excellence School, and Raffles International School. », School of Principles, and Saeed Education Complex Al Warqa.
By the end of the sixth day of the COP28 conference, the number of visitors to "Legacy from the Land of Said" reached about 4,000 visitors, and the center will continue its work until the end of the Conference of Parties on December 12. .
The center has attracted a large number of visitors since its inception, who flock to its various halls to learn about the concepts of sustainability put forth by participating companies under the center's umbrella. The inauguration of the center was an epitome of partnership between the Ministry of Education and the United Nations Educational, Scientific and Cultural Organization (UNESCO). Last April, the Ministry announced the "Green Education Partnership" program, focusing on four key axes: Green Education, Green Schools, Green Communities and Building green skills. The number of visitors and visitors to the center during the conference is expected to exceed 18,000 participants, confirming the level of global interest in the role of education in sustainability issues.
"Freelance alcohol fan. Coffee maven. Musicaholic. Food junkie. Extreme web expert. Communicator."