Extraterrestrial life: 'Just a matter of time' to find it, say scientists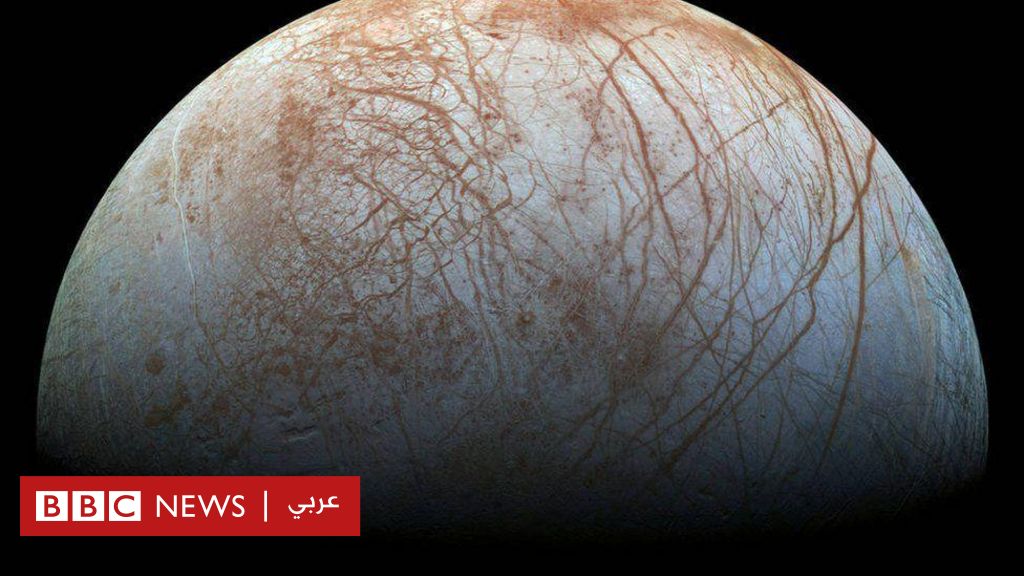 author,

Ballab Ghosh

stock,

Science Correspondent – BBC News
Many space scientists have stopped to wonder if life exists elsewhere in the universe.
The question they ask is: When will we find out?
Many are optimistic that we will find signs of life on distant worlds within our lifetime, perhaps within the next few years.
A scientist leading a mission to Jupiter goes so far as to say it would be "surprising" if life didn't exist on one of Jupiter's icy moons.
NASA's James Webb Space Telescope recently found disturbing signs of the possibility of life on a planet outside our solar system.
Many missions currently underway or soon to begin represent a new space race for the greatest scientific discovery ever.
"We live in an infinite universe, with an infinite number of stars and planets," says Honorary Scottish Astronomer Professor Catherine Heymans.
He adds: "We now have the technology and the ability to answer the question of whether we are alone in the universe."
Planets in the "Goldilocks Zone".
Telescopes can now analyze the atmospheres of planets orbiting distant stars, looking for chemicals that can only be produced by life on Earth, at least.
The first flash of such a discovery was spotted earlier this month. A possible sign of gas produced by marine life on Earth has been found in the atmosphere of K2-18b, a planet eight times the size of Earth and 120 light-years away.
The planet is located in what space scientists call the "Goldilocks Zone," a suitable distance from its star so that its surface temperature is neither too hot nor too cold, but well suited for the presence of liquid water. Necessary for life.
The team hopes to know within a year whether the disturbing signals they saw have been confirmed or disappeared.
If these signals are confirmed, Professor Niko Madhusudhan, of the University of Cambridge's Institute of Astronomy, said, "It will fundamentally change the way we think about the search for life."
He continued: "If we find signs of life on the first planet we study, it increases the likelihood that life is common in the universe."
If his team doesn't find signs of life on K2-18b, they have a list of 10 other planets, and possibly more after that. Finding none would "provide important insights into the potential for life on such planets," he says.
His project is one of many ongoing or planned in the coming years to search for signs of life in the universe. Some search for planets in our solar system, while others search even deeper into space.
Although NASA's James Webb Space Telescope is powerful, its capabilities are limited.
Planet Earth's size and its proximity to the Sun are factors that allow life on it. But the James Webb Space Telescope can't detect small distant planets like Earth or planets closer to their parent stars because of glare.
Therefore, NASA plans to build an Observatory of Habitable Worlds, which is scheduled to launch in the 2030s.
Using a high-tech sunshade, the planet reduces the light from the orbiting star. That means it can detect and model the atmospheres of planets like ours.
Later this decade, a giant telescope will also be available on the ground in the Chilean desert to see clear skies. At 39 meters in diameter, it has the largest mirror of any instrument ever built, so it can see more detail than its predecessors.
All three telescopes are used to analyze the atmosphere, a technique that chemists have used for hundreds of years to distinguish the chemicals within substances by the light they emit.
Its power is so high that it can be detected by a tiny speck of light from the atmosphere of a planet orbiting a star hundreds of light-years away.
Search near the ground
While some are looking at distant planets, others are focusing their search on the planets of our solar system, our planet's backyard.
Europa, one of Jupiter's icy moons, is the most likely to harbor life. It is a beautiful world with cracks like tiger stripes on its surface. Europa has an ocean beneath its icy surface, from which plumes of water vapor shoot out into space.
NASA's Clipper mission and ESA's Jupiter IC Moons Explorer (JUS) mission will arrive there in the early 2030s.
Shortly after Goss' work was approved in 2012, BBC News asked Professor Michael Doherty, lead scientist on the European mission, whether he thought there was a chance of finding life. "It would be surprising if one of Jupiter's icy moons didn't have life," he replied.
NASA is also sending a spacecraft called Dragonfly to land on one of Saturn's moons, Titan. It's a strange world with lakes and clouds made of carbon-rich chemicals. These chemicals, along with water, are believed to be essential elements for life.
Mars is currently considered too suitable for life, but astronomers believe the planet was once fertile, with a dense atmosphere and oceans capable of supporting life.
NASA's Perseverance rover is currently collecting samples from the crater, which is thought to have been an ancient river delta. A separate mission in the 2030s will bring those rocks back to Earth and analyze possible microbial forms of simple life forms long gone.
Have you tried contact from aliens?
Some scientists consider this question far from the realm of science fiction, but the search for radio signals from alien worlds has continued for decades, not least by the Search for Extraterrestrial Intelligence (SETI).
The sprawling space is a big place to search, so searches have been uneventful so far.
But the ability of telescopes like the James Webb Space Telescope to pinpoint where extraterrestrial civilizations might be most likely means that SETI can now focus its search.
According to Dr. Natalie Cabrol, director of the Carl Sagan Center, this has injected new momentum into SETI's study of life in the universe.
The company has upgraded its line of telescopes and now uses instruments to search for communications from distant planets from powerful laser pulses.
As a highly qualified astrophysicist, Dr. Cabrol understands why some scientists are skeptical of the search for SETI's signals.
But chemical signatures from distant atmospheres, interesting readings from lunar flybys and microfossils from Mars are all open to interpretation, he says.
He adds that looking for the signal "may seem like a potentially distant goal compared to the various ways to detect signs of life. But it's very obvious and within reach at any time."
"Imagine receiving a signal that we can actually understand," says Dr. Cabrol.
Thirty years ago, there was no evidence that planets orbited other stars. Now more than 5 thousand of them have been discovered, and astronomers and astronomers can study them in unprecedented detail.
According to Dr Subhajit Sarkar of Cardiff University, a member of the team studying K2-18b, all the elements are in place for a discovery that is more than just a spectacular scientific achievement.
He added: "If we find signs of life, it will be a revolution in science, and it will be a huge change in the way humanity sees itself and its place in the universe."
"Professional coffee fan. Total beer nerd. Hardcore reader. Alcohol fanatic. Evil twitter buff. Friendly tv scholar."
Set new GB WhatsApp update with fantastic specifications
GB WhatsApp Update GB WhatsApp application is considered as one of the most important applications relied on by millions around the world.Recently, a new version of the application has appeared, which is equipped with imaginative specifications that effectively meet the needs of users. And fans of this app are looking for a way to install it. Enjoy its new version.
New WhatsApp GB Update
One of the main features of the new update for the WhatsApp GB application is related to the ability to completely change the user interface. Users can choose the look of the app that suits them personally by changing colors, backgrounds or backgrounds. Even application icons. In addition, they users can control the size of the texts and customize them according to their personal preferences.
Hide and lock functionality is another great feature introduced in the new update for WhatsApp GB app. Users can now hide their private conversations and lock them with a code or fingerprint, increasing the confidentiality of content and protecting personal data.
Features of WhatsApp GB
For users who want to download video clips from WhatsApp posts, the new update gives them this ability easily and users can now save important or funny video clips on their phones without the need for external apps.
In terms of privacy, the new update for the WhatsApp GB app brings a new feature related to hiding appearances and not showing users the last seen time. The user can adjust these settings according to his personal preferences, reaching the highest levels. Privacy and Confidentiality.
New WhatsApp GB Updates
The new update to the WhatsApp GB application includes many additional features such as the ability to seamlessly send long messages, block notifications from unwanted people, and specify specific links that appear in group chats.
"Professional coffee fan. Total beer nerd. Hardcore reader. Alcohol fanatic. Evil twitter buff. Friendly tv scholar."
Motorola introduces a new and unique version of the Razr 40 Ultra phone
Written by May Mustafa
Motorola recently introduced a new unique color for its smartphones called Peach Fuzz, which is the Pantone color of the year 2024 for the Razr 40 Ultra and Edge 40 Neo collection, with the same prices and specifications as the rest of the smartphones. Launched in select markets around the world.Globally, from December 12, India may be launched.
Features of the new Motorola Razr 40 Ultra phone
The Motorola Razr 40 Ultra phone is powered by the flagship Qualcomm Snapdragon 8+ Gen 1 processor and is coupled with up to 12 GB of RAM and 512 GB of internal storage. It also has a dual rear camera which houses the main sensor. The phone has a 32-megapixel front camera with 12-megapixel resolution and a 13-megapixel macro photography lens with OIS optical stabilization technology, and Motorola has equipped its foldable phone with Dolby Atmos along with dual stereo speakers.
Additionally, the Motorola Razr 40 Ultra phone packs a 3,800 mAh battery that supports 33-watt fast charging. In terms of software, the phone runs Android 13 with the brand's Ready for feature.
Motorola Razr 40 Ultra Phone Price
The Motorola Razr 40 Ultra phone is available for sale in the US starting at $700 (equivalent to 21,648 Egyptian pounds).
Motorola Razr 40 Ultra Phone Specifications
As for the specifications of the Motorola Razr 40 Ultra foldable phone, it sports a 6.79-inch pOLED flexible foldable screen with FHD+ resolution, supports a high refresh rate of 165 Hz per second, and has a large external screen on the back panel. , 3.6 inches. It is a pOLED variant with a refresh rate of 144 Hz per second and is protected by Gorilla Glass 7.

Link copied
"Professional coffee fan. Total beer nerd. Hardcore reader. Alcohol fanatic. Evil twitter buff. Friendly tv scholar."
After spreading in Saudi Arabia.. Disadvantages of S22 Ultra. Worth buying?!
In the context of identifying defects S22 UltraWe can point out that Samsung is considered to be one of the most important companies working in the world of manufacturing smart phones, as this company is considered to be one of the companies that has been able to achieve massive popularity in the Saudi market. So let's know about the problems of Ultra 22s phone.
defects

S22 Ultra
read more:Who invited the marine life to the meeting?Dolphin?Saudi Arabia or Iraq?! Which is the largest country in the Middle East? Know the area of ​​both the countries. Conditions for crossing the King Fahd Al-Shawaf Bridge and what do they return? The origin of Deira al-Shabaab
Although the phone has many advantages, it suffers from several disadvantages, which can be identified through the following points:
It is not possible to install external memory.

It does not have a 3.5mm headphone jack.

There is no charger head in its case.

It does not have fast charging facility.

Its battery does not have enough capacity.
Ultra S22 Phone Features
Despite the flaws, the characteristics of a highly disturbed tyrant can be identified by the following points:
Its camera is characterized by high-quality photography whether it is shooting photos or videos or shooting day or night.

The device comes with one of the Android systems, Android 12.

AMOLED screen with a frequency of up to 120 Hz.

Its processor is distinguished by its powerful performance.

It is characterized by the strength and high quality of the manufactured products.

It is considered a water and dust resistant phone.

Supports shooting videos up to 8K quality.
Ultra S22 specifications
The phone has many highlights which we can identify through the following points:
The phone is made of protected glass material, in addition to the aluminum frame, which gives it a unique look of sorts.

It is designed to support 3G to 5G Nano chipsets.

Its screen is distinguished by its high resolution and large size, but its most important feature is to change the lighting rate according to the external light between frequencies, which provides a great reduction in energy consumption.

The phone is manufactured with up to 128 GB of internal storage memory and also relies on up to 8 GB of RAM.

It comes with a powerful 4-nano internal processor, while it has a unique graphics processor.

In terms of cameras, its front camera comes with a resolution of 10 megapixels, while the rear camera reaches 50 megapixels, and is characterized by optical stabilization capability, and these cameras have the ability to zoom up to 3 times.

Its battery is 3700 mAh, supports up to 25W fast charging and 4.5W wireless charging, but it's not the best in that range.

It supports Bluetooth, GPS and GPS in addition to supporting multiple Wi-Fi bands.

It supports both fingerprint and facial recognition, providing the highest levels of privacy protection.

Highly water- and dust-resistant, with a noise-isolating microphone.
Samsung is considered to be one of the most important companies that have managed to achieve a special position in the smart phone market, as this market is currently considered one of the most popular markets through which it works to provide users with many features. , so companies compete in this sector.
Read more
"Professional coffee fan. Total beer nerd. Hardcore reader. Alcohol fanatic. Evil twitter buff. Friendly tv scholar."