Session on Future Leaders Initiative at University of Sharjah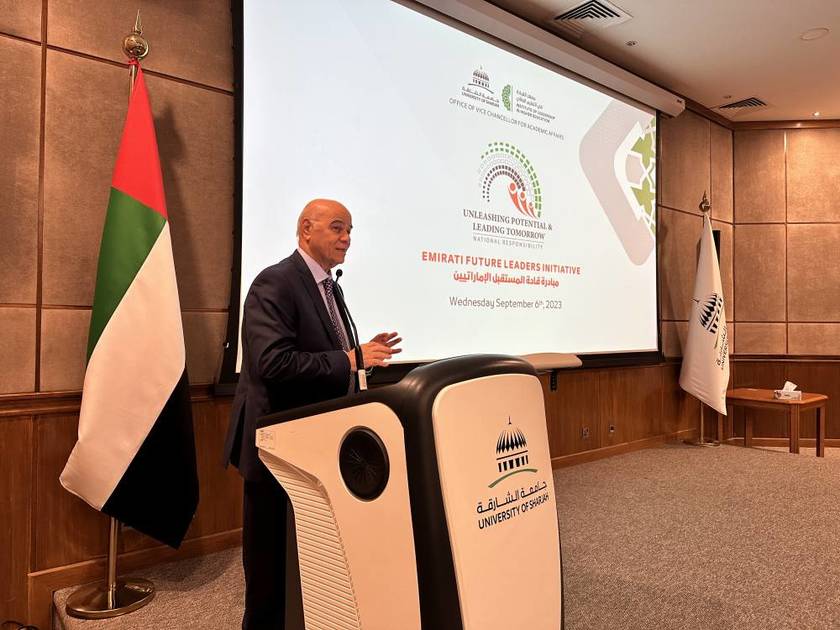 Sharjah: "The Gulf"
The University of Sharjah, through its Institute for Leadership in Higher Education, organized a mentoring session for the Emirati Future Leaders Initiative for Academic Excellence in its third edition, targeting national students with a 3.5 cumulative GPA. Or more, the university focuses on supporting distinguished young talents, empowering them to develop and achieve in line with the future directions and visions of the UAE.
The session was attended by the Chancellor of the University, Prof. Hamid Majol Al Nuaimi, Vice-Chancellors, Directors and students of the University.
Dr. Al Nuaimi opened the gathering with his speech in which he emphasized that this initiative will pave the way for success and academic and professional excellence and he urged the national students to join this initiative and complete their degree after graduation. Scholars, researchers and renowned academic leaders in the university in various fields indicate the university's eagerness to provide all kinds of support and jobs to invest in the skills of the youth and benefit from their extensive knowledge and ambitious and bright ideas.
Vice-Chancellor for Academic Affairs Vice-Chancellor Youssef Al-Hayek pointed out that the program is one of the most important programs offered at the university to qualify future Emirati leaders.
Dr. Muammar Al-Tayeb, Vice-Chancellor for Scientific Research and Postgraduate Studies, praised the strong infrastructure for scientific research that characterizes the University of Sharjah.
Dr Amina Al Marzooqi, Vice-Chancellor for Student and Branch Affairs, expressed pride in the excellence of the University of Sharjah students and their achievements in various fields.
Vice-Chancellor for Community Service Affairs Vice-Chancellor Salah Taher Al-Haj indicated the university's interest in offering such programs to develop students' skills and abilities in various fields.
"Freelance alcohol fan. Coffee maven. Musicaholic. Food junkie. Extreme web expert. Communicator."
Mohammed Bin Rashid Library advances knowledge with new collaboration
Member of the Board of Directors of Mohammed Bin Rashid Library Foundation Dr. Mohammed Salem Al Mazrouei affirmed that the library is keen to provide an environment of excellence and promote the knowledge and cultural scene and movement in the UAE. Researchers and students should invest their potential to create a more prosperous future for future generations.
This came on the occasion of the Government of the Library and Mohammed Bin Rashid College signing a memorandum of understanding to promote joint collaboration in the fields of supporting scientific research and disseminating culture and knowledge at the national level. The memorandum is signed by Mohammed Al Murr, Chairman of the Board of Directors of Mohammed Bin Rashid Al Maktoum Library Foundation and Dr. Ali Bin Seba Al Marri, CEO of Mohammed Bin Rashid Government College. The framework of interest of both parties is to improve the cultural and educational environment in the UAE and to provide an environment that encourages… Work on organizing mechanisms to improve intellectual content and promote science, explore, research and develop knowledge. Research among members of the community.
Cultural movement
Al Mazrouei said, "This MoU reflects our joint commitment to develop cultural and scientific infrastructure and promote the knowledge and cultural scene and movement at the national level. It reflects our future and our passion to achieve sustainable goals. Students and researchers to make full use of their potential, 'we' An environment that will help develop their educational preferences in a way that supports the vision of UAE 2031 and our plan for the next 50 years contributing to creating a more prosperous future for future generations." Collaboration between local educational and cultural institutions is a key and important step towards achieving excellence and innovation, culture, education and knowledge. cementing the UAE's position as a leading global center of economy."
New station
On his part, Mohammed Bin Rashid Government College CEO Dr. Ali bin Seba Al Marri said, "The signing of the Memorandum of Understanding is a new step in strengthening the strategic vision of the college. To provide an integrated system of education and training programs, research and studies, which are in line with the highest standards." and international practices, while at the same time equipping leaders with the best skills and abilities to meet the challenges.Innovating in providing governance structures that enhance leadership in the future and government performance.
He pointed out the college's constant interest in creating strategic partnerships for excellence in the field of education and knowledge, which stems from providing an academic and academic environment that meets the aspirations and needs of all those affiliated with the various programs in the college. Researchers and academics in general point out that cooperation with this institution has an important place in the arena of knowledge and will contribute to opening doors for more initiatives and activities aimed at establishing a culture of research and knowledge among members of society. The MoU includes developing mechanisms to enhance cooperation between the two sides, exchange knowledge resources, provide support for research projects and organize joint events and activities to meet the aspirations and needs of students and stakeholders from various knowledge communities.
Recent posts
The MoU stipulates that the Muhammad Bin Rashid Government College, Muhammad Bin Rashid Library will be provided with latest publications, research papers, conference papers and other publications as permitted by the college's copyright. Displayed in the corridors of the library and made available to those interested.
Muhammad Al Mazrui:
"Collaboration between local educational and cultural institutions is a vital and important step towards achieving excellence and innovation."
Ali Al Mari:
"This step opens the door to further efforts aimed at establishing a culture of research and knowledge in society."
"Freelance alcohol fan. Coffee maven. Musicaholic. Food junkie. Extreme web expert. Communicator."
Emirates News Agency – Ahmed Belhoul Al Falasi delivers a keynote address to the Youth Media Forum in the presence of Latifah Bint Mohammed.
Monday, September 25, 2023 – 5:15 p.m
Dubai, 25th September / WAM / Chairman of Dubai Culture and Arts Authority, Member of Dubai Council, His Excellency Dr. Ahmad Belhoul Al Falasi, in the presence of Sheikha Latifah bint Mohammed bin Rashid Al Maktoum, Minister of Education, emphasized the importance of having a platform to exchange experiences and knowledge and improve the presence of talented youth. .In the media sector, it contributes to the qualification of young male and female media professionals and prepares them to absorb the developments and challenges in the sector. Preserving the traditions and ethics of media work, ensuring its authenticity and sustainability of its impact.
This happened during His Excellency's speech at the Youth Media Forum, which was established under the guidance of His Highness Sheikh Ahmad Bin Mohammed Bin Rashid Al Maktoum, Second Deputy Ruler of Dubai and Chairman of the Dubai Media Council. The main session of the first session of the forum organized by Dubai Press Club, is exclusively dedicated to male and female students. Media.
His Highness Sheikh Mohammed bin Rashid Al Maktoum, Vice President, Prime Minister and Ruler of Dubai, announced through his "X" platform (formerly Twitter) in search of a famous young man, "May God protect him". Or the woman representing youth issues in the government of the United Arab Emirates, learned very valuable lessons, caring for the youth, empowering them and listening to their voices and issues is a priority for every country that aspires to uniqueness and excellence, because the future is one that is capable of facing the challenges of time with a proactive attitude and passion for work and achievement. Nations are created by its conscious youth, which indicates that His Highness chose to announce one of the most popular social media platforms. The need to imbibe modern technologies and tools and use them to reach the target audience efficiently and effectively.
He added: "We in the UAE have learned from our intellectual leadership the importance of understanding the needs of the future and preparing to meet its challenges if we want to achieve global leadership, and those who want to be at the forefront should not hesitate. Invest in the youth because they are the creators of the future."
Honorable Dr. Ahmad Belhoul Al Falasi praised the Youth Media Forum and the key topics it presents, revolving around the role of youth in creating tomorrow's media, stressing that the value of media work is to bridge generations by combining expertise and experiences. Pioneering the energy of young media professionals, strengthening the connection between the values ​​and ethics of media work and tools, paving the way for a new generation of Arab media professionals armed with modern technology, knowledge, skills and confidence. Skillfully leading the media scene in our Arab world for years and decades.
He emphasized that it is imperative that the media evolves in line with the changes towards the future, its staff and leaders develop, and create and sustain content that is competitive in terms of value, quality and impact. The pace of development in the UAE and its aspiration for further progress and prosperity in the next phase point to the importance of media-savvy students with values ​​of integrity and authenticity to ensure the influence of Arab media in the future. and to adapt to the rapid changes occurring in the field of media work, to develop the ability to face challenges armed with competence and creative thinking, and to commit to the principles and ethics of the profession in order to carry out their duties effectively and efficiently.
– The voice of truth.
On the opportunities and challenges facing the media sector, especially in the light of the rapid technological development across the world, the Hon'ble Minister of Education said that today's media landscape is diverse and has a mix of traditional and mixed media. Digital, in which message and concept are intertwined, and exposes the recipient to a vast stream of usable.
He pointed out that modern technologies play a fundamental role in shaping the future of media, especially artificial intelligence and other technologies that will change the shape of media as we know it, offering opportunities to disseminate information, opinion and analysis in new ways. . At the same time, it creates many challenges, symptoms of which we see today in the spread of fake news and the use of techniques such as deep fakes.
– Accept responsibility.
The Hon'ble Education Minister expressed confidence in the ability of the young media students to carry out the responsibility entrusted to them with all skill and integrity. Knowledge and a negative media that doesn't care about the truth is like the difference in building society." It is progressive and believes in the values ​​of tolerance and coexistence and strives to achieve sustainable growth and development for all its groups. And in backward societies ignorance and falsehood are prevalent among their members.
Ahmed al-Boutli/Mohammed Jaballah
"Freelance alcohol fan. Coffee maven. Musicaholic. Food junkie. Extreme web expert. Communicator."
Forex Trading and Global Economics: The Impact of Economic Factors
The forex market is a global marketplace, with traders completing trillions of trades daily. It is also a liquid and volatile market that is highly sensitive to economic factors on a local and global scale. These factors affect market and investor sentiment, current values, and trade decisions, ultimately driving prices up or down.
The Relationship Between Forex Trading and Economic Factors
Forex trading entails speculating on a currency's price to profit from its sale. The forex market is influenced by several economic factors that determine currency values and the prices traders deem fair at a particular time. If you are interested in forex trading, you should understand that there are numerous indicators, and it is impossible to follow them all. Some are also more important and have a bigger impact than others.
The Gross Domestic Product (GDP)
GDP shows the value of all services and finished products produced within a country in a specified period. It is one of the best measures of the health of an economy. GDP does not move the market much because almost everything in it is known months in advance.
However, it can move the market in two ways. One, the GDP numbers might differ from expectations, leading investors and traders to revise their positions and thinking. As this happens, market activity, trade volumes, and volatility increase, opening up opportunities for keen investors.
Second, GDP can help investors know if a country is in recession, technically defined as a GDP contraction in two consecutive quarters. It, therefore, becomes a crucial macroeconomic factor that helps interested parties better understand a market and the forex opportunities therein.
The Unemployment Rate
This is the percentage of a country's working-age population looking for work. Unemployment damages consumer sentiment and spending and can significantly affect a country's economic health.
Unemployment data released by the government gives traders an insight into a metric that the government follows keenly. Any deviation from established trends or projections can impact the forex market.
For example, a higher-than-expected unemployment rate, which indicates a weakening of the labor market, can mean a bearish run of a currency. Any currency pairs that include it could benefit traders if they position themselves well.
The Direction of International Trade
A balance of trade tells investors and traders the demand for a country's products. Countries with products in high demand will see currency value appreciations. The reason is that buyers must convert their currency to the country's currency, increasing demand for the latter. This puts pressure on it, and its price appreciates.
The reverse is true for countries that are net importers of international products.
Inflation
Although a significant indicator, it might have unintended consequences on currency prices. Many traders assume that high inflation rates cause the value of a currency to fall. The reverse can happen if a central bank raises its rates to slow inflation down.
Currency values hinge on the health of their underlying economies whose health is determined and understood by looking at the most important macroeconomic indicators. Traders should keep an eye on them to understand how the global economies are doing so they can make better investment decisions.
"Professional coffee fan. Total beer nerd. Hardcore reader. Alcohol fanatic. Evil twitter buff. Friendly tv scholar."