Sources reveal to CNN details of discussions on safe passage from Gaza, which Egypt denies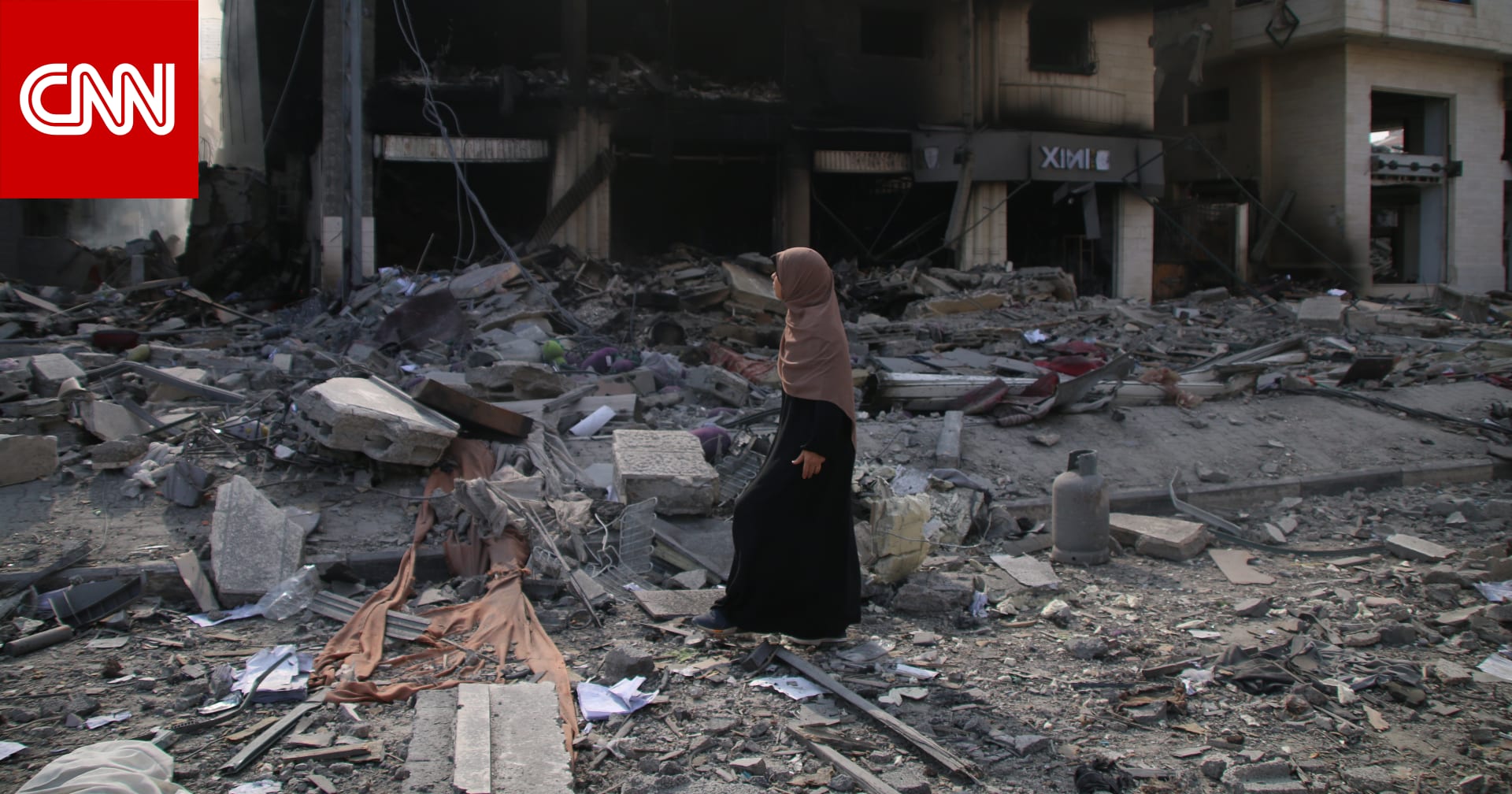 ATLANTA, USA (CNN) – The U.S. government is in discussions with partner countries, including Egypt and Israel, to ensure safe passage for Americans and other citizens from the Gaza Strip, U.S. officials told CNN.
But according to a US source, Egypt wants to use the humanitarian corridor to send food and medical supplies to Gaza, but does not want to open the border in the other direction to receive civilians fleeing the Strip.
US State Department spokesman Matthew Miller said on CNN on Wednesday: "We believe it is important to allow American citizens in Gaza to leave, and that is an issue we are working on."
"We're doing it quietly, like many other diplomatic efforts we undertake," Miller added. "It's not constructive to talk about it publicly, but we're doing it. It's something we're trying to accomplish."
As pressure to establish a humanitarian corridor mounts, Americans in Gaza who spoke to CNN expressed fear and frustration over the situation as they are trapped without a safe route out of the area, which has been heavily bombarded by Israeli forces.
They told CNN they didn't think the US government would be able to help them, and there were reports that the only route to Gaza – through Egypt – had been closed by airstrikes on Tuesday and that Israeli ground forces were threatening to invade.
"We have had discussions with our counterparts in Israel and with our counterparts in Egypt," National Security Adviser Jake Sullivan said on Tuesday.
Sullivan added, "Without going into the details of safe passage for the public and so on, I would say that's something the US government is interested in how to implement in practice."
Neither Sullivan nor Miller provided a timeline for when the safe corridor would be operational.
The U.S. national security adviser spoke with Abbas Kamel, the director of the General Intelligence Service in Egypt, over the past few days, and officials expect U.S. President Joe Biden to speak later with his Egyptian counterpart, Abdel Fattah el-Sisi.
"Our priority is protecting the safety and security of Americans abroad," Miller said Wednesday. "As the president said yesterday, we don't want civilians killed anywhere. We want to protect civilians. We want to make sure that civilians are not targeted. We expect Israel to follow the laws of war.
"Creator. Award-winning problem solver. Music evangelist. Incurable introvert."
Bloomberg News: Commission works with Americans to manage Gaza Strip
The US Bloomberg agency quoted Palestinian Prime Minister Muhammad Shtayeh as saying that the Palestinian Authority is working with US officials on a plan to manage the Gaza Strip after the end of the war.
The preferred outcome of the conflict is for the Islamist movement (Hamas) currently operating in the Gaza Strip to become a junior partner in Palestinian liberation, Shtaeyeh said in an interview with Bloomberg on Thursday from his headquarters in Ramallah. The organization aims to establish a new independent state that includes the West Bank, Gaza Strip and Jerusalem.
Shtayeh said that the Palestinians should not be divided and that Israel's goal of completely eliminating Hamas is unrealistic, and that there is room for negotiation if Hamas is willing to accept the PLO's political approach and reach an agreement.
Phil Gordon, the US vice president's national security adviser, held discussions with Palestinian officials in Ramallah about the "revitalization" of the Palestinian Authority, the White House said last Wednesday.
He insisted that a revived Palestinian Authority would be able to govern the Gaza Strip and the West Bank.
According to the White House, he emphasized the need to strengthen the Palestinian Authority's security forces to eventually take over responsibilities in Gaza.
In a related context, the British newspaper The Times said that a British military team is operating in the West Bank to prepare the Palestinian Authority to take over the administration of the Gaza Strip.
According to Israeli figures, 1,200 people were killed and about 240 detained and captured after attacks on Israeli cities on October 7, after which Israel pledged to eliminate Hamas.
More than 17,170 Palestinians have been killed and about 46,000 injured since Israel began shelling the Gaza Strip following the "Al-Aqsa Flood" operation in response to the occupation, according to the Ministry of Health in the Gaza Strip. Against the Palestinian people and their sanctity.
"Creator. Award-winning problem solver. Music evangelist. Incurable introvert."
"Ceviche"… a thousand recipes in the Intangible Heritage List
Yesterday, UNESCO added Peruvian ceviche – a dish made from marinated raw fish – to the Intangible Heritage of Humanity list.
According to local anthropologists, the type of fish used to prepare this dish varies from one region to another.
According to celebrity chef Javier Vargas, president of the Peruvian Seafood Restaurants Association, there are at least a thousand recipes or methods of preparing ceviche in the country.
The Peruvian Ministry of Culture welcomed UNESCO's announcement that the addition of Chevy to the organization's list of "Intangible Heritage of Humanity" is "the first of the traditional Peruvian cuisines and recognizes all participants in the food's value chain. Fishermen from the coast, the Andes and the Amazon, farmers and chefs."
The Intergovernmental Committee for the Safeguarding of the Intangible Cultural Heritage, which met in Botswana last Monday, approved the inclusion of ceviche in the UNESCO list of Intangible Cultural Heritage of Humanity.
• Eating the food varies from one region to another depending on the type of fish used to prepare it.


Follow our latest local and sports news and the latest political and economic developments via Google News

"Creator. Award-winning problem solver. Music evangelist. Incurable introvert."
Al-Qassam destroys 79 occupation vehicles in 72 hours and continues to destroy its forces in Gaza News
7/12/2023–|Last Updated: 12/7/202308:01 PM (Makkah Time)
The Martyr Iss al-Din al-Qassam Brigades, the military wing of the Islamic Resistance Movement (Hamas), announced – in a statement today – Thursday that it had destroyed 79 Israeli military vehicles, either in whole or in part, in the Gaza City borders. In the last 72 hours, its fighters managed to target an Israeli force of 15 soldiers. With 3 shells, they killed and wounded east of Khan Yunis.
In a separate statement, al-Qassam Brigades confirmed that its fighters were able to shoot two Israeli soldiers in the Shujaiya neighborhood east of Gaza City and two others northeast of Khan Yunis with homemade "Gol" rifles.
Its militants were trapped in a tunnel opening in Sheikh Ratwan area which was blown up by the occupying forces, leading to their killing and injuries.
In Beit Lahiya, north of the Gaza Strip, Al-Qassam forces targeted two troop ships with "Al-Yasin 105" missiles.
Al-Qassam fighters clashed with an Israeli infantry force of 6 soldiers on the eastern axis of Khan Younis city, killing and wounding them, and captured a robot in their possession.
Al-Qassam brigade targeted 4 Israeli tanks and an army excavator on the eastern axis of Khan Younis city with "Al-Yasin 105" bombs, and targeted an army bulldozer with a "Tandom" shell.
Al-Qassam Brigades' military media broadcast images of a missile attack on Israel, exposing the Raym base, the Gaza Strip headquarters, the Kisufim settlement and the Sufa military support base to a barrage of missiles. .
Al-Qassam confirmed that its artillery units penetrated and destroyed Israeli army forces north of Khan Younis city with mortar fire.
Al-Qassam Brigades also claimed to have targeted Israeli military command posts on the southern axis of Gaza City with the "Rajum" missile system.
Israeli losses
The Israeli military has acknowledged that two officers and a soldier were killed and seven others were wounded during clashes with the opposition in the northern and central Gaza Strip.
Israeli media reported that Qadi Eisenkot's son, a member of the war council and a former commander-in-chief, was killed in a mine explosion in a tunnel that was caught in the hands of the Qassam Brigades.
This came a day after the occupation announced that 10 of its forces had been killed in a single day, including 7 officers. This brings the Israeli army's death toll to 92 soldiers and officers since the start of the ground operation and 413 officers and soldiers since the start of the Operation Al-Aqsa flood and the war on Gaza last October seventh.
The Israel Broadcasting Corporation reported that about 100 Israeli soldiers suffered serious eye injuries during the fighting in Gaza, and 15% of them were partially or completely blinded by explosions, shrapnel or gunfire.
"Creator. Award-winning problem solver. Music evangelist. Incurable introvert."