"The Father of the Arts" in Syria, the foreign text that dominates the stage
Translations of dramatic texts formed an important aspect in the beginning of drama in Syria and its development and sustainability.
Since its inception, Syrian theater has benefited from foreign texts, which were largely present on the stage, as many of the theatrical works presented still relied on translated texts compared to the small number of works by local authors.
"Al-Bayan" sought the opinions of several experts on the theater movement in Syria and the influence of foreign texts on its development. Writer and director "Jon John" believed that Syrian drama would not have seen a revival. In the second half of the last century, the translation movement did not exist.
He continued: "Since 1950, Syrian directors have received translated texts and presented them to theater audiences such as the works of Aristophanes, Albert Camus, Gogol, Norwegian Henrik Ibsen, George Bernard Shaw and William Shakespeare. In this context, Rabiq al-Shabban "The Merchant of Venice" and " Julius Caesar", while Yusuf Harp presented "The Temperance of Severity".
He added: "At the beginning of the new century, directors resorted to presenting translated works by authors whose works the public is not used to seeing. Naila al-Atrash presented a text by the Hungarian writer "Julius Hay" entitled "The". Bed, and Bassam Ghousa from Austria "The Farewell Dinner" directed the play. , "Memoirs of a Man We Know," Russian "Alexander Ostrovsky." This is in addition to dozens of other works too limited to mention.
Dr Maysoun Ali, professor of contemporary drama at the Higher Institute of Dramatic Arts in Damascus, told Al-Bayan: "It is known that interest in translating drama began in the mid-nineteenth century with a generation of pioneers: Maroon al-Naqqash and Ateeb Ishaq (1856-1885), a writer, a Syrian translator. , he translated French writer Racine's play "Andromache" and he also translated Victor Hugo's play "Charlemagne". He visited Rome, Venice, and Paris for the first time and returned influenced by this new type of culture, and later sought some inspiration. Among the foreign texts, there is also the experience of Abu Khalil al-Kabbani. Moliere's translation of Marun al-Naqqash, but after he had produced it, to ensure its context and relevance.
Impact
He added: In the case of Syria, the influence of the translated dramatic text began in Europe by watching theatrical performances, not by reading written dramatic texts. The influence on Western drama began visually, then the text, written and read material, which indicates that the real beginning of drama translation in our country was after the First World War (1914-1918), especially the translation movement from French. and English.
Researcher of Modern Drama Dr. Reem Shamia observed that despite all the difficulties the drama translation movement faced, it contributed and still contributes to the enrichment of our "father of arts". Bertolt Brecht, Samuel Beckett, Eugene Ionesco and "Arthur Adamov and Luigi Pirandello Translations of Syrian Dramatic Works.
He continued: The translated plays influenced Chadalla Vannes's theatre, noting that, for example, he began to write plays influenced by existential thought, especially the trend of the absurd that arose from it, thereby giving him space to raise issues. concerned with existential thought and human suffering, and at one point he resorted to epic drama influenced by the tools of Brecht and Pirandello.
He adds: "Where Brandello tried to present prepared improvisations in his play "Six Characters in Search of an Author," Vannes was interested in spontaneous improvisation in "Summer Feast for June 5," and Brecht's presence in "The King is King," he continued, and Samarin The style he started at the party; "I mean, breaking the fourth wall."
"Coffee evangelist. Alcohol fanatic. Hardcore creator. Infuriatingly humble zombie ninja. Writer. Introvert. Music fanatic."
Sherin receives warm welcome from Saudi audience at "Masterpieces of Sunbati" concert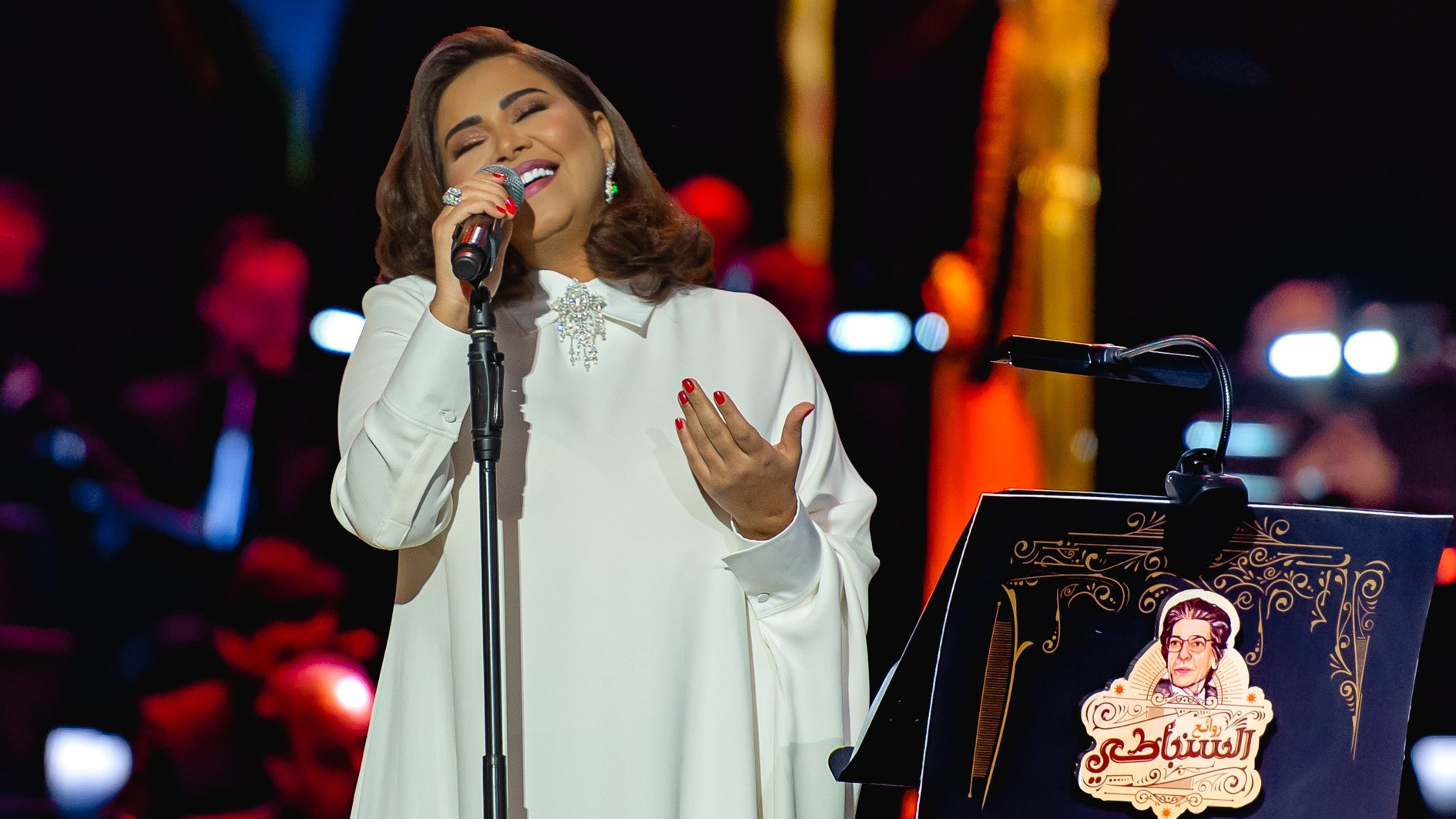 Our readers are Twitter users
You can now follow the latest news through our Twitter account for free
Click here to subscribe

Elaf: As part of the activities of the fourth edition of Riyadh Season, Egyptian artist Sherin Abdel Wahab performed in the Masterpiece of Sanpati concert held at the Abu Bakr Salem Theater.
Riad Al-Sunbatti was composed by Ms. Umm Kulthum with the song "My Eyes Came Back" by Sherin Abdel Wahab and Ahmed Rami. He continued his brilliance with the second single, "My Heart Confuses With You." Composed by the same great poet and musician Al-Zanbati.
He received a warm welcome from the Saudi audience, who chanted, "We love you, Shushu," the surprise of the ceremony, announced Adviser Turki Al-Sheikh, head of Saudi Arabia's Public Entertainment Authority. Artiste Sherin Abdel Wahab performed a special concert.
✨
My eyes rolled back 🥺♥️
..
Artist Sherin
in one night #Sanpati's_masterpieces ✨
..#Riyadh season#bigtime #punch_mark pic.twitter.com/tnlzp7BPZ6
— Benchmark | Benchmark (@Benchmark_ksa) November 30, 2023
Sherin expressed his gratitude in these words: "Allow me to salute the Kingdom of Saudi Arabia, its King and its people, and a thousand thanks for every need we have, Honorable Counselor Turki Al-Sheikh, a thousand thanks for your love. And kudos to the Egyptian artists, a thousand thanks to maestro Hani Farhad and the orchestra one by one."
✨
Collected by artist Shereen
A night between ecstasy and passions#Sanpati's_masterpieces 😢🤍
..#Riyadh season#bigtime #punch_mark pic.twitter.com/oQJyCsf2Gq
— Benchmark | Benchmark (@Benchmark_ksa) November 30, 2023
"Coffee evangelist. Alcohol fanatic. Hardcore creator. Infuriatingly humble zombie ninja. Writer. Introvert. Music fanatic."
Dubai Design celebrates the art of hip-hop on December 10
Soul Platform, the region's most anticipated culture, youth and contemporary lifestyle festival, Soul DXB Festival, unveiled its new edition as the inaugural event for the 29th edition at TECOM Group's Dubai Design District between 8 and 10 December. Dubai Shopping Festival. The site is an official partner of the Hip-Hop 50 initiative in the Arab world in collaboration with Mass Appeal Production Company, and this edition of the festival promises to deliver unforgettable experiences. Hip-hop, fashion, visual arts and sports sectors.
The festival will also include interactive conversation sessions with a panel of important and influential figures in this genre of music. The Soul site also announced the participation of another group of artists to ensure an unprecedented experience celebrating hip-hop culture among the younger generation.
Newly announced artists include Grammy-nominated young British singer-songwriter Arlo Parks. The line-up also includes seven-piece band Kokoroko from London, who will perform at the festival's lounge, Rhodes Restaurant, on Sunday 10 December.
This year, Soul DXB Festival, in collaboration with Gulf Photo Plus, is hosting a photography exhibition called "Occupied Pleasures" by artist Tania Habjoka. Through a group of three-dimensional paintings, the exhibition accurately portrays humanity's ability to cope with difficult situations in Palestine.
Soul DXB and Dubai Design District have teamed up once again to bring fashion lovers the Spotlight by D3 exhibition. The exhibition offers an opportunity to explore cross-cultural original collections by emerging designers from the UAE, South Africa, Palestine, United Kingdom, Finland, Spain, Lebanon and other countries.
Rudy's Diner, the Soul DXB Festival's main lounge, will host live performances on opening night, available during the day for ages 21 and older. This year, the talk show, considered one of the most important events of the festival, also offers conversations with eminent personalities from the fields of fashion, music, publishing and design.
"Coffee evangelist. Alcohol fanatic. Hardcore creator. Infuriatingly humble zombie ninja. Writer. Introvert. Music fanatic."
Writing in "The Night's Night" is Ahmed Balhamer's compass
Poet Ahmed Balhamar (from source)
Friday 1 December 2023 / 18:58
Emirati poet Ahmed Umar Balhamar's collection of poems "The Vase of the Night" was recently published by Nariman Publishing, Printing and Distribution House in Lebanon. The collection consists of 160 pages of medium size and 127 short and concise poems. Prose poetry.
Most of the poems have single-word titles, including Nostalgia, Dust, My Loss, Separation, My Friends, Division, Escape, Leak, Point, Measure, Exchange, Chaos, Rain, Burn, Shadow, Our Story, Limits, Days. , etc. But will not the reader find in the pages of the anthology a text entitled "The Night's Vessel," as other poets are accustomed?
Most of the poet's texts are sensitive and emotional, reflecting his outlook on life, and they carry many meanings of the night, its sadness, vocabulary and atmosphere. The poet wrote on the cover of the book covered by the darkness of a dark night, so we read there:
I wrote it in the middle of the night and on the streets of memories
It's like I'm there every step of the way
And in every word
I draw the way to my heart
So I walked with the poem in hand.
Here we see what writing represents to its poet, as poetry accompanies him on his journey as a faithful friend, leaning on his arm and strengthening him, being his compass on the paths of life.
Ahmed Umar Balhamar, who holds a bachelor's degree in engineering and works in its field, says: "I started my journey by writing 10 years ago, and then wrote an occasional newspaper article titled "Broadcast" in Al-Anba, a Kuwaiti newspaper. After that, I wrote in the Egyptian newspaper "Rose Al-Youssef" in the same year. Around a period of time, I collected the articles and published them as a book titled "Getting to Know You" by Al-Raitiyya Publishing House. and distribution house in Saudi Arabia. The articles were varied but most of them social and discussed scenes that attracted me from the reality of life and its daily occurrences.
About the development of his literary talent, Balhamar confirmed to 24: "The process of human self-development begins and does not end, it continues and does not stop. From childhood, the passion for reading and the hunger for knowledge came together. With me, it is with me to this day.
He said about the most important writers who influenced him: "I read many authors and authors, and the names never attracted me, but rather, I was attracted by the strength of the written words, their sweetness and the degree of their difference. I'm not influenced by one author over another, all the books I've read have influenced me in one way or another, there's no doubt about that." I've influenced the minds of others who read me. Yes, the process is intimate. It's possible for contagion to spread without us noticing."
Ahmed Balhamar writes in classical and colloquial, and in response to the question of who is closest to his heart, how the genre of poetry determines the moment of inspiration, he added: "All literary genres are dear and close to me. My literary taste, but colloquial dialect is closer to the listeners because It is their spoken language, but as for inspiration, a strange creature meets a person without permission or acquaintance, surprises us at strange times and places. To be frank, I do not choose the form and symbolism of poetry when I write. Words are the master of will, they impose their presence and form on the white, They decide when to start and when to end.
Commenting on the tendency of many poets to write novels in the current era, and whether Balhamer would remain loyal to the poetic field, or consider writing fiction, he says, "Up to this moment I had no idea. Writing a work of fiction, but I don't know if I will knock on this door in the future or continue. "Clinging to my old place and loyal only to poetry."
Regarding the source of inspiration for his poems or essays, he said: "Ideas are born in the conscience of the writer, through his interaction with people and society, his daily activities with them and observation of what is happening in the world around him. "
It is noteworthy that Ahmed Balhamar participated in many poetry evenings in the Emirates Writers and Authors Association and other cultural organizations, he regularly attends cultural events and events. In colloquialism, Napati Publishing House and some of his works were translated into the language.
In the collection of poems "Ana al-Layl" titled "Lost" we read:
you
Your shadow has not left you since the sunrise
Until the full moon and starry evening come
How lucky you are
My sun rose and set
And my shadow is still missing.
"Coffee evangelist. Alcohol fanatic. Hardcore creator. Infuriatingly humble zombie ninja. Writer. Introvert. Music fanatic."