The number of visitors to Dubai Design Week increased by more than 60%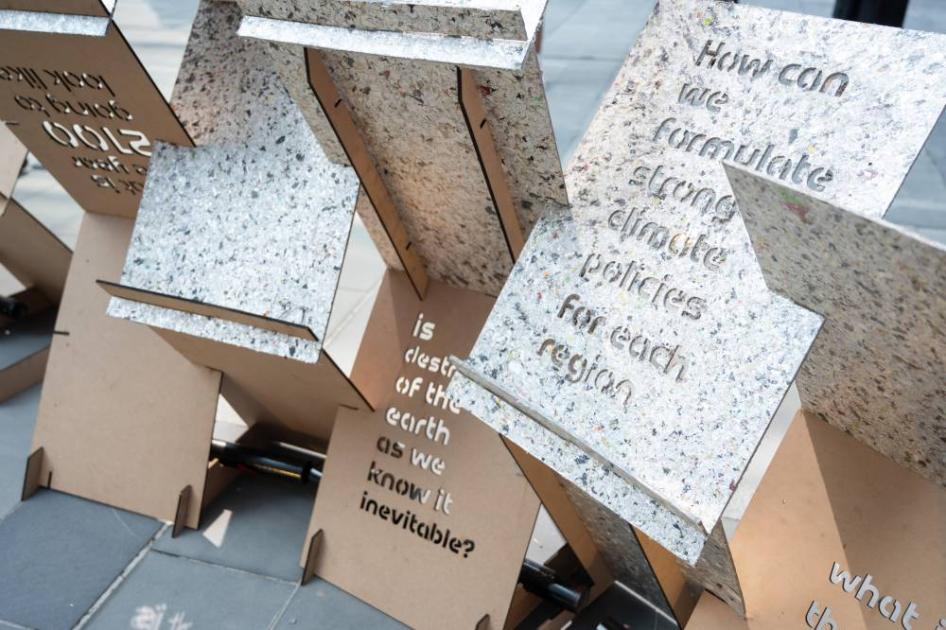 Khadija Al Bastaki: We are proud to be strategic partners for two major events
Participation of 500 designers and architects from all over the world
300 specialized organizations participated, including 175 for the first time
Organized by TECOM Group in strategic partnership with Dubai Design District, the Dubai Design Week and Downtown Design events concluded with great success in terms of visitor numbers and scope of activities including exhibitions, various creations. activities and rich conversation sessions.
The festival has succeeded in attracting tens of thousands of experts, professionals and enthusiasts to the Emirate of Dubai, achieving a more than 60% increase in visitor numbers over last year's edition. Design and creative industries in Dubai have seen growth, confirming the emirate's position as a global destination for design and creativity, strengthening its position in the UNESCO Creative Cities Network.
Dubai Design Week saw the participation of more than 500 creative designers and architects, while "Downtown Design" saw the participation of more than 300 companies specializing in design fields, including more than 175 exhibitors for the first time. Participating brands presented innovative designs, architectural installations and exhibitions as well as workshops, meetings and creative conversations. In line with the United Arab Emirates and the Conference of the Parties to the United Nations Framework Convention on Climate Change (COP28), participating brands also discussed ways to promote sustainability and design for the future of the creative industries. It will be held in Dubai later this month.
8 million jobs
Dubai's creative economy has become a key driver of sustainable economic growth, poised to double the creative industries' contribution to Dubai's GDP to 5% by 2025. According to a report published by Deloitte, the global creative economy is likely to grow by 40%. % by 2030, and contribute to the creation of more than 8 million new jobs.
By the end of 2022, foreign direct investment into Dubai's cultural and creative industries will increase to $2 billion, ranking first in the Middle East and North Africa region, supported by Dubai's creative economy strategy and flexible legislative and regulatory frameworks.
Growing stage
Khadijah Al Bastaki, Senior Vice President of TECOM Group – Dubai Design District, said this year's editions of Dubai Design Week and "Downtown Design" are a testament to Dubai's growing status as a global creative capital. He said: "We are proud to be strategic partners of these two major events in the creative industry, as they have succeeded in highlighting the work and creativity of designers and talent at regional and global levels. A forum for exchanging visions, expertise and experiences with the aim of shaping the future of the sustainable design industry, it is "Design , enhancing Dubai's status as a global destination for creativity and the arts".
Regional Forum for Architecture
Dubai Design District in collaboration with the Royal Institute of British Architects (RIBA), Gulf Branch organized the fourth edition of the Regional Architecture Forum under the theme "Sustainability – Past, Present and Future" in conjunction with Dubai Design Week. Participating in the forum, which will continue till December 12. In Dubai Design District, there are more than 35 architectural studios, whose roster includes renowned international firms in the field, including "RIBA" members or clients in Dubai Design District. "Foster + Partners", "Zaha Hadid Architects" and "UN Studio". , with a group of local and regional studios.
"North Star"
TECOM Group's in5 Business Incubator, which specializes in supporting and developing entrepreneurs and emerging companies, presented the innovative work "The North Star", the largest exhibition hall in the region implemented with 3D printing technology, as the artwork was designed. By Nyxo Studios, an emerging company in Babysitter.
"Code"
Displayed in the corridors of the Dubai Design District, "The Code" is an innovative artwork that comes as an initiative of Dubai Internet City, which compliments the leadership and vision of Vice President Sheikh Mohammed bin Rashid Al Maktoum. May God save the Prime Minister of UAE and Ruler of Dubai. Consisting of stacked glass panels, the work reflects Dubai's ancient heritage and its future aspirations, as it is produced from His Highness's poems that appear in the form of text written in symbolic language. Viewed from a certain angle, this cylindrical work is a charming visual reflection of a man with a visionary future and his brilliant leadership, knowing that it will forever be on display in Dubai Internet City.
Affiliate program
Dubai Institute of Design and Innovation, the region's premier design and innovation university, hosted an event to coincide with Dubai Design Week, featuring workshops, exhibitions and a series of design conversations exploring the practical and theoretical applications of innovative design thinking.
Museum of the Future Technology Director Sundar Raman led a session on the evolving needs and possibilities of built environments, while Raffaele Saporetti, Chairman and CEO of the world-renowned Italian interior and furniture design firm Saporetti, spoke about classics and changing expectations. Standard furniture design.
A legacy beyond events
Projects and works selected as a result of Dubai Design Week will be on permanent display in the Dubai Design District. The 2023 "Abwab" exhibition titled "From the Palm" includes the most important works of Emirati architect and designer Abdullah Al Mulla. The work, actually designed within the framework of Dubai Design Week activities, will be transported to the headquarters of the Conference of the Parties to the United Nations Conference on Climate Change (COP28), where it will be displayed before its return. Original location in Dubai Design District.
A successful project
Other works on display at the Dubai Design District include the winning project of this year's annual "Civil Works" design competition. "Design Nest", an artwork designed by Ahmad Al-Khattan, inspired by the famous pigeon towers of the Arabian Peninsula and their traditional significance, was selected by a jury of experts in the field of design. A series of unique spaces that reflect the coexistence between man and nature.
Other works include "The Big Challenge" designed by "Iris Ceramica" group, and "Prismatic Dreamscape" of vertical design cement tiles, "Circles of Trust" designed by Moi Studio, which represents modern and renewable recycled tires, Kapil Bemkar designed "The The largest inflatable artwork titled "Reality Check" and the largest exhibition hall "The North Star" its regional 3D printing project is organized by in5 Commercial Archive.
The success of Dubai Design Week and Downtown Design follows a successful year witnessed by the global creative ecosystem in the Dubai Design District. In October, international jewelery school L'ÉCOLE announced the establishment of its first Middle East headquarters in the Dubai Design District, where it will offer a range of courses, live and online talks, free temporary exhibitions, publications and research projects.
Dubai Design District partnered with the Arab Fashion Council to establish Dubai Fashion Week last year. Building on the tradition of Arab Fashion Week, the latest edition of Arab Fashion Week kicked off with a presentation by international fashion brand Carolina Herrera and its creative director Wes Gordon. The show concluded with supermodel and international icon Naomi Campbell closing the show for Malaysian fashion house Risman Rossini.
Dubai Design District is one of TECOM Group's flagship business parks, which include Dubai Internet City, Dubai Media City, Dubai Studio City, Dubai Production City, Dubai Knowledge Park, Dubai International Academic City, Dubai Science Park and Dubai Industrial City. .
"Freelance alcohol fan. Coffee maven. Musicaholic. Food junkie. Extreme web expert. Communicator."
50 athletes participated in the boat parade under the slogan Zero Carbon… Clean Water.
More than 50 male and female athletes took part in a boat parade on the Dubai Water Canal yesterday, coinciding with the country's 52nd Union Day celebrations and the Conference of the Parties to the United Nations Framework Convention on Climate Change. Transition (COP28). Emirates Modern Sailing and Rowing Federation and Dubai International Marine Sports Club, in collaboration with China-based International Rowing Channel, launched the "Zero Carbon…
Clean Water" aims to reach more than 100 locations around the world, with the aim of raising awareness about environmental protection, sustainability and climate issues.
Attending the official ceremony of the initiative, Sheikh Ahmed bin Hamdan bin Mohammed Al Nahyan, Chairman of the Emirates Modern Sailing and Rowing Federation and two members of the Board of Directors: Muhammad Abdullah Hareb Al Falahi gave the opening signal. , Khalid Al Owais, Managing Director and Chairman of the Technical Committee, Dubai International Marine Sports Club.
French Olympic champion Jean-Christophe Ronald, president of the International Rowing Federation and member of the International Olympic Committee, Dutchman Rudi van der Voon, president of the World Water Tourism Development Organization, presented the distinguished international athletes. and Asian Rowing Federation President Chin Wang Chi, Honorary President of the World Rowing Canal Organization. Vincent Gaillard, Executive Director of International Rowing Federation Manal Bahman, Emirates Nature-WWF Operations Director, Lee Can, Ambassador of International GCRA and World Wildlife Fund, Inland Waterways International and Leaders of the World Organization for Urban Cooperation. History Channel.
The participants of the parade signed their support and encouragement to the awareness initiative of the theme of the parade, "Zero Carbon, Clean Water", and various yachts including Olympic divisions, singles, doubles and quads took part in it. and the famous Dragon Boat, all of which traveled over three kilometers.
• The "march" took place on the Dubai Water Canal and aims to raise awareness of environmental protection.
"Freelance alcohol fan. Coffee maven. Musicaholic. Food junkie. Extreme web expert. Communicator."
Climate change has a negative impact on human health
The Relief, Recovery and Peace Day will focus on accelerating adaptation and addressing loss and damage, including in fragile and conflict-affected environments that face severe barriers to accessing climate finance and catalyzing action.
Health and the extent to which it affects and is affected by various climate extreme events is one of the most important issues to be discussed at the Conference of the Parties (COP28).
Increase in death toll
About 250,000 people could die from 2030 to 2050 due to malnutrition, malaria, diarrhea and heat stress, according to the World Health Organization.
Infectious diseases will also increase their prevalence due to climate change. According to researchers, these diseases such as malaria have increased their prevalence in recent years in many parts of the world affected by climate change.
This phenomenon has led to an unprecedented rise in temperature, and this has a direct impact on human health and increases the stress on those suffering from certain chronic diseases, especially heart and respiratory diseases such as sun stroke in summer. and mental health.
Water and air pollution
Water and air are basic resources for human health, but increasing their pollution can have serious consequences on human health and lead to the spread of food, water and other vector-borne diseases. Fossil fuel emissions are a major contributor to water and air pollution.
Nutritional deficiency
Good food is a very important factor in maintaining human health, but changes in its quality due to climate change, whether agricultural or animal, can have a negative impact on public health.
The risks of climate change affect the health of the most vulnerable and disadvantaged groups, including women, children, the elderly, poor communities and individuals suffering from difficult health conditions, and increasing pressures on the health services sector due to the abundance of diseases.
Despite the risks of climate change to public health, the global response to these challenges remains, according to many, equitable. Immediate action is needed to save millions of lives, especially reducing emissions and accelerating the transition to clean energy.
"Freelance alcohol fan. Coffee maven. Musicaholic. Food junkie. Extreme web expert. Communicator."
The Prince of Monaco reviews the role of charities in combating climate change
Prince Albert II of Monaco and Dr. Abdullah Al Mandouz, Director General of the National Meteorological Center and President of the World Meteorological Organization, emphasized the importance of supporting environmental charities at COP28 during a discussion session yesterday. World Meteorological Organization Pavilion.
The session was hosted by the MERI Foundation and moderated by the Foundation's President, Francesca Cortes Solari. The session brought together a distinguished panel of global leaders and experts, including Dr. Abdullah Al Mandoos and Prince Albert II, Jim Chia. , Bruno Bussi, Chair of the Intergovernmental Panel on Climate Change and Deputy Director of the Department of Ecosystems at the United Nations Environment Programme, Christian Chamber is Director of the Earth Fund.
Cooperation
The session addressed the theme "The Role of Philanthropy in Implementing the United Nations Climate Process" and strongly emphasized the importance of collaboration between the public and private sectors and civil society and the role of this collaboration in achieving the United Nations' ambitious goals. 2030, related to climate change, biodiversity and environmental sustainability.
Dr. Abdullah Al Mandoos stressed the strong ties linking the organization with the private sector and effective participation with civil society. He emphasized on valuable partnerships with organizations like the International Committee of the Red Cross and the United Nations Office for Disaster Risk Reduction. He also provided an overview of key WMO initiatives such as early warning for all.
Sustainable Monitoring Funding Facility (SOFF), and the Climate Change Early Warning Initiative (CREWS), and Dr Al Mandoos called for greater engagement with the philanthropic world, noting that this is an underserved resource. Exploited by the system.
Prince Albert II of Monaco provided insights into Monaco's commitment to environmental sustainability and addressing the challenges of climate change, both regionally and globally.
Investments
During the session, all emphasized the urgent need for major investments to mitigate and adapt to the effects of climate change. They emphasized the importance of the 2019 Geneva Declaration and its open consultative platform as important tools to promote dialogue and cooperation between the private sector and environmental initiatives.
In conclusion, the event activities of COP28 highlighted the essential role of philanthropy in supporting and strengthening the efforts of international organizations such as the World Meteorological Organization. They emphasized the importance of coordinated efforts across sectors to effectively address global environmental challenges, and made an urgent call for increased philanthropic participation to strengthen international action efforts to combat climate change.
"Freelance alcohol fan. Coffee maven. Musicaholic. Food junkie. Extreme web expert. Communicator."