Wizz Air Abu Dhabi resumes flights to Moscow
T + D- Normal size
Wizz Air Abu Dhabi, the national low-cost airline in the United Arab Emirates, has announced the resumption of its flights from Abu Dhabi to the Russian capital Moscow on a daily basis from October 3. Tickets are available through the wizzair.com website and the company's mobile app, with prices starting at AED 359.
Commenting on the matter, Michael Berlois, General Manager of Wizz Air Abu Dhabi, said: Wizz Air Abu Dhabi has 34 discounted destinations within five hours from Abu Dhabi on its network. Wizz Air contributes to supporting the travel and tourism industry in the UAE by strengthening its connectivity with countries in the region and the world in line with national regulations and policies.
With its strategic location in the UAE, Wizz Air Abu Dhabi offers convenient, high-quality and low-cost travel options to many destinations including Alexandria and Sohag (Egypt), Almaty and Nur-Sultan (Kazakhstan), Amman. and Aqaba (Jordan), Athens and Santorini (Greece) and Baku (Azerbaijan), Belgrade (Serbia), Dammam (Saudi Arabia), Kudaisi (Georgia), Kuwait (Kuwait), Male (Maldives), Manama (Bahrain), Muscat , Salalah (Oman), Sarajevo (Bosnia), Tel Aviv (Israel), Tirana (Albania) and Yerevan (Armenia) and other locations.
The company provides a convenient and smooth ticket booking service to all passengers during this exceptional period as it offers them the Wizz Flex service, which allows passengers to cancel their bookings up to three hours before departure without any additional charges and receive a full refund. Original ticket price directly.

Follow the economic report via Google News
Victim "Groom of Al-Hamdaniyyah". Why did "Iraq" lose his life harmlessly? | opinions
10/3/2023–|Last Updated: 10/3/202304:13 PM (Makkah Time)
"We are alive here before you, but we are dead inside." This is how the groom of "Hamdania" Revan Ishu describes the grief that befell him and his bride, Hanin, after their tragedy during the fire. "Within seconds" he consumed the wedding hall where their wedding took place, killing him. 107 people were present and about 150 suffered burns of varying severity (according to official data).
The victim groom told British Sky News Network what happened on the fateful night when his wedding turned into a disaster and a huge funeral. Raven said: While dancing with the bride, the hall suddenly became dark and fire rained down on them. Visitors. "Raven" who lost 15 of his relatives in the fire, dragged his "daughter-in-law" who lost his mother and nine others. He grabbed her by force and fled with her through the kitchen door, trying to free her from the ordeal. Fleeing because of the wedding dress, the fugitives rushed from the hell of the holocaust that gripped everyone's throats. The fire broke out at a wedding hall in the Christian-majority city of Qaraqosh, which adjoins the Hamdaniya region of Mosul, Iraq. It was one of the other Christian cities affected by ISIS persecution of Christians when it captured parts of Iraq (End). 2013-2017).
20 thousand fires. Also death in corona hospital fire
Last Thursday morning, a mass was held in the Syriac Catholic "town church" to pray for the souls of the victims. A report by a government commission investigating the cause of the fire confirmed that the fire was not planned and that 900 people attended the wedding and the hall could only accommodate 500 people. Bursting of firecrackers, construction violations and use of highly flammable building materials and liability to the owner of the hall. The tragedy is the rampant corruption and indifference, nepotism and bribery that pervades Iraq in the absence of "law", controls and impunity…but the reign of chaos, tribalism, sectarianism. , and bigotry that offers protection to transgressors in exchange for narrow interests and odious bargains. Since the US occupation of Iraq (2003-2011 AD) construction works (public or private) have been known to be riddled with violations…violating established regulations, and lacking "safety and security conditions". Construction, its materials, electrical connections or providing fire extinguishers. A disaster like this at the Al-Hamdania wedding hall is not new to Iraq and I suspect it won't be the last. For example, a "fire" broke out at Ibn Al-Khatib Hospital in the capital Baghdad (April 2021), and at Al-Hussein Hospital in the city of Nasiriyah (July 2021), killing 174 and injuring 220 others. They are all corona patients.
Americans… and stir up tribal and sectarian unrest
Despite the end of the US occupation 12 years ago, the situation has taken a turn for the worse. The "occupier" has created a vast platform for corruption and empowered a large class of "spoilers, thieves and agents". It fueled tribal conflicts, sectarian and sectarian tendencies, and conflicts between all, resulting in the slaughter, displacement and displacement of hundreds of thousands of Iraqis in the wake of sectarian and tribal conflicts. This tribal and pluralistic structure of Iraqi society co-existed peacefully under the rule of the late President Saddam Hussein and his predecessors, despite his tyranny and authoritarianism. However, the "Americans", like any colonists, tried. Arousing these tendencies and inciting conflicts by drawing Iraqis into conflict and confrontation, by falling into the trap of fighting and killing for an identity that has caused huge loss of Iraqi life and property, and continues to do so.
Successive Iraqi governments, despite the democratic form, parties and parliamentary elections, were initially subject to calculations of interests, looting and quotas for factions and tribes, which turned Iraq into a failed state or quasi-state.
Tragically, there is no will to reform the deteriorating political, economic, social and security conditions of the country, and the majority seek to preserve and reap the spoils and gains over the corpse of Iraq, as a people and a state. The Iraqi government washed its hands of the disaster by dismissing several municipal employees, including the city's mayor, and referring some of them to judicial authorities for investigation. In this regard, Prime Minister Muhammad Shia Al-Sudani visited the city on the day of the funeral of the victims (Thursday) to offer condolences.
Absorbing the public anger and cheap living of the citizens that comes with the tragedies
This Iraqi government's behavior is typical of the disasters that have been inflicted on civilians not only in Iraq, but in many Arab countries. Accompanying such tragedies. Thus, ministers and real officials escape accountability and punishment. This method of rulers, in dealing with "catastrophes" in Iraq and other similar countries (for example, Libya and Terna tragedy), in the eyes of these rulers, is due to the low value of man. More concerned about the citizen or his (cheap) life. Important to one of these unjust rulers of their people: the homeland and "citizen" are lost, but continue on his throne, the latter is a number, whose relatives can be satisfied with a little money as compensation, there is nothing to prevent an official here or there. From comforting bereaved families with dull words and artificial sentiments that do not bring the dead back to life. There is no doubt that the accused employees and the owner of the wedding hall in the affected city of Karakosh deserve the harshest punishment if convicted. However, would these accused criminals have dared to commit these crimes that led to this painful human tragedy, had it not been for the public and surrounding environment from the top to the bottom of the power hierarchy, condoning these crimes? Answer: Of course not, that is the issue to be resolved. Nothing will change, and the conditions in our Arab countries we speak of will continue to get worse and worse, corruption, neglect, tribalism, bigotry, and nepotism will continue to eat away at our societies, and human beings will be cheap and worthless in such authoritarian government systems. Unfortunately, as long as the fires, disasters and human sufferings paid for by the poor citizen are repeatedly reported in more than one Arab country, he or she will do nothing wrong.
We pray to God for mercy to the deceased, patience to their families and speedy recovery to those injured in the fire.
"Creator. Award-winning problem solver. Music evangelist. Incurable introvert."
A Republican representative loyal to Trump has submitted a memorandum to impeach the Speaker of the House of Representatives.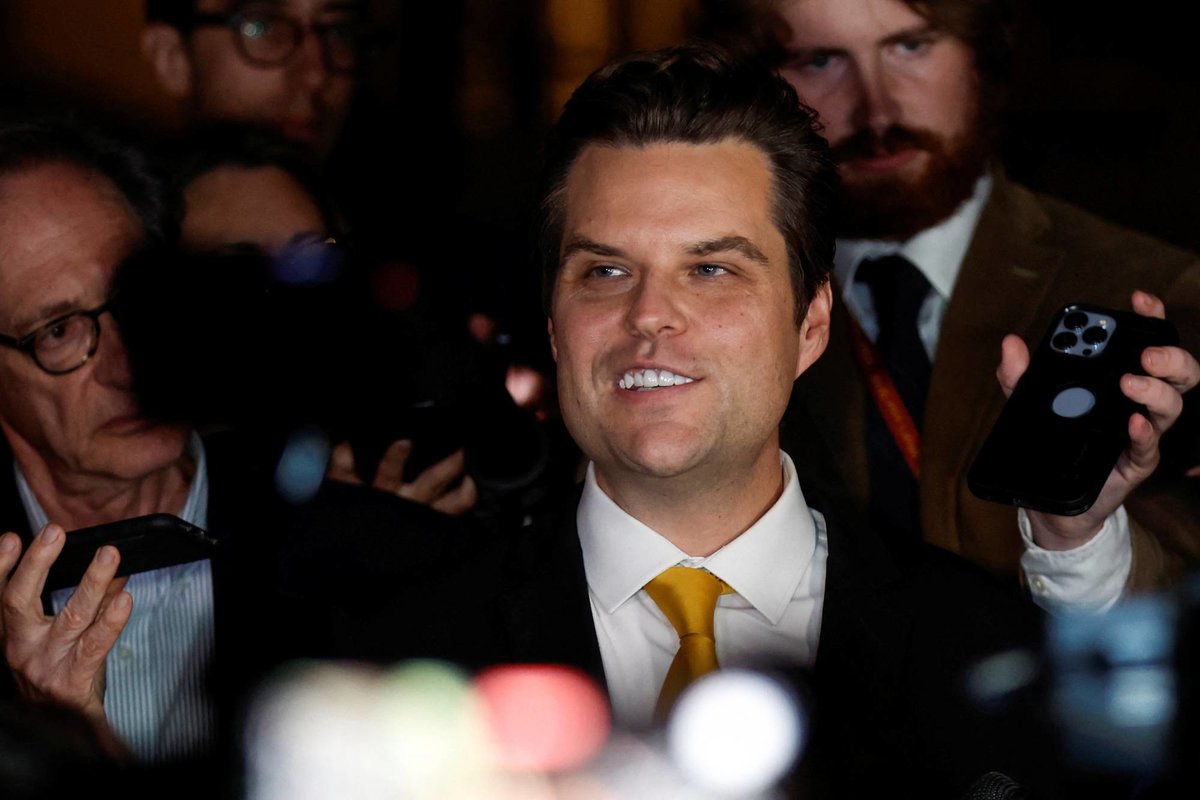 Trump describes his civil trial as "a farce and a witch hunt."
Former US President Donald Trump has described a civil trial over allegations that he inflated assets in New York aimed at hindering his progress in the 2024 US presidential election as a "farce and a witch hunt".
Trump appeared in court in New York on Monday morning, facing a civil suit and charges of fraud and financial fraud, where a judge will determine the amount the former president must pay in fines for falsifying financial statements and inflating the value of his businesses. Assets over ten years from 2011 to 2021.
In contrast to New York courts' practice of banning photography inside the courtroom, television cameras were allowed to film for several minutes, showing the intense presence in the courtroom and the heavy security around the courthouse and streets. It is.
Before entering the courtroom, Trump stood in front of photographers' cameras and insisted that the case was nothing more than part of a witch hunt and an attempt to block his progress in the upcoming elections. He described the simulation. Ridiculous." Trump said: "This is the biggest witch hunt of all time, and we have a prosecutor." A racist general who lost his bid for governor is coming back to hunt Trump, and for your information, my financial statements are exceptional."
Trump insisted the lawsuits were an attempt to harm him in the election, adding: "I'm not going to drop out (of the election). I'm ten points ahead of Biden and 50 and 60 points ahead of the Republican Party. This (investigation) is considered election interference. Plain and simple." , they are trying to harm… "The harm to me is that I don't always do well in elections." He added: "We have a country in serious decline and a man is running our country who doesn't know what he is doing. He is a disgrace. , what we have here is an attempt to harm me, and because I'm running, this investigation could have been conducted years ago, but they waited… "I'm in the middle of my election campaign, so I can be busy with other trials. allegations."
Trump took advantage of his presence on the court to deliver a campaign speech accusing everyone of corruption, especially the judiciary in Washington, which he accused of being corrupt. He said: "They're all corrupt, obviously, our country is corrupt and that's one of the reasons I ran, so we'll fix things, and what's happening to me right now has never happened to any president."
Trump defended the valuation of his real estate assets, noting that his most valuable asset is not the Trump brand, and comparing it to the "Coca-Cola" brand: the brand is worth more than all the company's assets and he said: "We have one of the largest real estate in the world, " He added: "(His company's) undervaluation of property is a disgrace to our nation. I spoke to the banks. Got their dues in full and got a full denial letter. However, when the public prosecutor came to know about the denial, they said they will go ahead anyway." "It's good publicity, we're dealing with very corrupt people."
Expected punishment
Trump, his three sons and associates are accused of inflating his company's assets between $1.9 billion and $3.6 billion annually between 2011 and 2021 to obtain hundreds of millions of dollars in loans and insurance.
The lawsuit documents say: Trump's company provided false figures for the size and value of his assets, meaning the trial in this civil case will focus on the amount Trump owes in financial and business penalties, and not jail time. . The judge gave three months' time (until December) to hear the case.
The expected verdict in this case will have major financial consequences for President Trump, his family and his companies, as the financial penalties that the judge may impose could seriously damage the empire that Trump used as a platform to launch his political career. This brought him to the White House in 2016. The case began in September 2022, with charges against Trump, his three children (Donald Jr., Ivanka, and Eric Trump) and numerous other company executives.
The Trump family and their company have been accused of fraud, falsifying business records, filing false financial statements, conspiracy and overvaluing Trump's properties, including tripling the value of his apartment in Trump Tower. Both Trump and his three sons are included in the witness list, but this does not mean that they will be called to testify, and they have the right to voluntarily testify or refuse to testify based on Article 5 of the Constitution. It protects a person from giving evidence that would harm him and lead to his conviction.
The investigation is among four lawsuits and other legal issues facing Trump, none of which appear to have dented his significant lead in the 2024 Republican presidential race. But the financial consequences will have a bigger impact on Trump's business. business empire, and the plaintiff is seeking $250 million. Gen. Ledita James fined $250 million and banned Trump and his sons Donald Jr. and Eric Trump from doing business in New York, banned Trump's business properties, including Trump Tower and his golf clubs in New York, and company Prohibited from engaging in commercial transactions for five years.
Trump's lawyer, Christopher Case, argues that the valuation in the lawsuit papers is evidence of Trump's genius, asserting that Trump is adept at finding value that others don't see, and he questions the numbers and documents provided by prosecutors. They are based on incorrect accounting methods. Before his appearance on the first day of the civil trial, Trump said on the "True Community" site Sunday evening: "I'm going to court tomorrow morning for my name and my reputation." He added: "This whole case is a sham," and told prosecutor Ledita James and Judge Arthur Engoran, "See you in court tomorrow."
Trump attacks everyone
Trump has launched a scathing attack in recent months against the attorney general, accusing him of pursuing him for political gain and accusing the judge of being deranged and politically intrusive. In December 2021, Trump filed suit against Attorney General James in an attempt to stop the investigations, and the suit was dismissed.
Judge Angkorone charged Trump with contempt of court for refusing to hand over documents requested by prosecutors and fined him $10,000. He also rejected attempts by Trump's lawyers to postpone the trial date. On September 26, the judge ruled that Trump had overstated the value of assets when seeking bank loans, and ordered the dissolution of some of Trump's companies, revoking some of their business licenses.
The ruling was based on a request by Attorney General Letita James' office to settle some of the charges before trial, which would have focused on falsifying business records, providing false financial statements and other charges related to financial fraud crimes.
Since 2019, New York Attorney General Letitia James has prosecuted Trump's companies and real estate empire, and her office has accused Trump's companies of embezzling funds and overstating the value of Trump's properties and assets. She filed a $250 million civil suit accusing Trump…and her children and others in the Trump Organization of fraud and financial manipulation, making her net worth appear higher than it actually was.
"Creator. Award-winning problem solver. Music evangelist. Incurable introvert."
American Opinion on Algerian Mediation in Niger
US State Department spokesman Matthew Miller on Monday commented on Algerian mediation in Niger and called on Algeria to work with ECOWAS, which is leading efforts to resolve the political crisis there.
During his press conference with the spokesperson, Al-Hurra said, "The United States and Algeria closely and regularly share regional and bilateral priorities, including joint efforts to de-escalate the conflict and promote regional stability, including in the Sahel region."
He added: "Algeria is expected to take its seat on the Security Council next year, and we look forward to continuing to work with it on that and other regional and international priorities."
Coup leaders in Niger agreed on Monday to an Algerian mediation effort based on a "six-month transitional phase" to find a political solution to the crisis, Agence France-Presse reported.
The Algerian Foreign Ministry said in a statement on Monday that the coup leaders sent the Algerian government "an official letter through the Ministry of Foreign Affairs of the Republic of Niger, indicating the acceptance of Algerian mediation. A political solution to the crisis in this brotherly country," the Algerian news agency reported.
On August 29, Algeria announced a political plan to resolve the crisis in Niger, rejecting military intervention in its southern neighbors based on giving the plotters six months to return to "constitutional and democratic order".
The statement explained that President Abdelmadjid Tebboune appointed Foreign Minister Ahmed Atauf "to travel to Niamey as soon as possible with the aim of starting preparatory discussions with all parties involved on ways to implement the Algerian initiative".
Acceptance of the Algerian initiative strengthens the desire for a political solution to the crisis in Niger and opens the way for the provision of the necessary conditions to end the crisis by peaceful means in order to protect Niger's interests. and the whole region."
Coup leader General Abdelrahmane Diyani "demands a transitional period lasting a maximum of three years," Ataf confirmed during the announcement of the political settlement plan. Don't become a "faith executor".
In detailing the Algerian plan, Attoff explained, "The goal of this path is to create a political arrangement in Niger with the participation and consent of all parties, no matter which party they belong to. Not more than six months."
He explained that these arrangements "will be accepted by all sections of the political class in Niger and will lead to the restoration of constitutional order in the country, under the supervision of a civil authority headed by a consensus person". The name of the proposed consensus figure.
Since the coup, the Economic Community of West African States (ECOWAS) has imposed political and economic sanctions on Niger, and has threatened armed intervention.
According to Minister Atauf, Algeria will advance its efforts in three directions: "with all concerned and active parties in Niger, regionally with neighboring countries and member states of ECOWAS, especially Nigeria, which is currently the head of the group, and efforts aimed at finding a peaceful way with countries at the international level." I want to support." "Crisis."
On Saturday, Abderrahmane Diyani, head of the military council, did not announce that he was abandoning the demand for a three-year interim phase, saying, "We have no right to be in power for five years. We want (one) to be elected to do so."
He recalled that he wanted to organize a "national dialogue" to develop new texts to govern Niger's political life, saying, "The problem is not democracy. Elected individuals sometimes mute texts to implement only what is in their minds. ."
In two television interviews, he attributed the coup to former leaders' "waste of public money".
"Creator. Award-winning problem solver. Music evangelist. Incurable introvert."