Zamalek lost 3/0 to Ceramica in a friendly match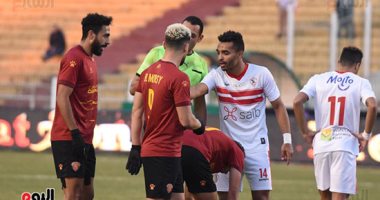 As part of both teams' preparations for the start of the league championship, and as part of the White Knight's participation, Zamalek's friendly against Ceramica was won by Ceramica 3–0 at the Air Defense Stadium's auxiliary stadium. In the African Union.
It seems Zamalek The meeting was held in a group consisting of Abdel-Rahman Nafat, Mahmoud Alaa, Mohamed Abdel-Ghani, Omar Jaber, Amr El-Sisi, Nabil Imad Tunga, Karim Abdel-Haq, Ahmed Abdel-Rahim "Isho" and Ibrahima Nde. , Mustafa Shalabi, and Saif el-Din el-Jaziri.

The start of the half came quickly from both teams as Zamalek intensified their attacking efforts and in the fifth minute Mohamed Toni scored the lead for Ceramica with a powerful shot from inside the penalty area.

Zamalek continued their attacking efforts to level the scores and Omar Gaber scored the equalizer in the 33rd with a powerful shot that went just wide of Mohamed Bassam's right goal.

In the 40th minute, Nabil Tunga hit the crossbar with a powerful ball from outside the Ceramica penalty area, and Ceramica striker Rashid Ahmed's chance was blocked by the Zamalek goalkeeper before Mohamed Ibrahim scored for Ceramica in the 44th minute. A second goal in the 45th minute put Ceramica ahead by two unanswered goals. .

Zamalek's technical staff, led by Colombian Juan Carlos Osorio, made several changes to the team's formation in the second half, and Zamalek started the half with a formation that included Abdel Rahman Nafat, Hamza Al Madloudi, Mustafa El Janari, Mohamed. Abdel Shafi, Mohamed Ashraf "Ruqa", Mohammad Hosam "Bizzo", Mustafa Shukri and Saeed Abdel. God "Neymar", Nasser Mansi and Mahmoud Abdel Razek "Shiqabala".

Shigabala scored Zamalek's first goal with a shot from inside the penalty area, but the ball went near the right post of Ceramica's goal and Zamalek intensified their attacking efforts in light of their opposition's retreat and defensiveness. Counterattacks.

In the 87th minute, John Ebuka scored Ceramica's third goal after a shot that beat the Zamalek goalkeeper. Al-Abiat tried to reduce the deficit in the remaining minutes, but to no avail, so the game ended in Ceramica's victory. Three without answer.
"Explorer. Problem solver. Certified reader. Incurable web expert. Subtly charming travel guru. General student. Twitter evangelist."
After a difficult birth in the face of eternity…Al-Ittihad fans celebrate, mocking Al-Hilal!
A hard-fought win against Al-Quluth did not stop Al-Ittihad fans from "clogging" Al-Hilal.
Al-Ittihad fans celebrated their team's passage to the round of 16 of the Guardian of the Two Holy Mosques Cup in style with their usual "crackling", but this time the jeering extended to Al-Hilal.
Al-Ameet struggled through to the round of 16 against Al-Kuluth, beating them 7-6 in a penalty shootout after normal time, and the two extra halves ended in a draw with one goal each.
Qualified by the skill of Abdullah al-Mayub. The Tigers goalkeeper successfully saved four of the ten penalties he faced.
To celebrate him, the audience in the arena chanted his famous chant "Sabo, why?" as Al-Ittihadists mocked Al-Nassr for his boycott of Moroccan striker Abdel Razzak Hamdalla. They chanted. Adopted in the future against al-Hilal and al-Mayuf.
It is noteworthy that "Rai Al-Marouf" left Al-Jaiem at Mercato last summer and moved to Al-Jedawi Club after Al-Azmi club signed Moroccan goalkeeper Yassin Bounou as their main goalkeeper.
Al-Mouf, however, sits as a reserve with Al-Ittihad in the Roshen League and Portuguese coach Nuno Santo has relied on him as a starter in the AFC Champions League's first-round group stage match against Uzbekistan's Olmalik. Tonight is the King's Cup match.
"Explorer. Problem solver. Certified reader. Incurable web expert. Subtly charming travel guru. General student. Twitter evangelist."
A secret recording exposes a sports official and gets him fired
In an undercover recording inside Wimbledon Football Club, managing director Danny McLean made obscene remarks towards his colleague, ticket manager Rebecca Markham. I will kill her."
British newspaper The Times said the recording device was placed in McLean's office by Matthew Wells, a former British soldier who worked part-time as a security officer at the club.
When the device was dropped, McClain was revealed to have said: "I want to throw her – Markham – through a damn window … I don't want to kill someone, but I want to kill her … I hate her, that damn bastard."
The record found widespread repercussions in Britain, and the sports community there condemned the club official's stance. An official statement from Wimbledon Football Club immediately responded to the allegations: "Wimbledon Football Club is a responsible, comprehensive, modern and fan-owned club. It takes its commitment to operate…" Leading by example and right, as well as taking care of staff and fans is very serious."
The statement added: "This type of allegation cannot be tolerated, cannot be accepted and does not represent the culture of Wimbledon Club. Once we became aware of this matter, we acted appropriately in accordance with our responsibilities and values. The crisis is immediate."
Managing director Danny McLean was sacked for insulting a colleague.
"Explorer. Problem solver. Certified reader. Incurable web expert. Subtly charming travel guru. General student. Twitter evangelist."
Zamalek collide with wall of Arab contractors at critical moment… "Al-Abyad" demands rematch
After snatching a draw from the fangs of its host "Al-Abyad" at the Cairo Stadium (1-1) in the second round, the Arab contractors gave Zamalek a strong shock. Egyptian League.
Zamalek took the lead through Youssef Ibrahim "Obama" in the 83rd minute, and Mogabloon's Ahmed Ala equalized in the ninth minute of stoppage time.
The match was marred by widespread refereeing controversy after a Mogabloon defender disallowed a goal by Mostafa Shalabi that was deflected with his hand and referee Amin Omar refused to award a penalty kick to Zamalek after a shot by Mohamed Ashraf (Ruqa). .
Egyptian website Welcol revealed that Zamalek had submitted a request to the Football Association and the Egyptian Professional Clubs Association to replay their match against Arab contractors.
He added: Zamalek protested against match referee Amin Omar through an official letter to the Football Association and the Club Association, according to Zamalek Football Director Abdel Wahid Al-Sayed.
The letter contained 3 requests from Zamalek, which were to review the Arab Contractors competition according to the rules, and the errors in the application of the law and the impact of the refereeing errors on the end of the competition, and the second request to refer the referee Amin Omar to an investigation, and finally not to assign any other Zamalek competition to referee Amin Omar.
Abdul Wahed Al-Sayed said: "I am filing a protest against Amin Omar because of his conversation with the video technical referee regarding the penalty kick that was not awarded to the team, and we will attach the recording of this incident to the protest. ."
He continued: "The referee gave Zamalek players six yellow cards in the match and deliberately intimidated the players. He also counted more stoppage time than was announced at the end of the match."
"Explorer. Problem solver. Certified reader. Incurable web expert. Subtly charming travel guru. General student. Twitter evangelist."