5 players under the transfer microscope in England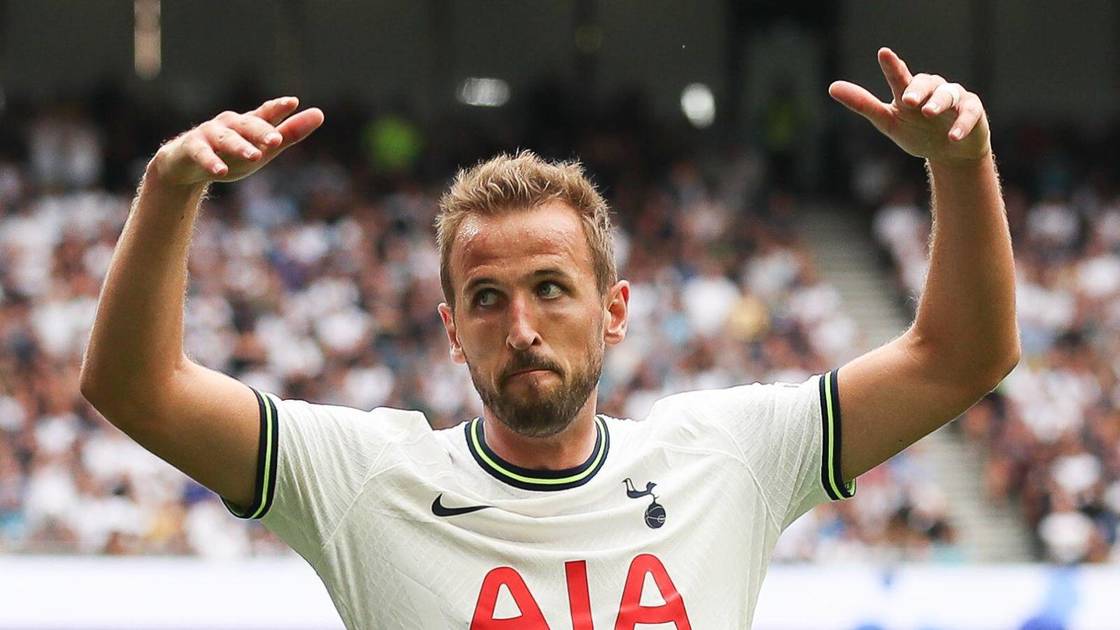 Manchester – AB
The English transfer window opens on Wednesday ahead of what is expected to be another tough summer of spending for Premier League clubs.
Some clubs have already started their moves in this direction, such as Liverpool, who compensated for their failure to lure Jude Bellingham to Real Madrid by signing Argentine Alexis McAllister from Brighton.
Harry Kane's future at Tottenham looks set to be the biggest topic of the transfer window, with the "Three Lions" leader entering the final year of his contract with Spurs.
A number of his international counterparts could enter the transfer market amid interest in Declan Rice, Mason Mount and James Maddison, while Brighton are expected to make fresh financial gains by selling Ecuadorian Moises Caicedo.
AFP looks at five transfers to watch in the coming months.
1 – Harry Kane (Tottenham Hotspur)
Kane scored 30 Premier League goals despite spearheading a struggling attacking line for eighth-placed Tottenham.
Kane is now 47 goals short of Alan Shearer's all-time Premier League goalscorer record, but he will have to decide whether to pursue further personal bests or secure the first title of his career.
Real Madrid are said to be interested in replacing Kane for Karim Benzema, and Tottenham boss Daniel Levy would be more willing to listen to offers from the Spanish giants than a Premier League rival.
However, Kane can use the last 12 months of his contract to choose his next destination on a free transfer.
2 – Declan Rice (West Ham)
Hammers chairman David Sullivan admitted there was a chance to lift the Conference League trophy in Rice's last game with the club after beating Italian club Fiorentina last week.
The 24-year-old is wanted by a number of clubs after developing into one of the best midfielders in the English Premier League.
Arsenal are the frontrunners to sign the England international as the "Gunners" look to go beyond the league runners-up who lost to Manchester City in the final meters this season.
3 – Mason Mount (Chelsea)
Mount has been a darling at Chelsea, but his role has been limited this season due to injury and problems with his contract.
The midfielder has just 12 months to go through the details of his transfer and is expected to return to Chelsea for a huge fee as the club look to sell him as soon as possible to balance their books in line with the rules. Finance is fair game.
Manchester United and Liverpool are said to be interested in him, but they rejected Chelsea's £70m ($88m) bid for the player.
4 – Moises Caissedo (Brighton)
Brighton stood firm when Arsenal tried to sign Caicedo in January, despite the Ecuadorian making a public transfer request.
Caicedo has signed a new deal with Brighton until 2027, but with a clause that would allow him to leave this summer.
"They deserve to change the position of the team and the competition," Brighton coach Roberto De Serpi said of Caicedo and McAllister. "We should be happy for them."
And with Arsenal in the race to sign Rhys and Liverpool looking for other midfield targets, Chelsea are more likely to sign the 21-year-old.
5 – James Maddison (Leicester City)
Leicester's sudden relegation to the "Championship" (Second Division) is expected to lead to a mass exodus from the "King Power" Stadium.
Maddison is huge value for Leicester after scoring 10 goals and providing nine assists in just 30 Premier League games this season.
The playmaker could replace the "Championship" competition with the European Champions League next season as he tops Newcastle's priority list.
Newcastle are expected to be among the biggest spenders in Europe this summer as the club prepares to return to the major continental competition after 20 years away.
"Explorer. Problem solver. Certified reader. Incurable web expert. Subtly charming travel guru. General student. Twitter evangelist."
The horse "Hagam" claims the title of French "Arc de Triomphe".
As he seeks the title of the 101st edition of the French Arc (Arc de Triomphe), "Hagam" owned by "Shadwell", the second highest rated horse in the world, will seek to strengthen his achievements in the first category races. Begins today, operating on the "Langsham" route on the outskirts of the capital.
Hagham's ambitions under the supervision of trainer Owen Burrows are based on his unbeaten record during the current European season and the strength of his pace since his return to racing last June, which led him to victory in the "Pricard. Gerard Stakes" a race for third grade horses, which took place at the "Sandon" track. The Briton added to his tally in July this year by claiming the second victory of his career in first-class races, the "King George VI and Queen Elizabeth Stakes" race at British Ascot Racecourse, over 2400 metres.
"Hagam" faces the challenge of 14 top horses over 2400 meters on grass on the international stage, including "French Derby" champion colt "Ace Impact" trainer J. Stands out under Rout's supervision. He wants to maintain his unbeaten streak in the racing world and add a sixth win in the race. Jetmont Farms", under the supervision of trainer Ralph Beckett.
The "Shadwell" team continues its strong presence on the closing day of the "Arc" festival when it pushes "Al-Hassan" for the title of the Prix Opera Longines race for fillies and mares, which runs in the fourth half over 2000 meters on the grass.
Under the tutelage of trainer Roger Varian, the four-year-old filly will be looking to win her second title in "First Class" and repeat her strong performance that led to her first star at the start of last August. Class races by winning the "Nanso Stakes" over 2000 meters at the British "Gloria's Goodwood" Festival.
"Explorer. Problem solver. Certified reader. Incurable web expert. Subtly charming travel guru. General student. Twitter evangelist."
Which channels are broadcasting Al-Ahli vs Al-Itifaq match in Saudi Roshan League 2023-2024 and how do you follow it online?
Saudi Roshan League 2023-2024 Al-Ahli vs Al-Etifaq match broadcast channels and how to follow it online?
The 2023-2024 Saudi Roshan League continues, a summer mercado full of varying degrees of excitement with key deals completed by Saudi clubs.
Al-Ahli will try to bounce back and fight back after the disappointment against Al-Ain in the cup after losing to Al-Nasr, but the match will not be easy.
Al-Etifaq have enjoyed an outstanding season after a string of strong signings and the leadership of Liverpool legend Steven Gerrard, topping Al-Qala in the table.
In the following lines, we will show the channels that will broadcast the match Al-Ahly and Al-Etifaq in the eighth round of the Saudi Roshan League 2023-2024, How do you watch online?
Which channels are broadcasting Al-Ahli vs Al-Etifaq match in Saudi Roshan League 2023-2024?
Saudi Roshan League matches are telecasted on SSC channels in Arab countries and Middle East countries and you can definitely see Al-Ahly and Al-Etifaq match on its screen.
The expected match will be held on Saturday, September 30, 2023, at the Prince Abdullah Al-Faisal Stadium and will start at exactly nine in the evening Saudi and Egyptian time.
How to see
Saudi Roshan League 2023-2024 Al-Ahli vs Al-Etifaq Match Online?
There is only one way to watch Saudi Roshan League 2023-2024 matches online.A witness", which broadcasts all the matches of the tournament.
Shahid
"Explorer. Problem solver. Certified reader. Incurable web expert. Subtly charming travel guru. General student. Twitter evangelist."
Fictitious details of Mohamed Salah's earnings… £1 million a week excluding Liverpool wages
British newspaper The Guardian has published fictitious details of the income of Egyptian star Mohamed Salah, who is not primarily dependent on his salary with Liverpool.
The newspaper quoted Rami Abbas, an Egyptian international agent, in a study conducted by the Harvard Business School on the Reds' top scorer.
Abbas said: "Mohamed Salah's contract with Liverpool gives him the incentive to earn at least a million pounds a week in gross income."
He spoke about Salah's approach to leaving Liverpool, adding: "The highest-paid player in the club's history is close to leaving before his new contract, which runs until 2025, is confirmed on July 1, 2022."
He added: "When you put your demands on the table and you don't get what you asked for, you have to start thinking about breaking up."
He continued: "If Liverpool find a way to agree to the salary we have in mind, and if Mohamed performs at the level he has achieved in recent seasons, we would conservatively expect a total sum and figure for Mohamed." Human rights organizations say the contract he plays and his image rights over the next few years are worth up to 54 million euros. [46.8 مليون جنيه إسترليني] and 62 million euros [53.7 مليون جنيه إسترليني] annually".
The newspaper added: "The amount Liverpool will pay Salah is unclear from the investigation and club sources believe he earns more from other parties such as Adidas, Bank of Alexandria in Egypt, PepsiCo, Gucci and business ties with the bank. Real Estate Brand Mountain View."
Abbas says: "Now, Salah's sources of income are 4 million euros [3.5 مليون جنيه إسترليني] Up to 7 million euros [6.1 مليون جنيه إسترليني] His move to Liverpool was a game changer when he joined the Reds.
He continued: "Sala's successful association with the club was a major turning point as it not only led the club to a more lucrative playing contract but also helped boost other sources of revenue, as it is not easy to see how Salah helped Liverpool perform well. More will emerge."


Follow our latest local and sports news and the latest political and economic developments via Google News

"Explorer. Problem solver. Certified reader. Incurable web expert. Subtly charming travel guru. General student. Twitter evangelist."