Colorful dangle earring designs for a cheerful elegance in fall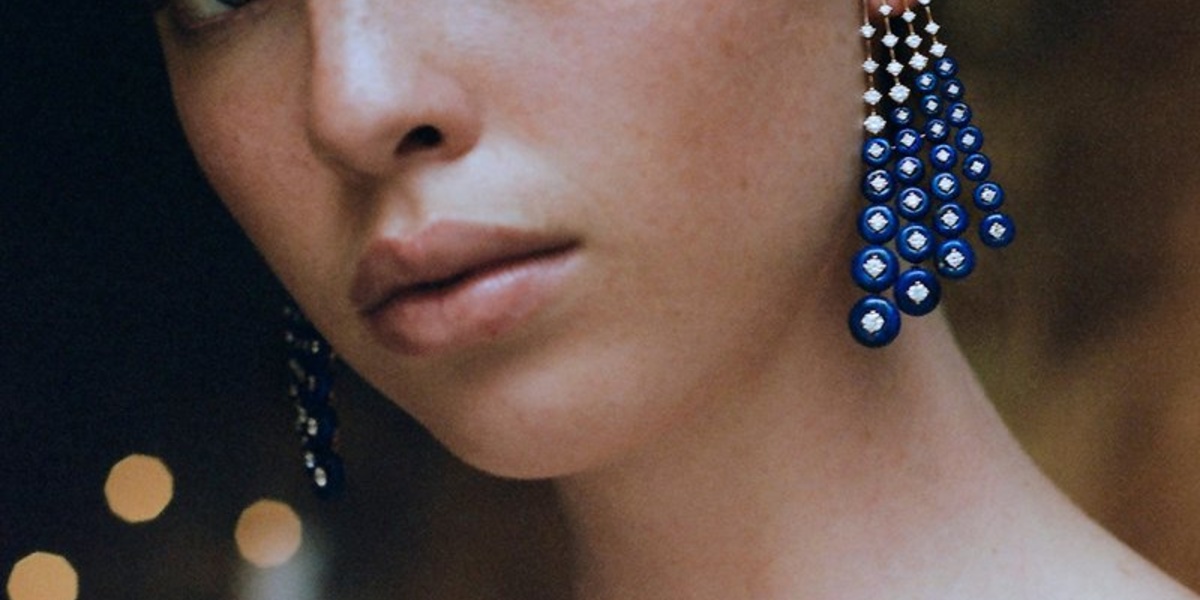 Brighten up your fall evenings with colorful and cheerful dangle earring designs, and light up your glamor with lively touches and bright models of cocktail earrings. Get ready to add modern glamor and bold colors of femininity and elegance that are perfect for vibrant fall evenings. Add a touch of glam and sparkle to your contemporary evening with a selection of colorful earrings studded with attractive gemstones from the creations of the most popular international brands, adding a touch of serenity and softness to the autumnal atmosphere.
Today, we have selected these dazzling cocktail earring designs characterized by alluring elegance and exuberant glamour, to refresh and personalize your look for an autumn evening. Designs You will find cheerful and attractive designs that grab attention to give you a refreshing look. And bright and incomparable in the fall evenings of the 2023 season.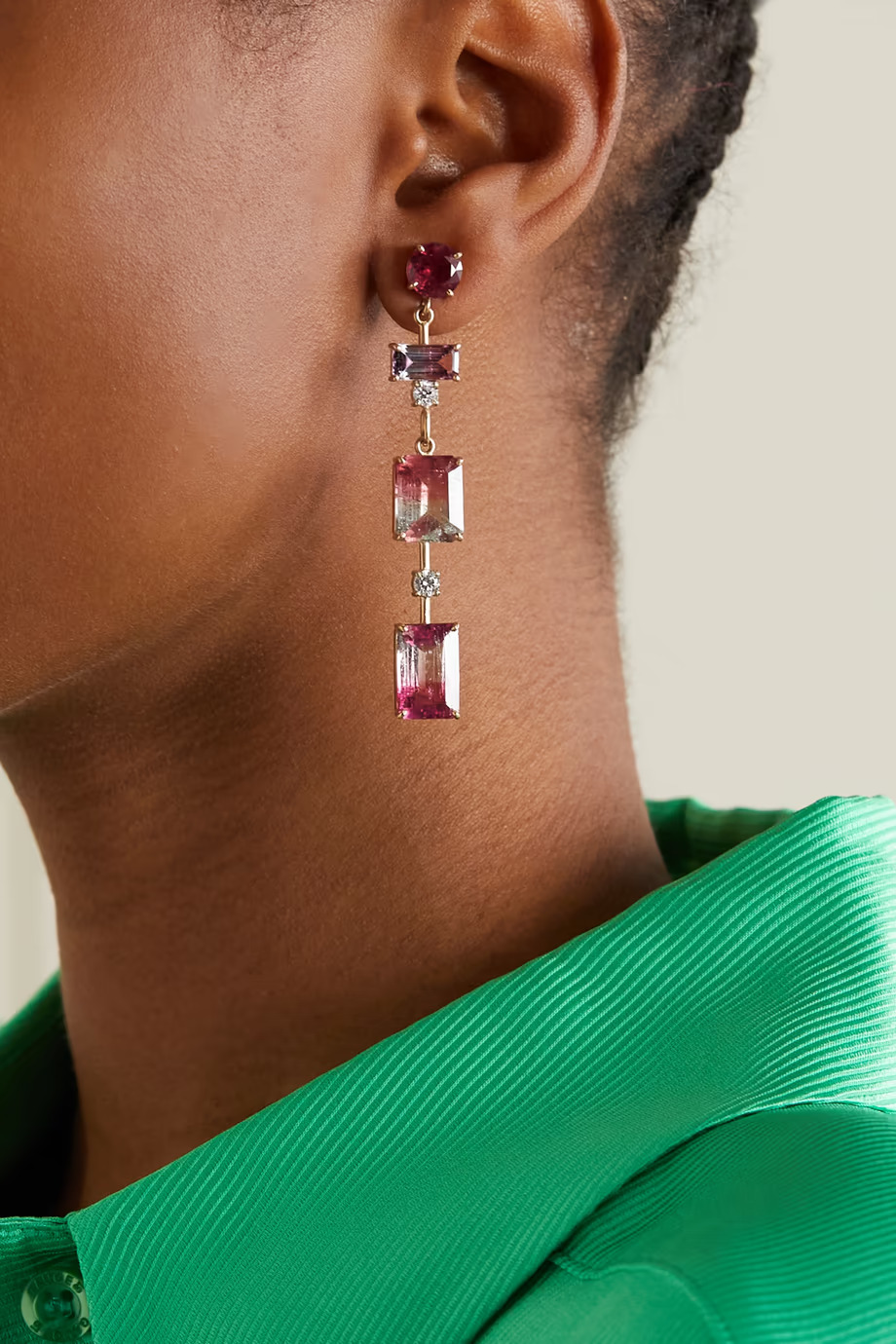 Earrings from

Yi collection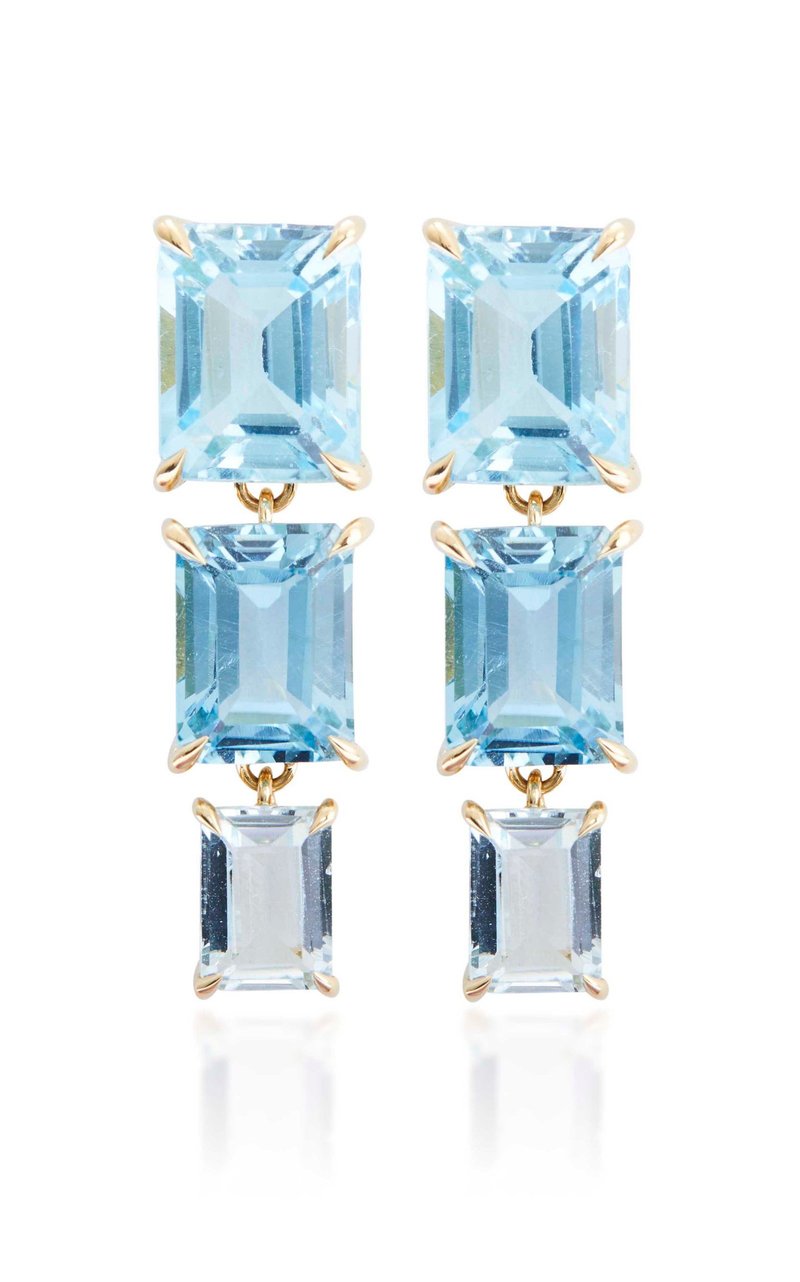 Eye-catching earrings Yi collection It combines elegance and sophistication, as it shines with the brilliance of rose gold and a variety of blue topaz stones, whose beautiful and bright colors express the boldness of autumnal looks.
Mesica earrings

Mesica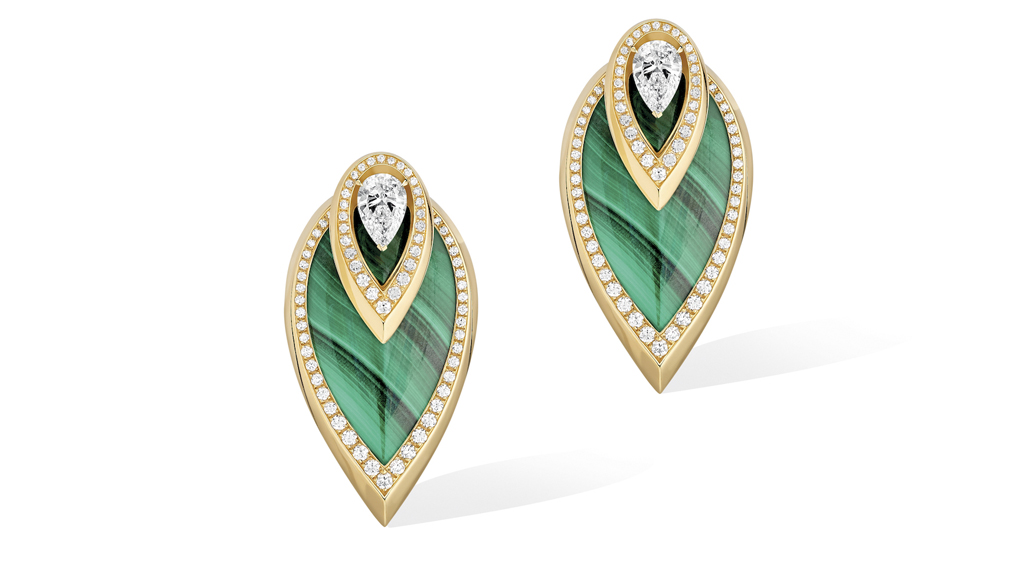 Created in the Messika collection Colorplay Elegant earrings characterized by an attractive pear-shaped design, crafted with luxurious yellow gold, sparkling diamonds and sparkling malachite stones. These earrings add glamor and charm to a bright fall look.
Annabella Chan earrings

Anabela Chan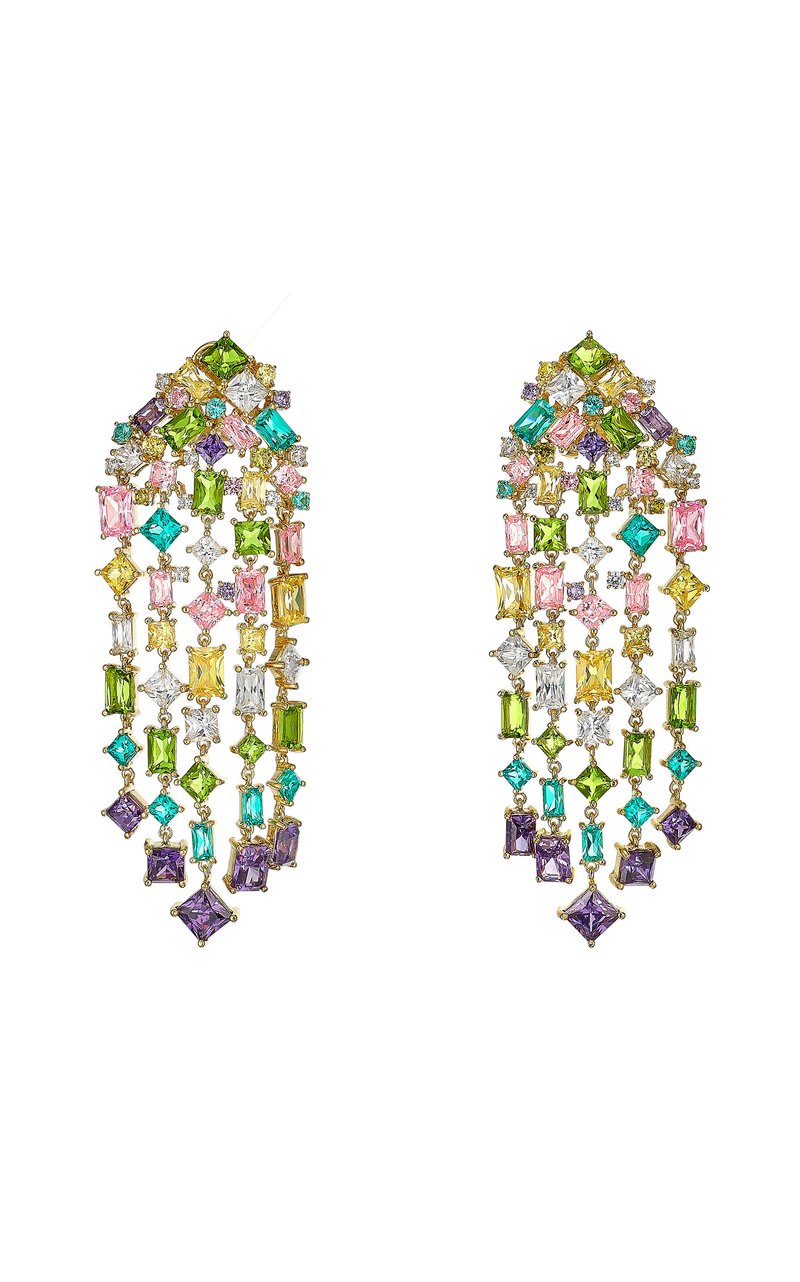 These earrings by Annabella Chan add glamorous sparkle and shimmering colors to your fall outfits as they feature a yellow gold dangle design and are adorned with amethysts, diamonds, peridot, pink sapphires, tourmalines and yellow sapphires.
Mallari Marks earrings

Mallari marks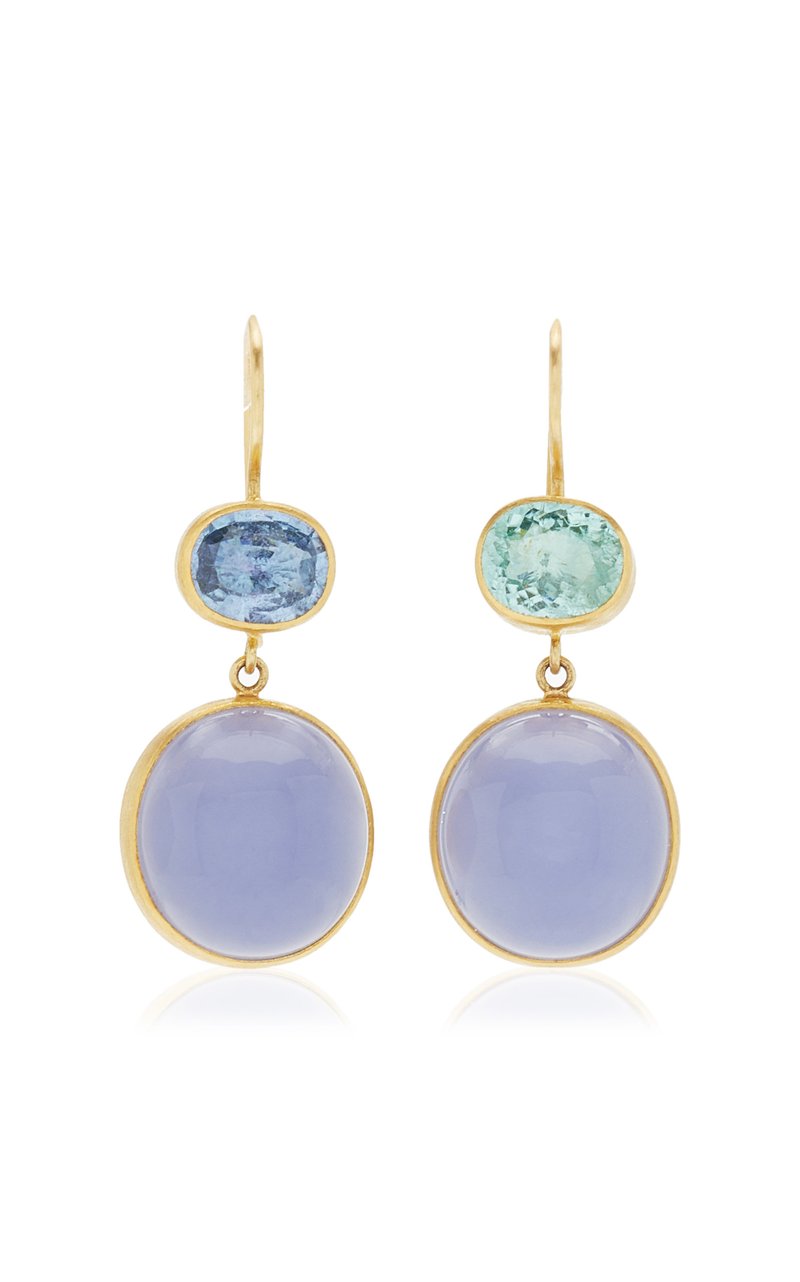 From the Malary Marks brand, these earrings are eye-catching with soft, shimmering yellow gold, tourmaline and chalcedony stones in soothing pastel tones.
Earrings from a sweet rare look

Rare appearance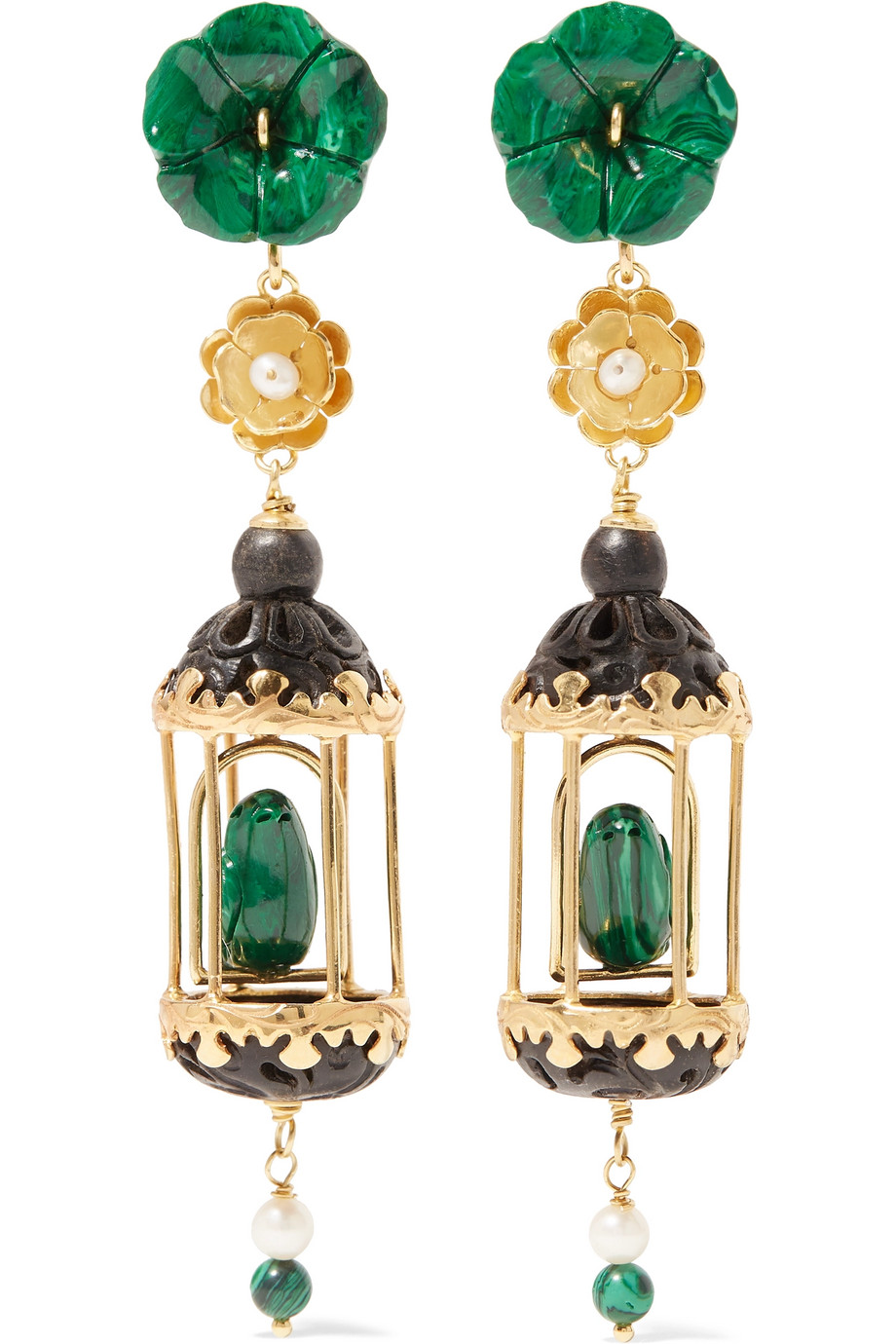 Off Rare Origin earrings come with a stunning and bright design inspired by birds and flowers, the bountiful elements of nature that turn so magical in autumn. Malachite stones give your look a luxurious elegance and sparkling appeal.
Earrings from Casa Castro

Casa Castro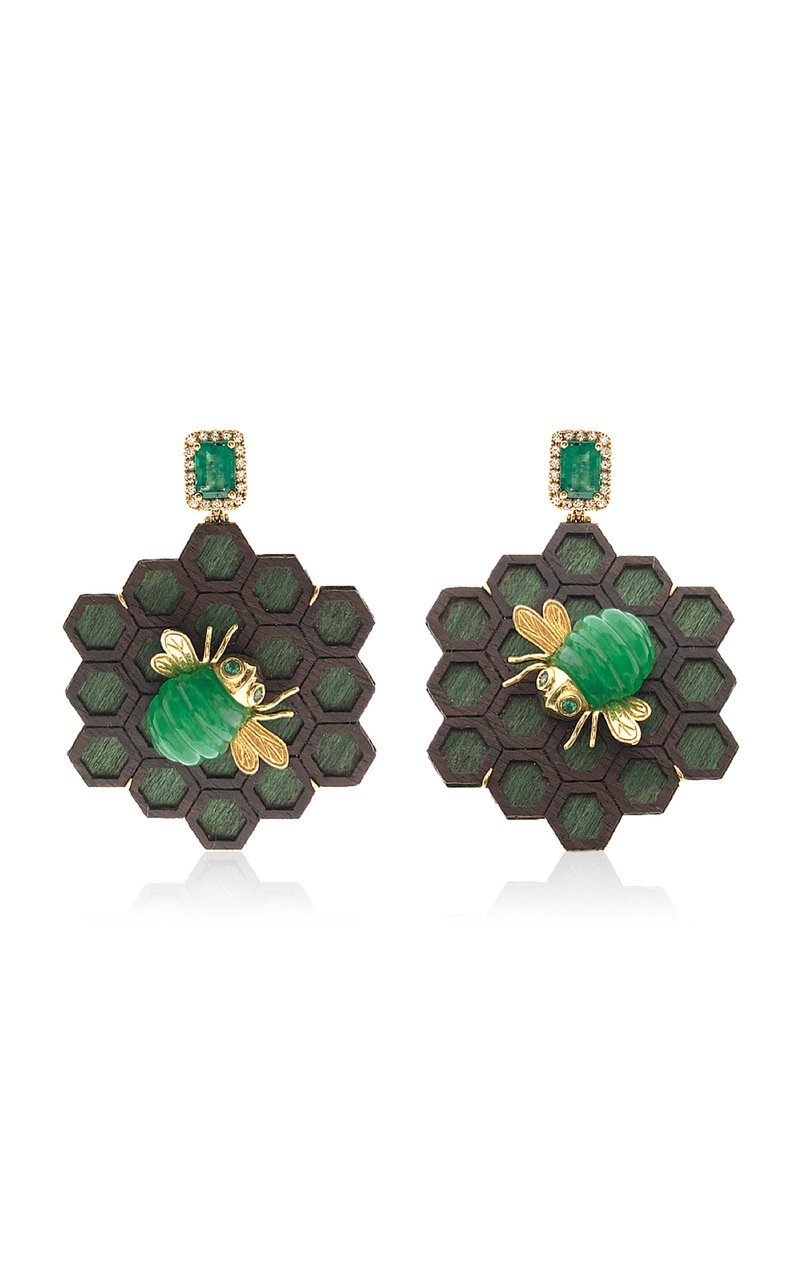 Casa Castro has created dangle earrings with a honeycomb geometric design, made of yellow gold and embellished with diamonds, emeralds, green quartz and wood, giving it a glamorous appeal that suits the autumnal setting.
Diane Kortas earrings

Diane Kortas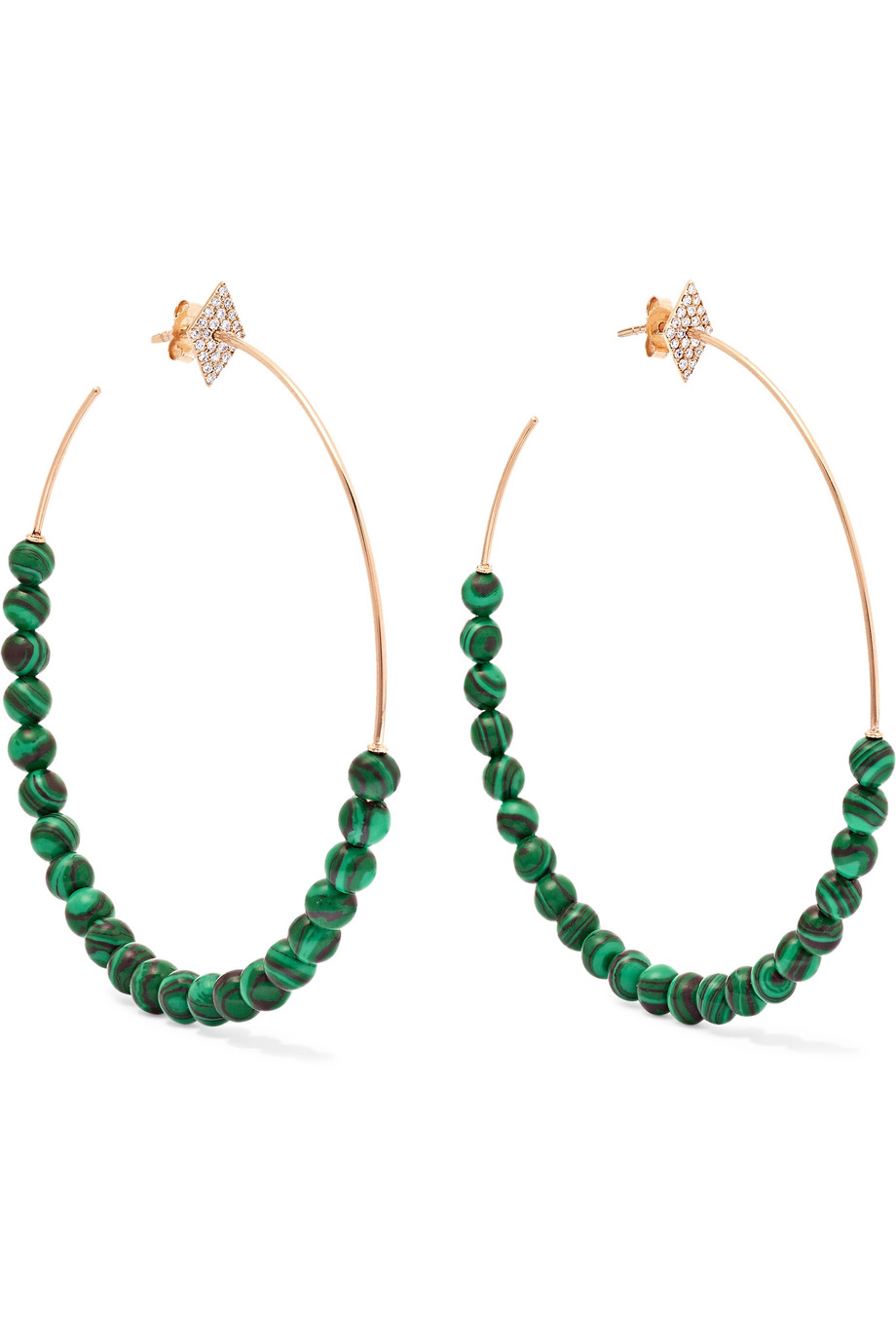 These earrings from the brand Diane Cordas are characterized by their attractive and cheerful design, which is sure to attract attention during the fall season. These earrings have main rings made of polished rose gold and are decorated with diamonds and malachite stones. Vitality and charm.
Boucheron earrings

Bucheron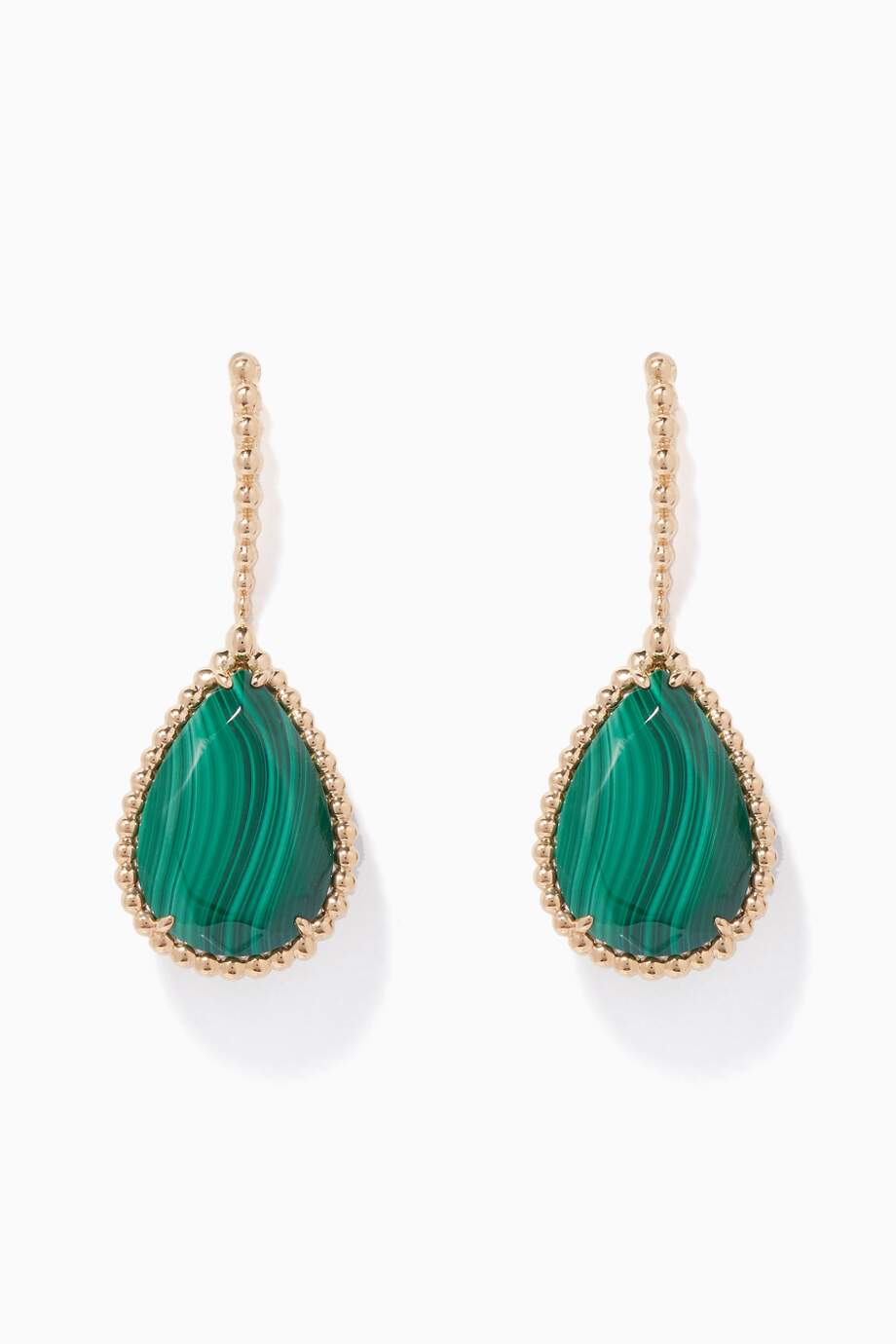 in a group Snake bohemianBoucheron presented attractive snake-inspired earrings, combining modern femininity with the spirit of yellow gold and the beauty of malachite. Certainly, on an autumn evening, these earrings will be an attractive and unique addition that will inspire admiration.
Bucellatti earrings

Bucellati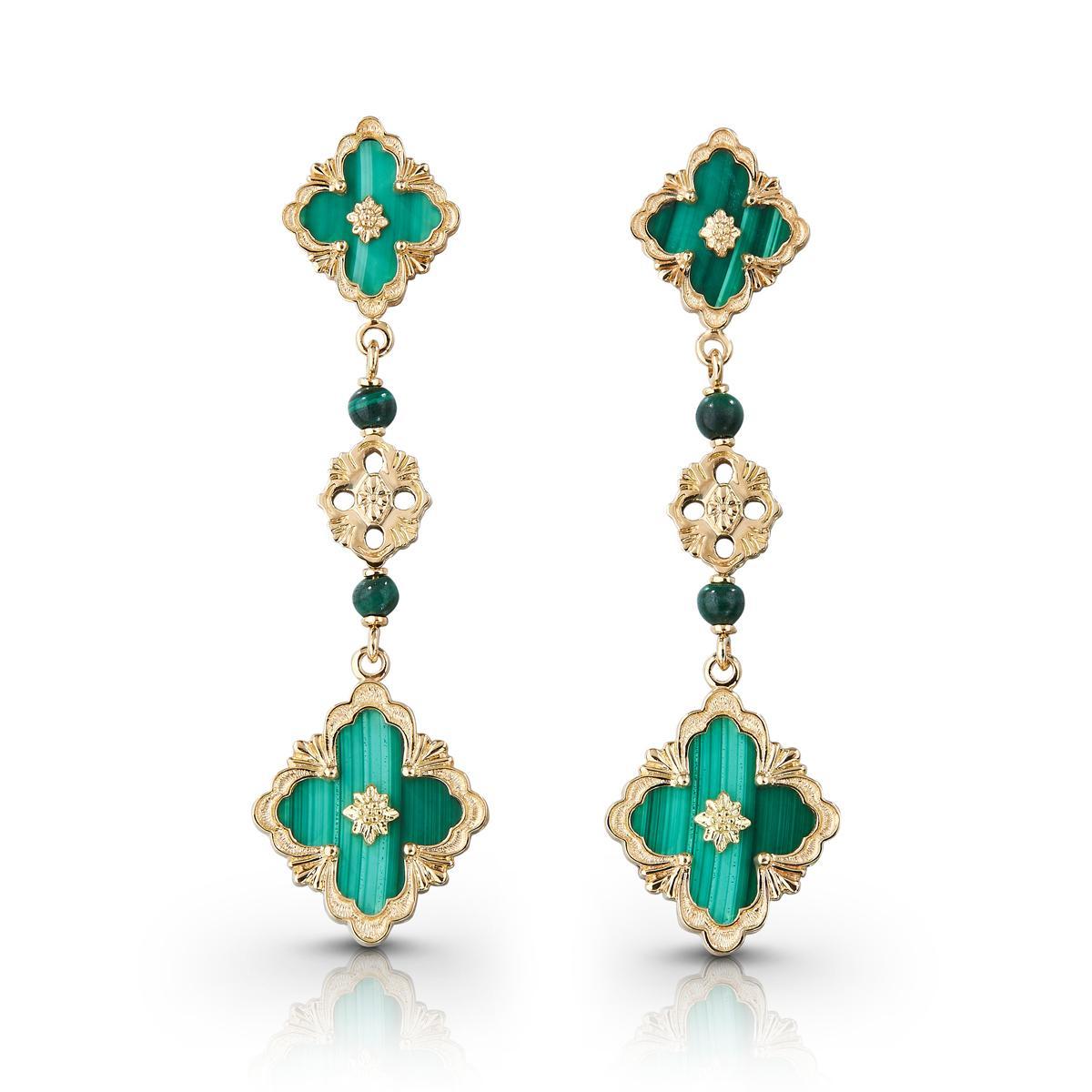 Bucellatti earrings sparkle in the collection Opera With an ornate design inspired by Italian architecture in the Opera House, it combines the elegance of yellow gold and the beauty of malachite to reveal your refined and charming taste.
Earrings by Aisha Baqir

Ayesha Baker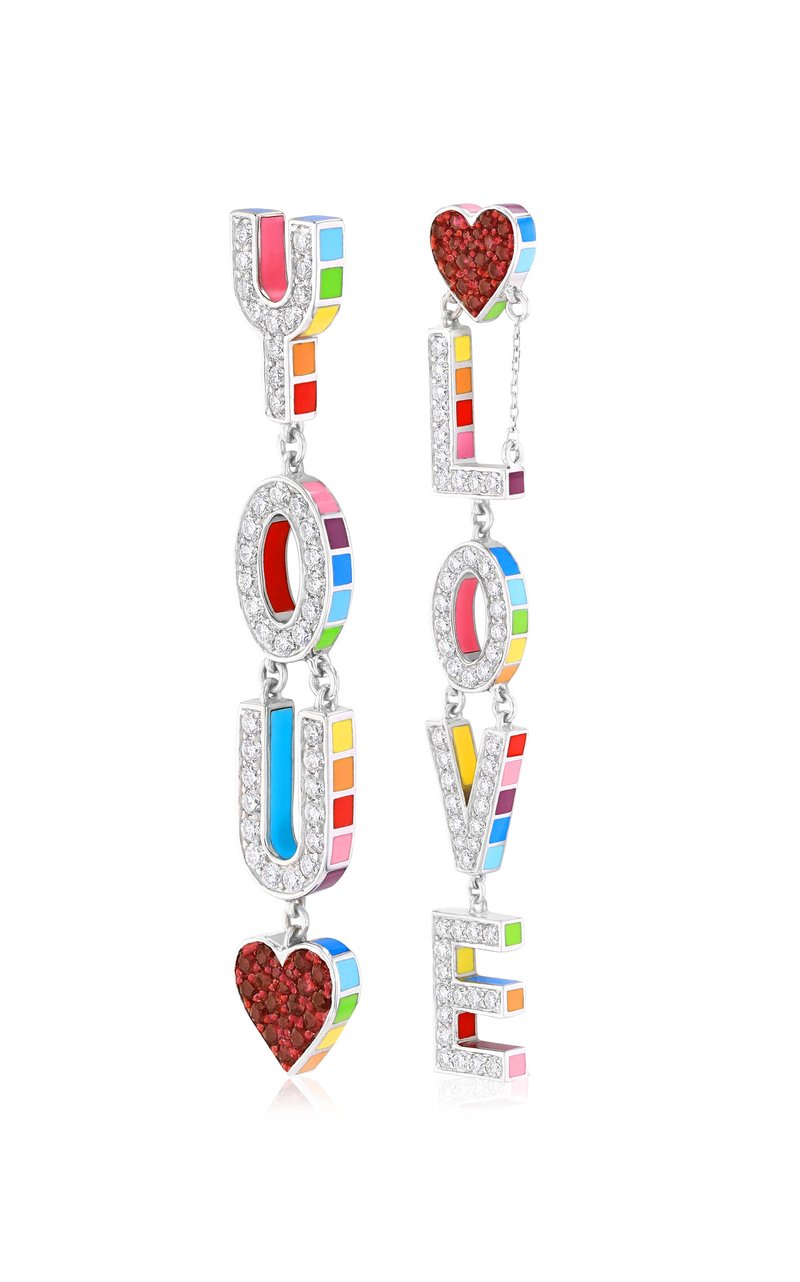 Ayesha Baqeer brand presented a beautiful design of earrings which form the word "".loveExpressing warm love, it is made of white gold, studded with diamonds and adorned with enamel and red rubies.
Earrings by Irene Neuwirth

Irene Neuwirth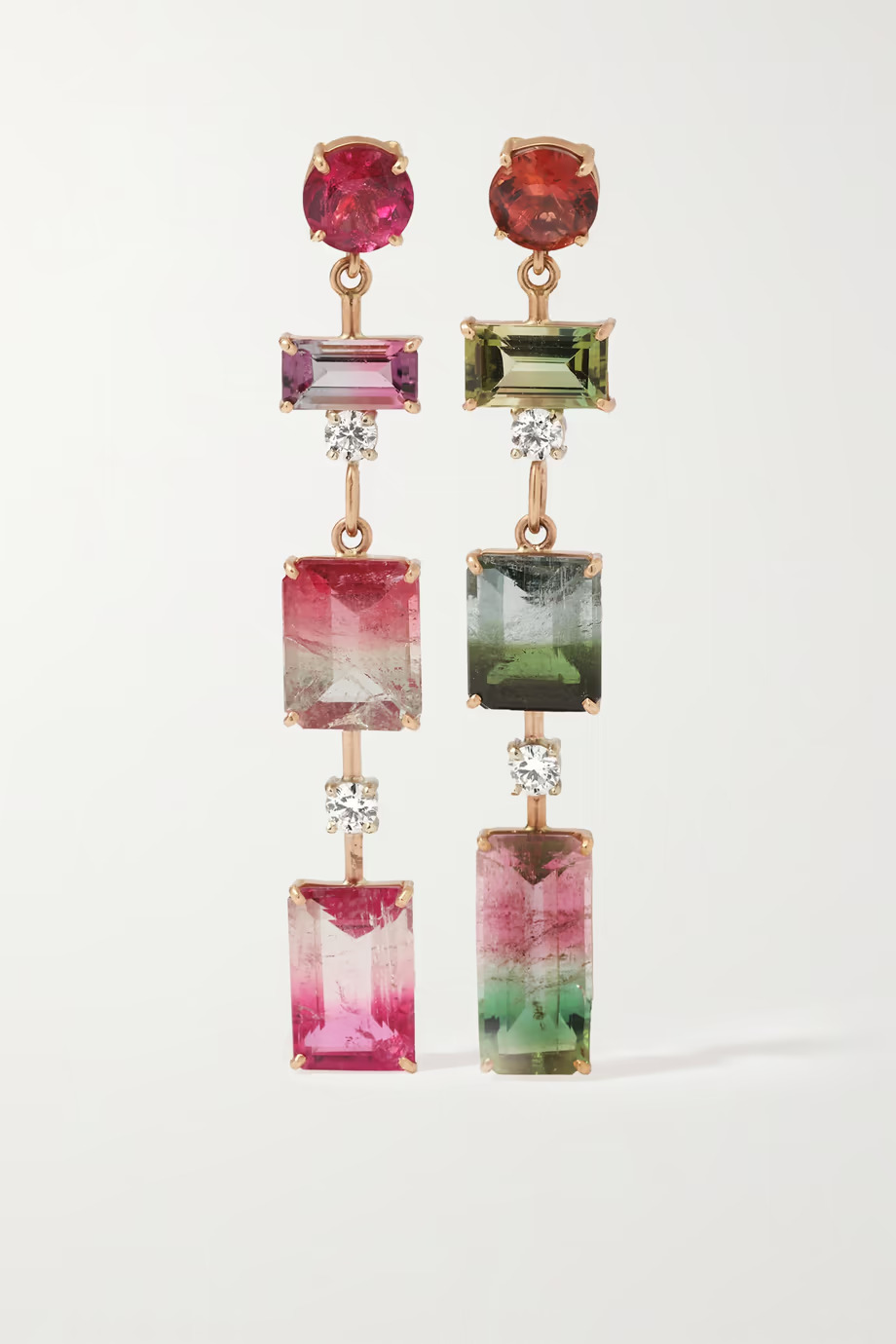 Irene Neuwirth earrings exude a charming and alluring touch of color that sparkles with the sparkle of rose gold, watermelon tourmalines and diamonds to give your fall a bold freshness.
Dior earrings

Dior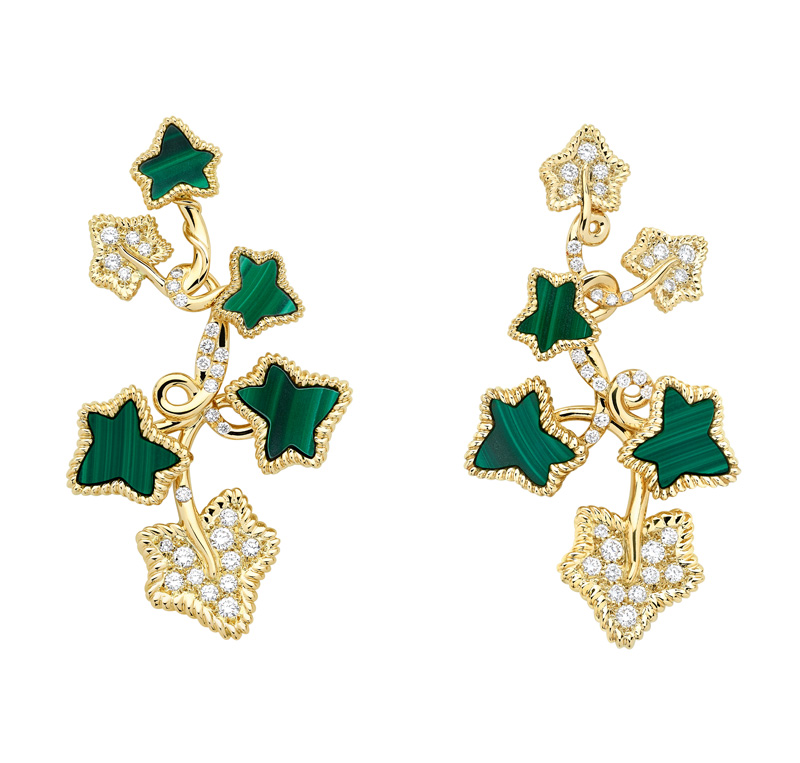 in a group Leaves of love From Dior, the Dior brand presented us with beautiful earrings, the design of which is inspired by the leaves of climbing plants. They are absolutely suitable for autumn, shining with tree leaves everywhere. These earrings are made of luxury yellow gold. Diamonds, and the appeal of malachite add natural beauty and sophisticated elegance.
Earrings by Fernando Jorge

Fernando George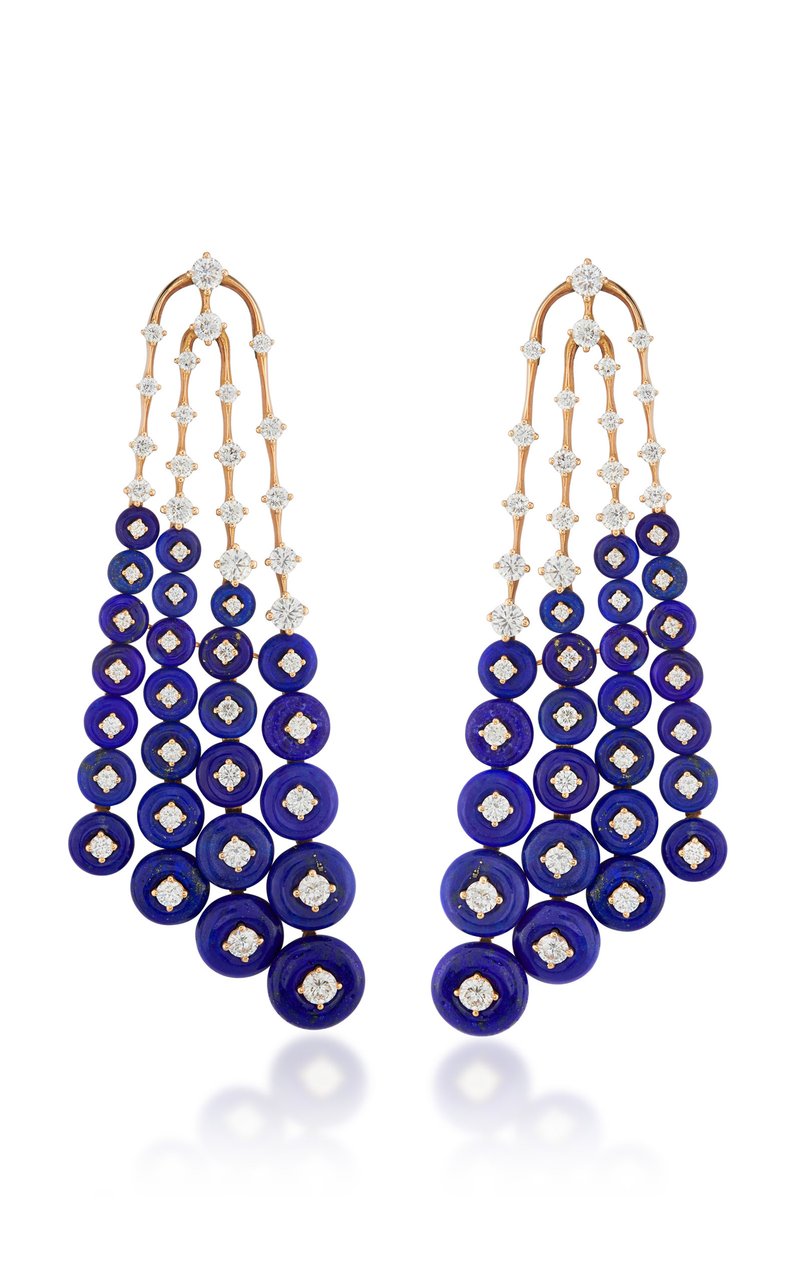 These earrings from the Fernando Jorge brand draw attention to elegance and remarkable sophistication, exuding soft femininity in autumn, like a sheer curtain of rose gold, diamonds and lapis lazuli stones.
Sheryl Lowe earrings

Sheryl Lowe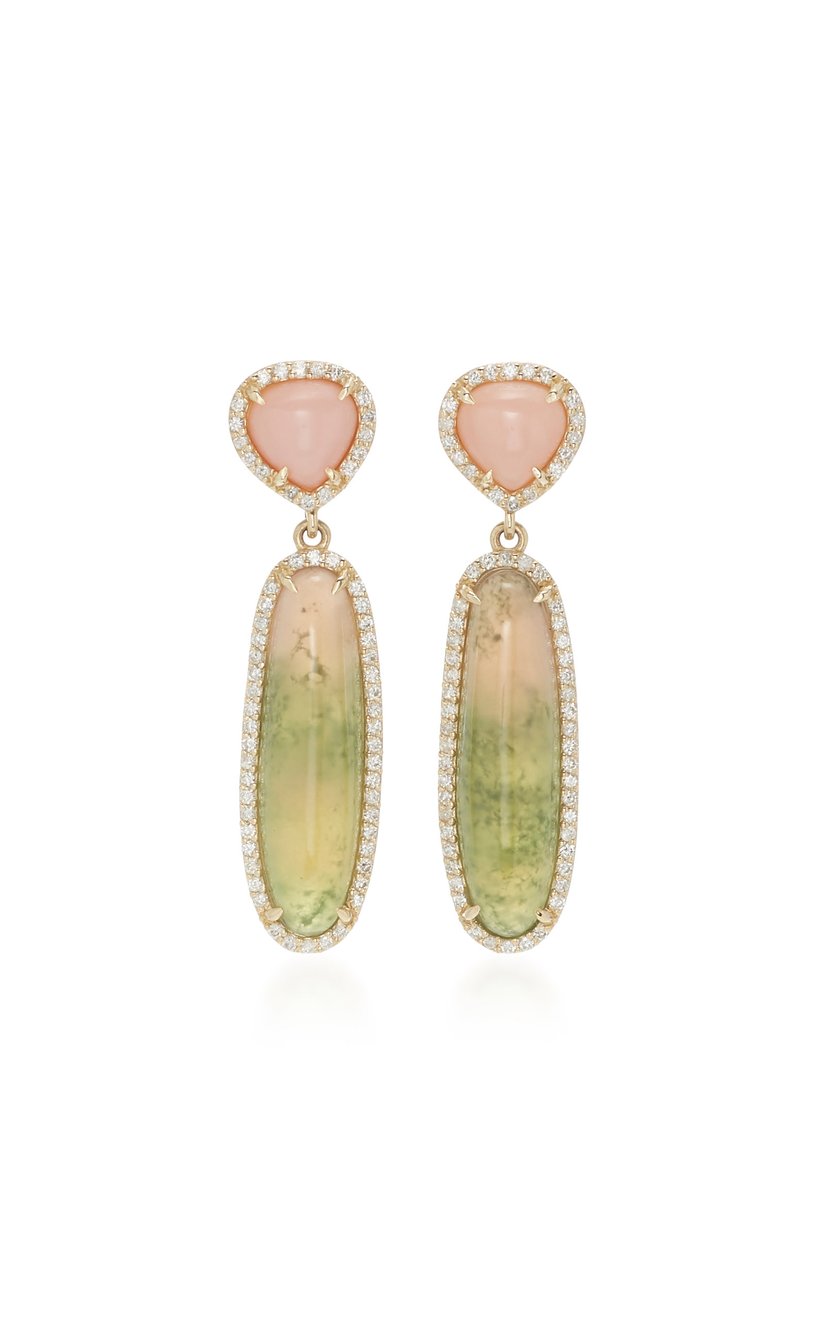 Sheryl Lowe's earrings combine elegance and beauty, sparkling with elegant charm in rose gold, diamonds, opals and tourmalines, perfect for a warm fall evening.
"Coffee evangelist. Alcohol fanatic. Hardcore creator. Infuriatingly humble zombie ninja. Writer. Introvert. Music fanatic."
Dublin bid farewell to "The Bucks" singer Shane McGowan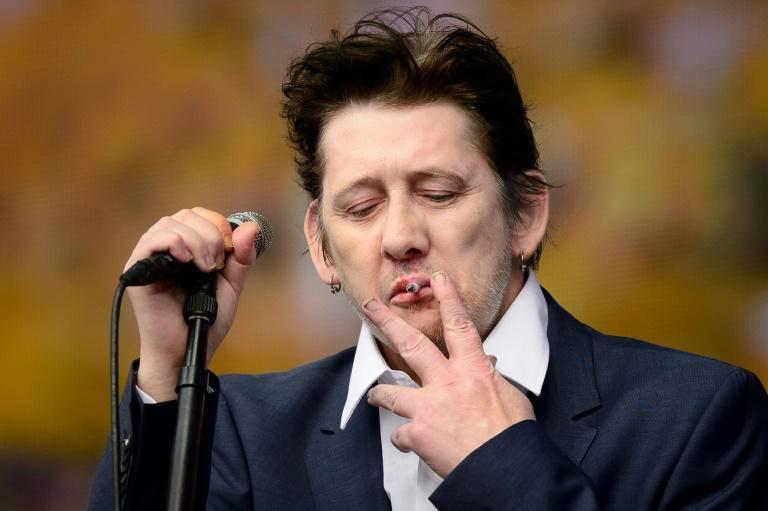 Crowds lined the streets of the Irish capital Dublin to pay their respects to Irish musician Shane McGowan, who died last week aged 65.
McGowan, the lead singer of country punk band The Boguss, died on November 30, prompting an outpouring of tributes.
Thousands clapped and cheered as his casket was carried through town in a horse-drawn carriage, led by members of the Art Band, a touring group of young musicians who played some of McGowan's songs, including "Fairtiles of New York" and "A Rainy." Night in Soho."
McGowan has been hospitalized several times in Dublin since July.
The late singer co-wrote the classic Christmas song "Fairytale of New York" with Kirsty McCall in 1987. As the memorial procession passed, a song about a couple going through hard times was played, and the audience reacted, clapping and singing along to the chorus.
McGowan was born in England in 1957 to Irish parents, and in 1982, he founded "The Bugs", a band that combined punk and Irish folk music. From former British Prime Minister Margaret Thatcher's policies and imposed censorship authorities.
McGowan was known for his songs that reflected the lives of the Irish and their immigrants.
"Shane will be one of the greatest songwriters ever," said Irish President Michael T. Higgins said in a statement that his songs were "well-written poems".
Prime Minister Leo Varadkar described McGowan as a "wonderful musician and artist".
"Coffee evangelist. Alcohol fanatic. Hardcore creator. Infuriatingly humble zombie ninja. Writer. Introvert. Music fanatic."
The Department of Culture and Tourism in Abu Dhabi and the Michelin Guide are launching the first food festival
The Michelin Guide, in collaboration with the Department of Culture and Tourism – Abu Dhabi, organized its first food festival at the Louvre Abu Dhabi Gardens in the cultural district of Saadiyat Island as part of the Culinary Season activities in Abu Dhabi. "Saidati" went with his camera to the Louvre Gardens in Abu Dhabi to cover the event.
In the warmth of the Louvre garden
The Michelin Guide Food Festival in Abu Dhabi brings together chefs from 16 Michelin Guide restaurants under the theme of "Discover the Art of Taste", featuring event-exclusive dishes, "Chef's Table" demonstrations, cooking classes and a global Michelin Market and local agricultural crops.
We are delighted to offer this wonderful experience to culinary lovers in the heart of the Louvre Abu Dhabi Gardens. Discover the most delicious specialty foods, and the art of living in Abu Dhabi. The festival showcases the scale of international stardom." "Michelin brings together talents from different cultures and showcases different culinary styles. . All these establishments have distinguished their destinations and wowed the guided visitors who represent gastronomic expertise.
You may also be interested in reading: Chef Iyad Al-Jubai: I dream of getting a Michelin star
Distribution of Michelin Awards
After that, Michelin awards were distributed to restaurants and winning chefs by the cartoon character of the Michelin guide, where they were classified according to the quality of the food in the restaurants and the skill of the chef: they were: Quoc Hua (Hakkasan, Chinese Kitchen, one Michelin star, Abu Dhabi), and Luigi. , 1 Michelin Star, Abu Dhabi), and Alvin Leung (Bo Innovation, 2 Michelin Stars, Innovative Cuisine, Hong Kong ), and Heidi Birkin (Credo, Scandinavian Cuisine, 1 Michelin Star, Green Michelin Star, Trondheim).
What do you think about the distribution of the Michelin awards… Communicating with the team conditional on receiving a star!
Importance of flavors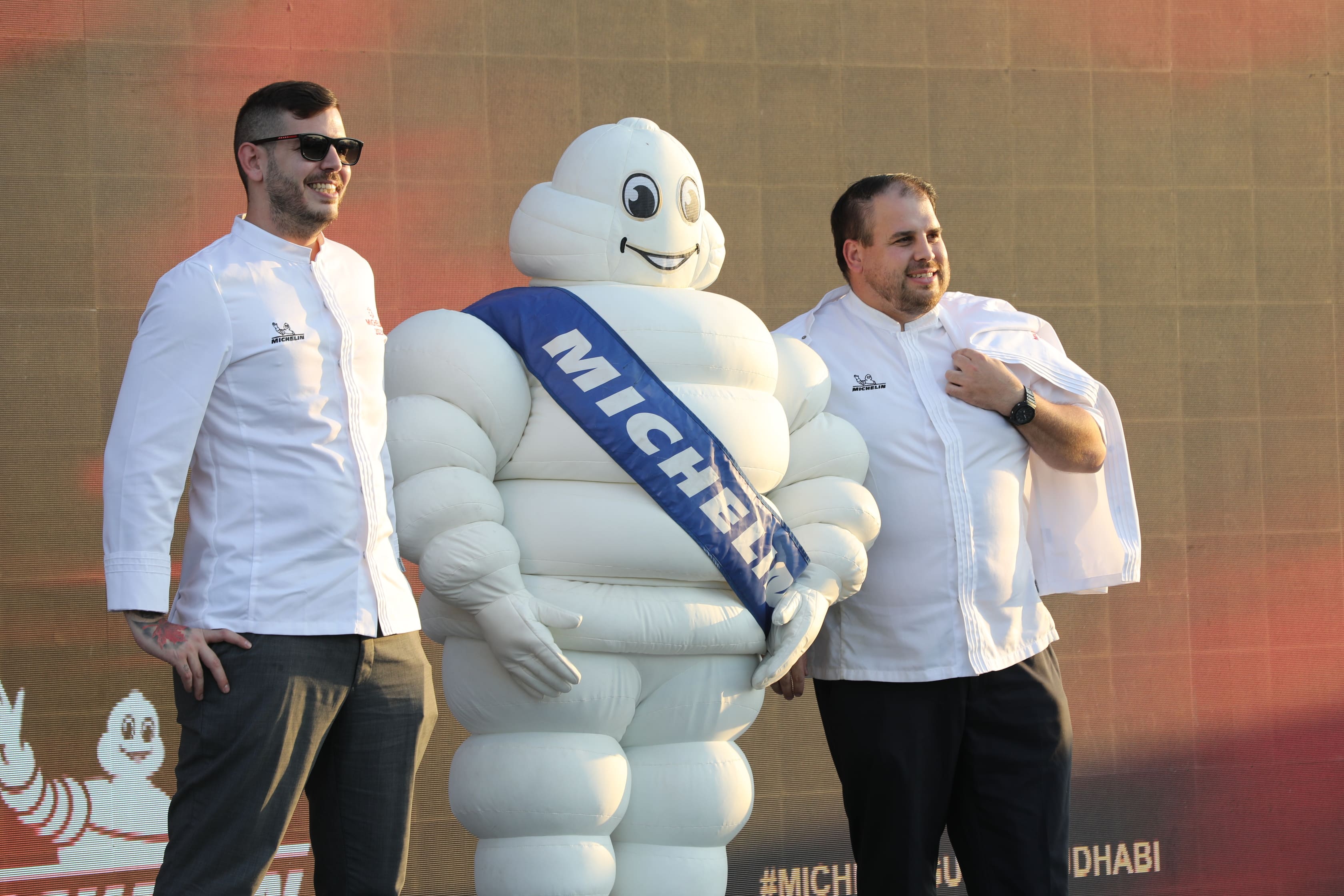 On the first day of the festival, the importance of flavors in shaping the features and identity of unique dishes was highlighted, restaurants reserved their places in the Louvre Gardens and served food to the participants, whose number exceeded 500. An experience that combines the most intelligent culinary arts and the highest quality. Each chef has created a menu inspired by his or her own region's favorite cuisine, taking visitors on a world-class culinary tour through the heart of Abu Dhabi.
"Coffee evangelist. Alcohol fanatic. Hardcore creator. Infuriatingly humble zombie ninja. Writer. Introvert. Music fanatic."
"Women Dressing Women"…a look at the art of women's clothing in the 20th century
The Metropolitan Museum of Art in New York is dedicating its new fashion exhibition to female designers, breaking some stereotypes and shining a light on those who don't get enough attention.
Although she designed Jackie Kennedy's wedding dress in 1953, Anne Lowe's dress, a pioneering African-American designer, is one of the most prominent pieces participating in the "Women Wear Women" exhibit.
With 80 pieces by 70 fashion designers, the exhibition offers a glimpse into women's couture from the 20th century to the present, and environmental advocacy messages from designers such as Gabriela Horst and Hilary Taymor.
The story of many female designers began in the sewing workshops where women were usually sent, but many of them left their mark at the beginning of the 20th century, including French designers Madeleine Vionnet, Jean Lanvin and Gabrielle Chanel.
The company delved into its collection, which includes 33,000 pieces representing seven centuries of clothing, selecting dresses designed by Elsa Chiaparelli, Nina Ricci and Vivienne Westwood.
The exhibition will be further highlighted during the museum's flagship fashion exhibition "Sleeping Beauties: Reawakening Fashion" in spring 2024, where it will showcase rare and highly fragile pieces.
The extensive exhibition includes around 250 garments and accessories spanning four centuries, including 33,000 pieces, from a 17th-century embroidered jacket to an Alexander McQueen spring Seychelles dress from the Fashion Institute's extensive archives. and the Summer 2001 Collection.
"Coffee evangelist. Alcohol fanatic. Hardcore creator. Infuriatingly humble zombie ninja. Writer. Introvert. Music fanatic."