Global stock markets plummet after Russian invasion of Ukraine. "NASDAQ" loses more than 3%
Stock markets around the world plunged yesterday on the back of Russian military action in Ukraine.
The Nasdaq Composite Index on Wall Street fell more than 3 percent at the start of yesterday, after Russia launched a full-scale invasion of Ukraine last November, dropping more than 20 percent from its peak. The Dow Jones Industrial Average was down 0.91 points at 32830.33 points at the start of the trading session, down more than 10 percent from its record high of 4 on January 4.
According to Reuters, the benchmark Standard & Poor's 500 Index opened 1.65 percent lower at 4,155.77 points, while the Nasdaq was down 3.45 percent at 12,587.88 points. All three indices increased their losses in early trading.
On the other hand, European stocks fell 3.2 percent yesterday, and investors withdrew from risky assets in the wake of Russia's attack on Ukraine, raising fears of war in Europe, boosting inflation and stifling economic growth.
The Pan-European Stoxx 600 index fell 3.2 percent, the lowest level since May 2021.
Germany's DAX index fell 4 percent to its lowest level since March 2021, the biggest loss since sales due to concerns over Germany's high dependence on Russian energy imports.
The rise in oil prices limited the losses of the British FTSE 100 index, which fell 3.9 percent.
The European oil and gas sector recorded the biggest decline, falling 1.2 percent, with oil prices rising by about 6 percent, with Brent crude rising above $ 100 a barrel for the first time since 2014.
European banks most exposed to Russia, including the Austrian Raiffeisen Bank, Unicredit and Society General, fell 5 to 6.6 percent, while the broader banking index fell 4.2 percent. The technology, travel and entertainment sectors also reported losses.
The Moscow Stock Exchange saw a sharp decline, with Russia losing about 40 percent of its key index "RTS" after launching a military operation in Ukraine. The Russian ruble is also under pressure.
In Asia, the Japanese Nikkei index touched a 15-month low at the end of yesterday, with investors around the world avoiding risky assets.
The Nikkei Index ended 1.81 percent lower at 25,970.82 points, its lowest level since November 20, 2020, and fell 2.5 percent during the session to make up for some of its initial losses.
The broader Topics Index fell 1.25 percent to 1,857.58 points. Both indices recorded losses in the fifth session in a row.
Shares of "Fast Retailing", owner of clothing store "Uniclo", fell sharply in the Nikkei index, falling 3.82 percent, and SoftBank Group 6.83 percent.
Among the sub-sectors, the aviation sector declined by 5.4 per cent.
Chinese stock markets plunged in yesterday's trade, as global markets slumped due to geopolitical uncertainty. The Shanghai Composite was down 1.7 percent at 3,429 points, while the Shenzhen Index was down 2.63 percent at 2,282 points. S. The i300 was up 2.03 percent at 4,529 points.
For that, the Dubai Stock Exchange index fell 1.8 percent to 3,274 points, the biggest one-day fall in a month, as stock markets plunged in the Gulf yesterday. The index fell about 3.7 percent in the previous session.
Shares of "Emirates Refreshments" fell about 10 percent and suffered the biggest loss in percentage terms. Leading "Emaar Properties" shares fell 3.4 percent, while Dubai Islamic Bank fell 2.2 percent.
Shares of "Dubai Financial Market" fell 4.27 percent, "Dubai Investment" 0.87 percent, "Emaar Development" 3.17 percent, "Emirates NBD" 1.42 percent, and GFH Financial Group 3.27 percent.
The Abu Dhabi Stock Exchange index fell 0.3 percent to 9,072 points. Shares of Abu Dhabi Islamic Bank fell 0.23 percent, Aktia Group 3.48 percent, Alta Properties 3.05 percent, Alpha Abu Dhabi Holdings 1.16 percent, Al Qudra Holdings 3.43 percent and Dana Gas 1.85 percent.
The Qatar Stock Exchange index is down 0.8 percent at 12,639 points. The Bahraini index is down 1 percent to 1,944 points. The Muscat index is down 0.2 percent at 4,037 points. The Kuwaiti index closed at 8320 points.
In Cairo, the leading stock market index in the Egyptian stock market led to losses, falling 3.6 percent to 10,891 points, the biggest drop since March 2020. Shares of the finance and technology sectors were very low.
During yesterday's session, the market capitalization fell by 24.38 billion pounds to close at 689.285 billion pounds. Foreign exchange transactions net sold for .5 69.52 million, while Egyptians and Arabs sought to buy nets for 5. 5.91 million and 63.6 million respectively.

See also
The euro hit its lowest level against the dollar since 2002, and the pound touched $1.20.
"Award-winning beer geek. Extreme coffeeaholic. Introvert. Avid travel specialist. Hipster-friendly communicator."
European shares fall for fifth straight day, real estate shares fall, Reuters
© Reuters. Electronic screens show stock trading activity on the German DAX index at the Frankfurt Stock Exchange on Wednesday. Photo: Reuters.
(Reuters) – European stocks fell for a fifth straight day on Wednesday as negative reports from brokerages on property owners in Britain hurt real estate stocks, while recent moves weighed on shares of Dutch insurers and Swiss bank UBS. .
The European index fell 0.2 percent, closing at its lowest level in six months.
The European real estate sector index fell 2 percent.
Land Securities, British Land and Derwent London shares fell between 3.4 percent and 4.3 percent.
Overall, market sentiment remained pessimistic with investors on the likelihood of major central banks keeping interest rates high for longer, and a slump in China's real estate sector added to negative sentiment.
The STOXX 600 index appeared to be on track for its first quarterly loss in four years, while the German index turned out to be the worst performer at the regional level.
Meanwhile, shares of Dutch insurers took a hit after court rulings raised the prospect of huge damage claims in a long-running battle over investment-linked products.
NN shares fell 18.8 percent, while ASR shares fell 14.2 percent.
Shares of UBS Bank fell about three percent after the U.S. Justice Department stepped up scrutiny of cases of suspected noncompliance with rules that helped clients from Russia avoid sanctions.
H&M shares, on the other hand, rose 3.4 percent after the world's second-largest clothing retailer reported a slightly larger-than-expected increase in its quarterly profit, supported by cost cuts.
(Prepared by Rehab Ala for Arabic Bulletin)
"Award-winning beer geek. Extreme coffeeaholic. Introvert. Avid travel specialist. Hipster-friendly communicator."
Saudi Aramco to enter into new acquisition deal in China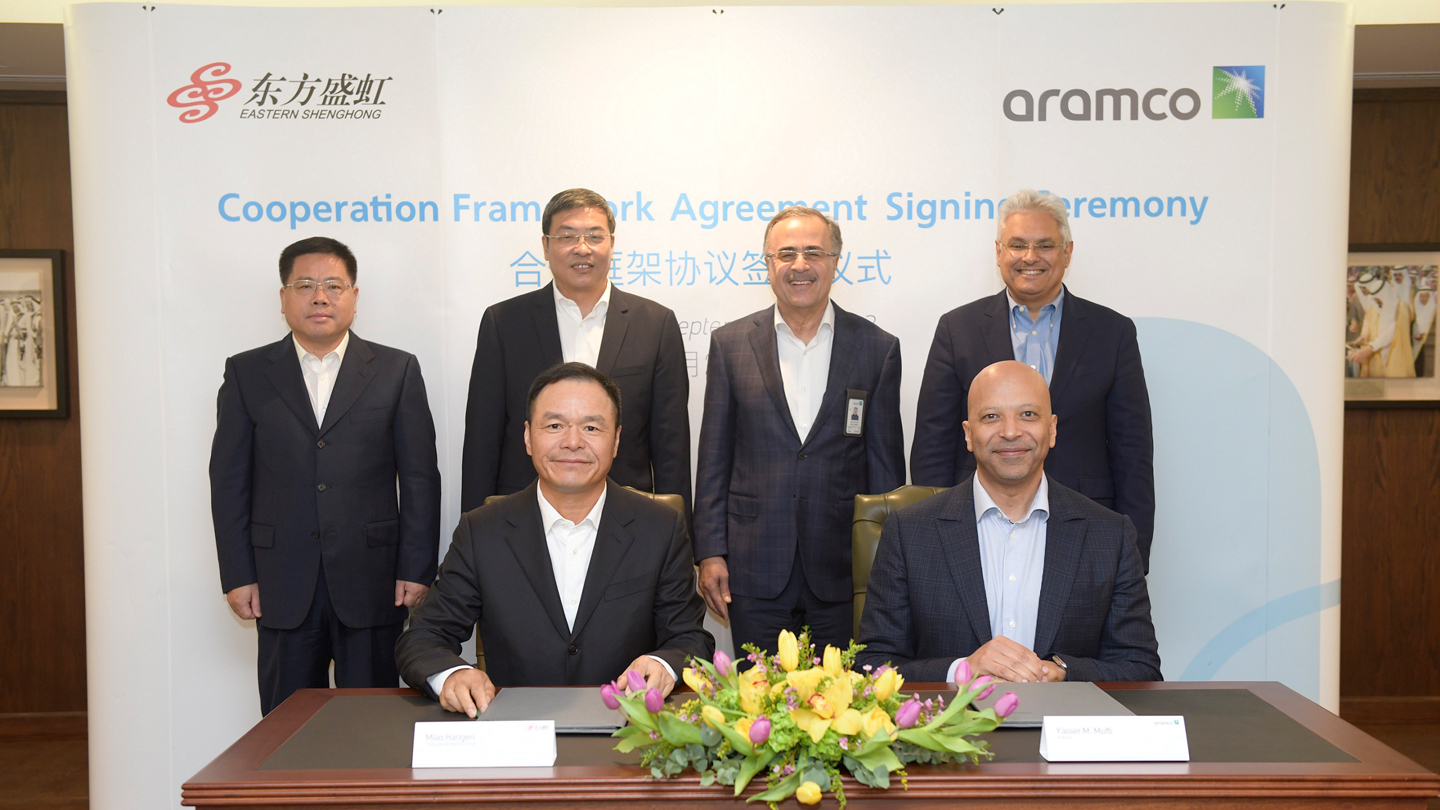 Saudi Aramco continues its strategy of expanding petrochemical investments as part of a plan to convert 4 million barrels of oil per day into chemical products.
The Saudi oil giant has made China one of the most important markets it aims to expand into by entering into partnership or acquisition deals in the oil refining and petrochemical sector.
In this context, Saudi Aramco, one of the world's leading integrated companies in the field of energy and petrochemicals, and Jiangsu Eastern Xinghong Company Limited (Eastern Xinghong), on Wednesday, September 27 (2023), signed a framework cooperation agreement to enter. In advising on potential acquisitions.
Acquisition Agreement Targets – Step Report Seen by Special Energy Platform – Acquisition of 10% strategic stake in Jiangsu Xinghong Petrochemical Industry Group Co., Ltd. (Jinghong Petrochemical), a wholly-owned subsidiary of East Jinggang, the deal is subject to necessary assessments and approvals.
Big investments
Xinghong Petrochemical Company owns and operates an integrated refining and petrochemical complex with a production capacity of 320 million barrels per day, as well as a methanol-to-olefins and derivatives complex.
Through its wholly-owned subsidiaries, it also has a facility for the production of refined terephthalic acid, and its facilities are located in the Petrochemical Industrial Park in Jiangsu Province.
Under the framework cooperation agreement, Saudi Aramco intends to supply crude oil and other raw materials to Shenghong Petrochemical Company. Saudi Oil Company and Shenghong Petrochemical Company intend to cooperate on a major expansion project, subject to the results of consultations between the two countries. Conclusion of parties and binding final agreements.
The new deal comes two months after Saudi Aramco closed a deal to buy a 10% stake in Rongsheng Petrochemical Co. for 24.6 billion Chinese yuan (3.4 billion US dollars).
The deal includes the export of 480,000 barrels per day of Arabian crude oil to the largest integrated refining and petrochemical complex in China owned by Zhejiang Petroleum and Petrochemical Co., Ltd., a subsidiary of Rongsheng.
Energy security in China
Mohammed Yahya Al-Qahdani, Saudi Arabia's head of refining, chemicals and marketing, said, "Through our partnership with East China Sea, we look forward to providing Aramco with the reliable energy needed for growth, development and the long-term sustainability of China's energy security.
He added: "The signing of the structural cooperation agreement with Saudi Aramco is an important step in our strategy in the field of refining, chemicals and marketing, which aims to increase the company's ability to convert Arab crude oil into chemicals. Our vision to expand into the Chinese market, one of the world's leading markets in the energy sector, is to "make China We consider ourselves an important partner today and for decades to come."
Eastern Singhong, listed on the Shenzhen Stock Exchange, is one of the leading integrated companies in the energy and chemical industry and is keen to adopt advanced technologies in its new businesses in the energy and materials sectors.
Related topics..
Also read this…
Subscribe to the newsletter to receive the most important energy news.
"Award-winning beer geek. Extreme coffeeaholic. Introvert. Avid travel specialist. Hipster-friendly communicator."
Dollar hits 10-month high as interest rates linger, via Reuters
© Reuters. One hundred US dollar bills in Seoul, a photo from the Reuters archive.
SINGAPORE (Reuters) – The dollar hit a 10-month high as the U.S. continues to dominate at long-term highs.
In recent trading, the euro fell 0.14 percent to $1.05575, its lowest level in six months at $1.05555. The euro is heading for a quarterly loss of more than three percent, its worst quarterly performance in a year.
It fell 0.09 percent to $1.2146 after touching a six-month low of $1.2141 on Wednesday. Sterling is heading for a quarterly loss of more than four percent.
It hit a ten-month low of 106.30.
The rise in earnings led to a fall in the yen, which rose slightly to 149.03 yen against the dollar after falling to an 11-month low of 149.185 on Tuesday.
Some experts believe a breach of the 150 yen threshold could force Japanese authorities to intervene to support the currency, as they did last year.
The Australian dollar was down 0.20 percent at $0.6385.
The New Zealand dollar was down 0.23 percent at $0.5931.
(Prepared by Marwa Salam for Arabic Bulletin – Editing by Marwa Gharib)
"Award-winning beer geek. Extreme coffeeaholic. Introvert. Avid travel specialist. Hipster-friendly communicator."