How Dubai conducts its initial stages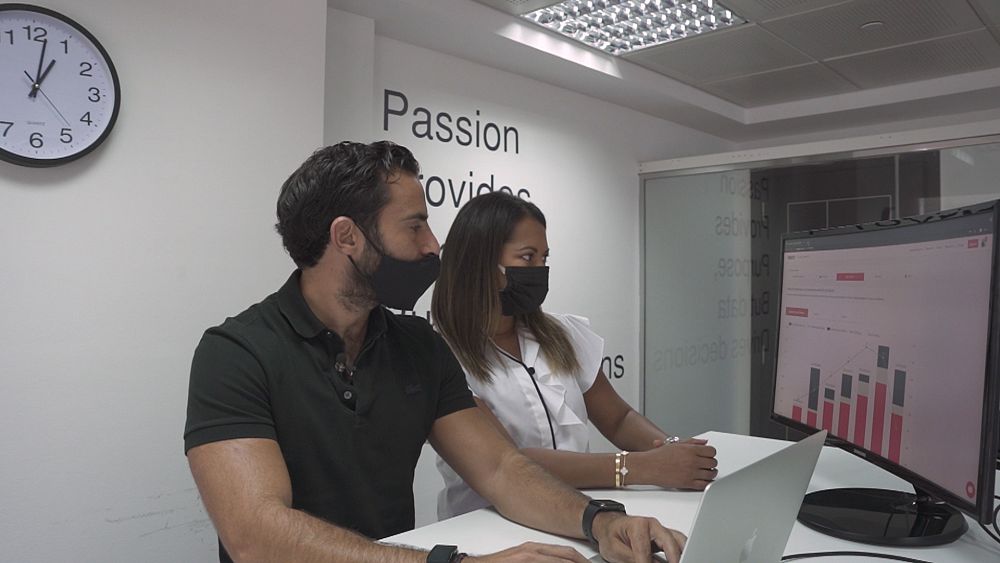 As a hub connecting East and West, Dubai has the privilege of air access to other parts of the world and welcomes people of all looks. In the past, the city's economy relied on oil, but today it represents only 1% of GDP and attracts growing and experienced entrepreneurs.
"Entrepreneurs are like everyone else: they seek to settle in a pleasant environment with access to education and leisure facilities. Of course they can easily establish their business." Entrepreneurial Manager Natalia Chicheva promises Dubai Chamber of Commerce.
"I had a lot of support"
This semi-governmental organization provides support to entrepreneurs. Its branch is dedicated to entrepreneurs, Dubai Start-up Hub Provided assistance to more than 2,000 entrepreneurs last year.
"There are different stages in the entrepreneurial journey: from the concept of the idea to the registration of the company to its international development," Comment by Natalia Chicheva.
For example, The Couture, A trend that combines sport and luxury, local sports, has gained an international dimension in two years.
"I felt there was a huge place in the market for comfortable, quality and affordable working women's clothing, which gave me the idea to start my own business." Its founder and CEO Lindsay Doran explains. "I had never started a business before, so I learned the job; but as a female business owner I had a lot of support here." She agrees.
15,000 new licenses were issued in the first quarter
Dubai not only strives to increase the number of start-ups it offers, but also to support and develop these companies, making them success stories.
In the first quarter of this year, Dubai Department of Economics Has issued more than 15,000 new licenses, 19% more than in the past. They are designed for professional, business, tourism and industrial activities.
Another organization that can help companies: the site MAGNiTT It explores all investments in venture capital and start-ups.
"Governments, businesses at all levels are very interested in innovation and start-ups." Says its founder and CEO, Philip Pahoshi. "So when they make their policy or try to identify potential investments, when the start-up players look at who their competition is … we try to put all of this data together to inform these players," He mentions.
Success stories
Incubator Intellog Developed in support of creating start-ups in the aviation, travel and tourism sectors.
"We have allocated 1.4 million dirhams to these companies without participating in the seed fund." Mentions Yusuf Lutta, Managing Director of Development and Investment in Dubai Tourism and Business Marketing Department.
Taps One of Intel's success stories. "It's a company that takes care of passengers' luggage before they leave for the airport." indique Yousuf Lootah. "We helped her with market research and pricing." Before joining he said: "As a result of this effort, Dnata Team It took a majority stake in the company: it allowed 90 centers to open worldwide. "
Legal and financial construction
Dubai recently clarified Full ownership procedures For foreign investors.
"Today, I believe it's easier to build a business here: the cost of procedures is lower than ever," Says expert Philip Pahoshi.
"What we can clearly see is when we look at success stories Kareem Or Sook, They inspire new generations to build companies and try to follow them. " He believes.
In the United Arab Emirates, taxation is particularly low: the federation uses a zero corporate tax rate and 5% VAT.
"Freelance alcohol fan. Coffee maven. Musicaholic. Food junkie. Extreme web expert. Communicator."
The president-elect of COP28 must accelerate ambitious climate action and emissions reductions
In his opening speech at the Abu Dhabi International Petroleum Exhibition and Conference (ADIPEC 2023), Minister of Industry and Advanced Technology and President-designate of the Conference of the Parties (COP28), Dr. Confirmed by Sultan Bin Ahmed Al Jaber. In line with the vision of the leadership in the United Arab Emirates, (COP28 Presidency) faces challenges head-on and mentally positively, collaborates with partners who follow the same visions, ideas and trends, ensures the participation and inclusion of all, and achieves economic growth that supports climate action in order to build a sustainable future for current and future generations.
In his speech, Al-Jaber called on the oil and gas industry to coordinate efforts to reduce emissions and take ambitious climate action within the framework of a Fair, Orderly, Responsible and Action Plan (COP28 Presidency). A logical shift in the energy sector, and to protect the possibility of avoiding a rise in temperature, is the Earth's 1.5°C.
Al-Jaber renewed his call for ambitious measures to achieve climate neutrality by 2050, eliminate methane emissions, and end gas flaring activities by the end of the current decade. He appreciated the response of more than 20 oil and gas companies. Accept this call, whether international or national, and take practical steps to reduce emissions resulting from energy production processes.
He said: "It has taken time, effort and months of negotiations, hard work and collaboration, but we look forward to more companies joining us and starting to take the necessary steps to accelerate and expand our commitment to reducing emissions. I invite everyone to join us in this commitment during the COP28 conference, And I call on everyone to raise the bar of ambition and take the necessary practical steps to achieve effective and tangible results.
Al Jaber stressed that "the oil and gas industry must lead the process of finding the necessary solutions", calling on the companies involved to demonstrate to the world that they are an essential part of the solution. Those who doubt the sector's ability to contribute to solutions mean providing more capital and technical solutions to achieve the desired results.
Al-Jaber reiterated the need for the world to cut emissions by 43% over the next seven years to maintain a chance of avoiding global warming above 1.5°C. and can be simultaneously achieved by meeting the energy needs of the planet's growing population while ensuring the well-being and prosperity of humanity.
He identified three priorities for needed action: reducing emissions resulting from energy production, increasing the productivity of renewable energy sources and reducing emissions from sectors that are difficult to mitigate emissions such as steel, cement, aluminum, heavy transport. , and others.
He expressed his confidence in the ability of the oil and gas industry to increase the production capacity of renewable energy sources, which represents an opportunity to diversify its business models and ensure it remains on pace for the future.
He explained that the "intermittent" nature of renewable energy supplies meant that emissions-intensive industries were unable to offset the primary load of electricity. is difficult to mitigate.
In his speech, Al Jaber emphasized the need to tackle pressing issues including expediting licenses for clean energy projects, overcoming barriers to the commercial use of hydrogen and expanding the scope for the use of carbon capture technologies.
"Freelance alcohol fan. Coffee maven. Musicaholic. Food junkie. Extreme web expert. Communicator."
"Reya" provides 11,681 healthcare services to senior citizens and mentally challenged people in Dubai.
Launched by His Highness Sheikh Hamdan bin Mohammed bin Rashid Al Maktoum, Crown Prince of Dubai, Chairman of the Executive Council of the Emirate of Dubai and Chairman of the Supreme Council for Development and Citizen Affairs, the "Care" initiative awarded 11,681. Last May, senior citizens and able-bodied people in Dubai will have integrated healthcare services in their homes within four months.
The "Care" initiative translates the directives of His Highness Sheikh Mohammed bin Rashid Al Maktoum, Vice President and Prime Minister of the UAE and Ruler of Dubai, to provide better integrated healthcare services to senior citizens and vulnerable populations. In His Highness' interest to consolidate the best international practices, the standard of living in the Emirate.
During the period from May 3 to August 31, 10,665 services have been provided to senior citizens from services included in the effort to provide quality medical services through a network of hospitals and home clinic services to follow up on the condition of senior citizens. and committed and concerned with the latest international standards used in treatment.
The initiative provided 1,016 services to committed people in accordance with the best international standards, achieving reassurance and social stability, guaranteeing them a better quality of life and enabling them to access medical care in a family setting.
The initiative, which comes under the mandate of the Supreme Council for Development and Citizen Affairs, aims to create an integrated healthcare system that improves the quality of life of senior citizens and vulnerable populations. It ensures that they get comprehensive and advanced medical services tailored to their health needs and meet their various needs with ease and convenience.
Dr. Amar Sharif, Executive Director of Dubai Academic Health Foundation said: The CARE Initiative works to provide an integrated healthcare system that provides quality services through a network of diverse healthcare facilities to serve senior citizens and vulnerable populations. And in a way that contributes to cementing Dubai's position as a role model in providing the best care." and treatment."
"Freelance alcohol fan. Coffee maven. Musicaholic. Food junkie. Extreme web expert. Communicator."
Emirates News Agency – "Meteorology": Tomorrow will be partly cloudy and humid at night
Sunday, October 1, 2023 – 6:06 p.m
ABU DHABI, 1st October / WAM / The National Meteorological Department expects the weather tomorrow to be partly cloudy at times, with some coastal and inland winds along with humidity overnight and Tuesday morning, with light to moderate winds. , will be active at times during the day, and will turn north-west to south-east at 10 – 25 to 35 km/h.
The Center said in its daily bulletin that there will be light to moderate waves in the Arabian Gulf, with the first wave at 14:50, the second at 03:30, the first low tide at 08:26 and the second wave at 08:26. At 21:11.
He pointed out that there will be light waves in the sea of ​​Oman, the first wave will occur at 10:59, the second at 00:00, the first low tide at 17:39 and the second at 06:02.
Following is the report of maximum and minimum temperature and humidity levels expected tomorrow:
City Maximum Temperature Minimum Temperature Maximum Humidity Minimum Humidity
Abu Dhabi 37 27 80 40
Dubai 36 29 85 40
Sharjah 37 26 85 40
Ajman 38 29 85 45
Um Al Quwain 36 25 85 40
Ras Al Khaimah 37 24 85 30
Fujairah 36 29 70 35
Al Ain 37 26 80 25
Liwa 39 25 85 20
Ruwais 37 25 80 40
Materials 40 26 80 20
Dalma 36 30 80 40
Greater Tunb 32 30 75 45
Little Tunp 32 30 75 45
Abu Musa 32 31 75 45
Muhammad Nabil Abu Taha / Ahmad al-Boutli
"Freelance alcohol fan. Coffee maven. Musicaholic. Food junkie. Extreme web expert. Communicator."