Wednesday morning live update.. Death toll in Israel and Gaza after Hamas "al-Aqsa flood" attack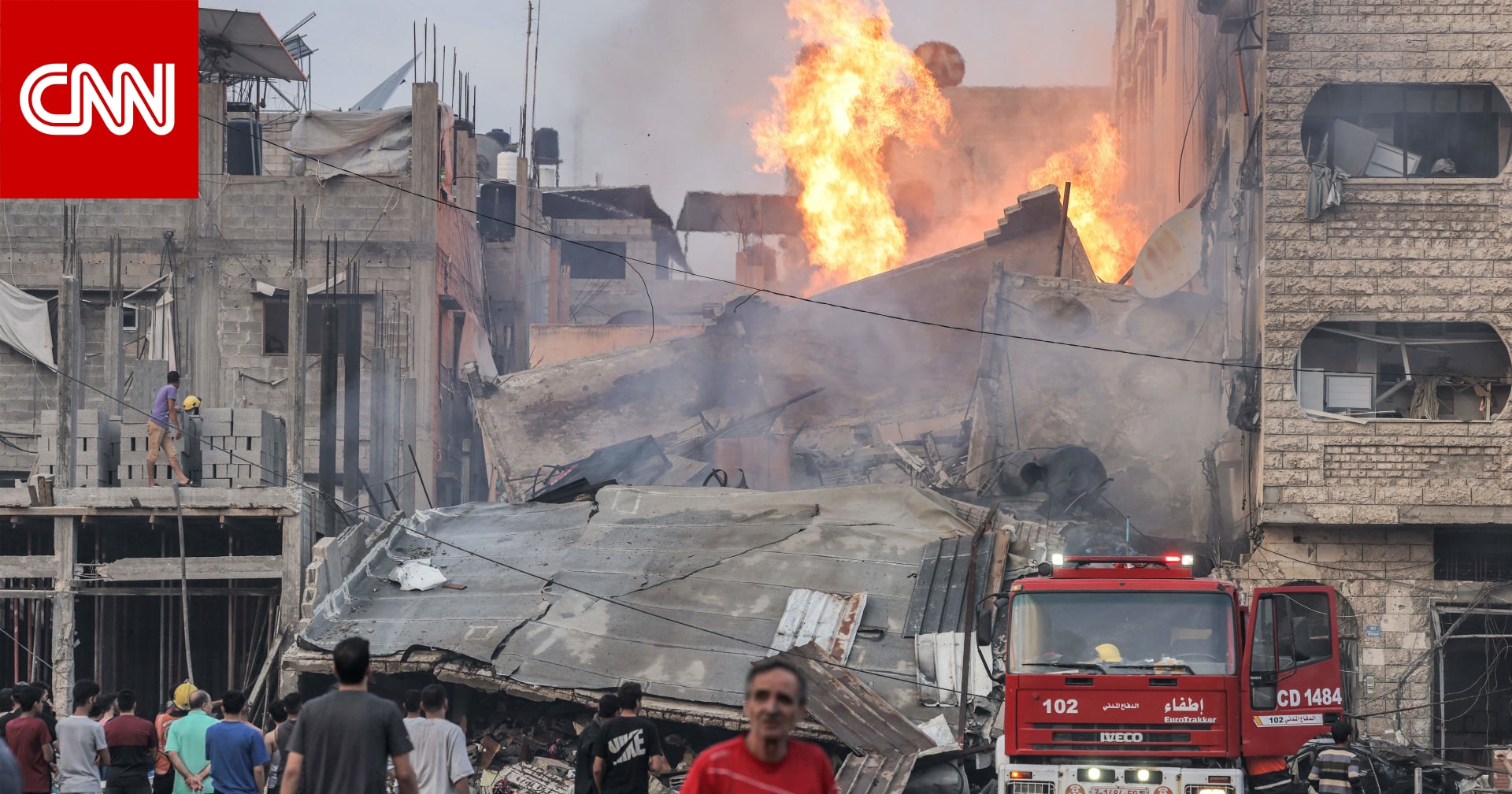 DUBAI, United Arab Emirates (CNN) – Clashes between Israeli forces and the Islamist resistance movement "Hamas" entered their fifth day on Wednesday morning, and below we review the most important developments:
Israeli army soldiers carry the coffin of their comrade Noam Elimela Rotenberg during his funeral at Mount Herzl Cemetery in Jerusalem on October 10, 2023.

Credit: YURI CORTEZ/AFP via Getty Images)
At least 1,200 people have been killed as a result of Hamas attacks on Israel, Army spokesman Lt. Col. Jonathan Conricus said in an update Wednesday morning.
A man stands outside a burning, collapsed building in an Israeli bombardment in Gaza City on October 11, 2023.

Credit: MOHAMMED ABED/AFP via Getty Images)
Gaza's health ministry said the death toll in Gaza has risen to 950 since Israeli airstrikes began in response to a surprise attack by Hamas early Saturday, with another 5,000 wounded.
Credit: Menachem Kahana/AFP via Getty Images
– The Israeli military said it had struck Hamas naval targets in Gaza in the past few hours, saying Hamas was using them to launch attacks off the Israeli coast.
Smoke rises from targets struck by Israeli forces in Gaza on October 10, 2023

(Credit: SAHER ALGHORRA/Middle East Images/AFP via Getty Images)
The Palestinian Interior Ministry said in a statement on Wednesday that residential areas east of Jabaliya and Khan Yunis in the Gaza Strip were subjected to intense aerial bombardment, and Israeli forces have yet to comment on the allegations.
– Israel bombarded Gaza with airstrikes, hitting hundreds of targets and reducing neighborhoods to rubble after Israeli Defense Minister Yoav Galant said it had "removed all restrictions" on forces in their war against Hamas.
"Creator. Award-winning problem solver. Music evangelist. Incurable introvert."
Bloomberg News: Commission works with Americans to manage Gaza Strip
The US Bloomberg agency quoted Palestinian Prime Minister Muhammad Shtayeh as saying that the Palestinian Authority is working with US officials on a plan to manage the Gaza Strip after the end of the war.
The preferred outcome of the conflict is for the Islamist movement (Hamas) currently operating in the Gaza Strip to become a junior partner in Palestinian liberation, Shtaeyeh said in an interview with Bloomberg on Thursday from his headquarters in Ramallah. The organization aims to establish a new independent state that includes the West Bank, Gaza Strip and Jerusalem.
Shtayeh said that the Palestinians should not be divided and that Israel's goal of completely eliminating Hamas is unrealistic, and that there is room for negotiation if Hamas is willing to accept the PLO's political approach and reach an agreement.
Phil Gordon, the US vice president's national security adviser, held discussions with Palestinian officials in Ramallah about the "revitalization" of the Palestinian Authority, the White House said last Wednesday.
He insisted that a revived Palestinian Authority would be able to govern the Gaza Strip and the West Bank.
According to the White House, he emphasized the need to strengthen the Palestinian Authority's security forces to eventually take over responsibilities in Gaza.
In a related context, the British newspaper The Times said that a British military team is operating in the West Bank to prepare the Palestinian Authority to take over the administration of the Gaza Strip.
According to Israeli figures, 1,200 people were killed and about 240 detained and captured after attacks on Israeli cities on October 7, after which Israel pledged to eliminate Hamas.
More than 17,170 Palestinians have been killed and about 46,000 injured since Israel began shelling the Gaza Strip following the "Al-Aqsa Flood" operation in response to the occupation, according to the Ministry of Health in the Gaza Strip. Against the Palestinian people and their sanctity.
"Creator. Award-winning problem solver. Music evangelist. Incurable introvert."
"Ceviche"… a thousand recipes in the Intangible Heritage List
Yesterday, UNESCO added Peruvian ceviche – a dish made from marinated raw fish – to the Intangible Heritage of Humanity list.
According to local anthropologists, the type of fish used to prepare this dish varies from one region to another.
According to celebrity chef Javier Vargas, president of the Peruvian Seafood Restaurants Association, there are at least a thousand recipes or methods of preparing ceviche in the country.
The Peruvian Ministry of Culture welcomed UNESCO's announcement that the addition of Chevy to the organization's list of "Intangible Heritage of Humanity" is "the first of the traditional Peruvian cuisines and recognizes all participants in the food's value chain. Fishermen from the coast, the Andes and the Amazon, farmers and chefs."
The Intergovernmental Committee for the Safeguarding of the Intangible Cultural Heritage, which met in Botswana last Monday, approved the inclusion of ceviche in the UNESCO list of Intangible Cultural Heritage of Humanity.
• Eating the food varies from one region to another depending on the type of fish used to prepare it.


Follow our latest local and sports news and the latest political and economic developments via Google News

"Creator. Award-winning problem solver. Music evangelist. Incurable introvert."
Al-Qassam destroys 79 occupation vehicles in 72 hours and continues to destroy its forces in Gaza News
7/12/2023–|Last Updated: 12/7/202308:01 PM (Makkah Time)
The Martyr Iss al-Din al-Qassam Brigades, the military wing of the Islamic Resistance Movement (Hamas), announced – in a statement today – Thursday that it had destroyed 79 Israeli military vehicles, either in whole or in part, in the Gaza City borders. In the last 72 hours, its fighters managed to target an Israeli force of 15 soldiers. With 3 shells, they killed and wounded east of Khan Yunis.
In a separate statement, al-Qassam Brigades confirmed that its fighters were able to shoot two Israeli soldiers in the Shujaiya neighborhood east of Gaza City and two others northeast of Khan Yunis with homemade "Gol" rifles.
Its militants were trapped in a tunnel opening in Sheikh Ratwan area which was blown up by the occupying forces, leading to their killing and injuries.
In Beit Lahiya, north of the Gaza Strip, Al-Qassam forces targeted two troop ships with "Al-Yasin 105" missiles.
Al-Qassam fighters clashed with an Israeli infantry force of 6 soldiers on the eastern axis of Khan Younis city, killing and wounding them, and captured a robot in their possession.
Al-Qassam brigade targeted 4 Israeli tanks and an army excavator on the eastern axis of Khan Younis city with "Al-Yasin 105" bombs, and targeted an army bulldozer with a "Tandom" shell.
Al-Qassam Brigades' military media broadcast images of a missile attack on Israel, exposing the Raym base, the Gaza Strip headquarters, the Kisufim settlement and the Sufa military support base to a barrage of missiles. .
Al-Qassam confirmed that its artillery units penetrated and destroyed Israeli army forces north of Khan Younis city with mortar fire.
Al-Qassam Brigades also claimed to have targeted Israeli military command posts on the southern axis of Gaza City with the "Rajum" missile system.
Israeli losses
The Israeli military has acknowledged that two officers and a soldier were killed and seven others were wounded during clashes with the opposition in the northern and central Gaza Strip.
Israeli media reported that Qadi Eisenkot's son, a member of the war council and a former commander-in-chief, was killed in a mine explosion in a tunnel that was caught in the hands of the Qassam Brigades.
This came a day after the occupation announced that 10 of its forces had been killed in a single day, including 7 officers. This brings the Israeli army's death toll to 92 soldiers and officers since the start of the ground operation and 413 officers and soldiers since the start of the Operation Al-Aqsa flood and the war on Gaza last October seventh.
The Israel Broadcasting Corporation reported that about 100 Israeli soldiers suffered serious eye injuries during the fighting in Gaza, and 15% of them were partially or completely blinded by explosions, shrapnel or gunfire.
"Creator. Award-winning problem solver. Music evangelist. Incurable introvert."