A shirt woven from human hair.. Will this type of fabric revolutionize the fashion industry?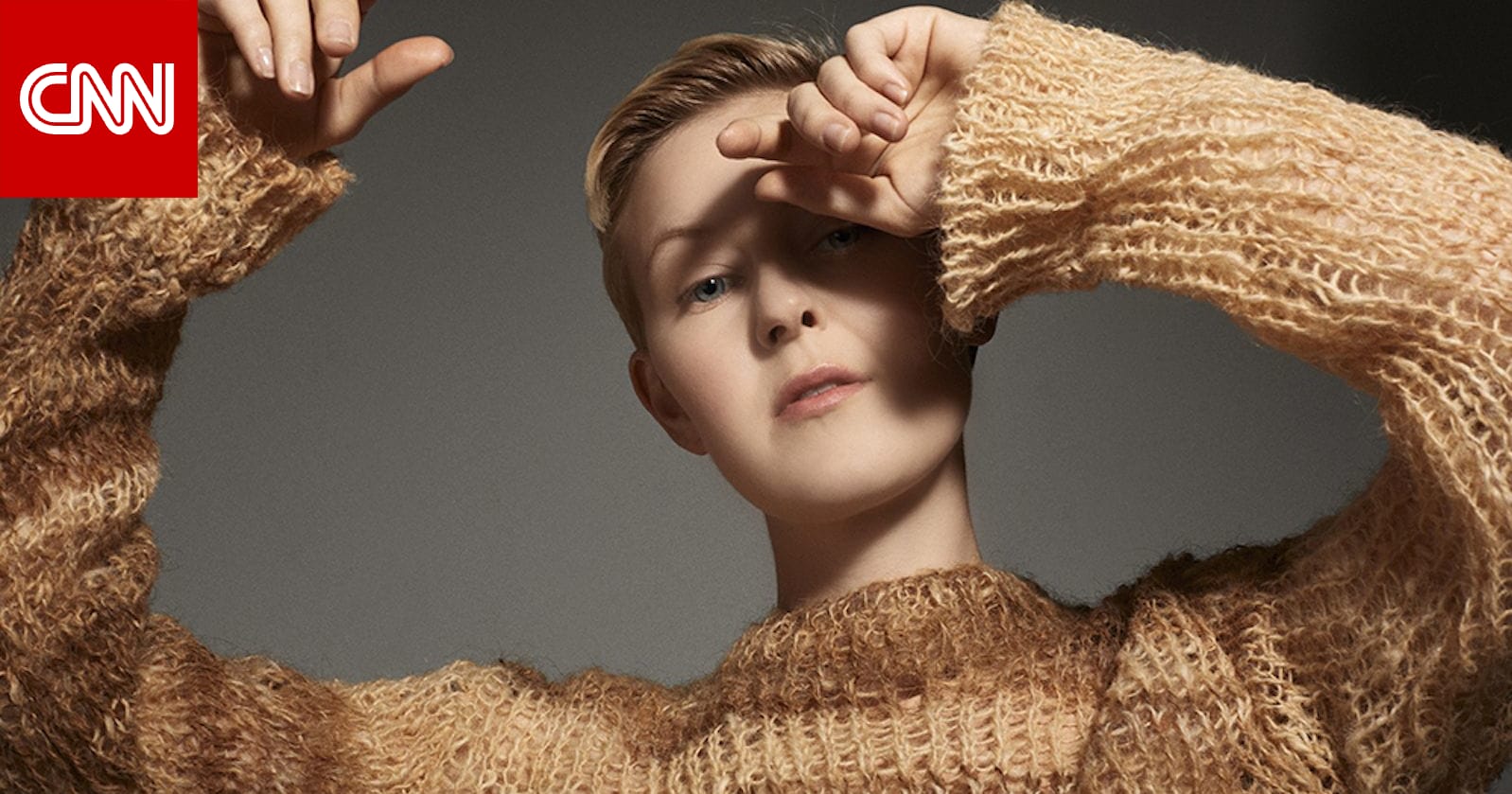 Dubai, United Arab Emirates (CNN) — Wool coats and human hair wigs have more in common than previously thought, because not only do they help conserve body heat, they're both made of keratin protein fibers.
Now, a Dutch startup is asking why wear one and waste the other.
Human Material Loop hopes to transform the fashion industry by turning human hair into fabric.
So far, the company has designed prototypes of coats, sweaters and jackets from human hair, with the hope that clothing companies will one day buy rolls of its substitute material for their own designs.
The company has created prototypes of coats, jackets and sweaters from human hair

Credit: David Kane Worden/Human Subject Loop
For her part, the company's co-founder Zofia Koller said she has always been fascinated by the possibilities of using hair as a texture. She was interested in people's feelings about it. "We care about our hair, but once it's cut, we hate it," she said.
When the Covid-19 pandemic hit the world, Kollar faced an identity crisis as a designer and decided to fix the waste problem in the hair industry.
Don't waste it
The company hopes that garment manufacturers will buy rolls of its replacement material for their own designs

Credit: Medina Resik/Human Subject Loop
Every minute, salons in the United States and Canada generate 877 pounds of waste. When hair decomposes without oxygen, like a bag of trash in a landfill, it releases greenhouse gases that contribute to the climate change crisis.
According to the Human Material Loop, 72 million kilograms of human hair waste ends up in European landfills annually, equivalent to the weight of 7 Eiffel Towers.
"It's a huge, abundant waste stream, and there's no scalable solution right now," Koller said. He adds that most countries burn this waste, and many alternative solutions are not environmentally friendly, or suitable for large-scale use.
Using a hair texture is no different than knitting a sweater with any other material because the short hair is twisted together into a continuous thread and then dyed with pure dyes, Koller explains.
As the company expands production, it can dye yarn or fabric, depending on which is more efficient, he added.
An example of a human material loop is a sweater with a wool-like texture.
"I had to create a product that people could relate to, and this was one of the most meaningful prototypes we could create, but also very relatable," Koller said.
Using human hair isn't much different than knitting a wool sweater, Koller explains.

Credit: Medina Resik/Human Subject Loop
Since then, the company has tested other prototypes, including a fur-lined outer coat to provide thermal insulation, which was put to the test in extreme conditions during a trip to Mount Aconcagua, Argentina's highest mountain.
However, these designs are not available for purchase, they aim to provide materials for other designers and brands to use.
The company imports human hair from salons in the Netherlands, Belgium and Luxembourg.

Credit: Nikola Lamburov/Human Subject Loop
Koller points out that wool should be priced competitively once it reaches a large production scale: "We know that most people are not yet ready to wear human hair on our bodies."
But he believes the idea can gain traction with the public. For Koller, wearing a jacket made from human hair isn't just about innovation or sustainability; On the contrary, it proves that human hair is a very durable material.
Human Material Loop imports human hair from salons in the Netherlands, Belgium and Luxembourg, which it claims does not contain any nuclear DNA that can be cut or identified to an individual. The company is working on creating a chain of custody to trace where its products come from and where they go.
A growing industry
The design of this jacket uses human material loop human hair as a thermal insulator.

Credit: Pablo Betancourt/Human Material Loop
Historically, human hair has been used as a textile in various cultures. In Micronesia, the Kiribati tribe created woven armor made from natural materials including coconut fiber, shark teeth, palm fronds, and human hair. In the 13th century, in what is now the southwestern United States, people tied strands of hair together to make stockings.
Higashi Hongan-ji Temple in Kyoto is one of the largest wooden structures in the world. After it was destroyed by fire, ropes made of human hair donated from all over Japan, mixed with hemp, were used during the temple's reconstruction in the 19th century.
But using hair as a fabric is not without its challenges, and nothing to do with the human material loop, explains designer and associate lecturer at the University of the Arts London, Sunny Visser.
"There is still controversy over using human hair as a material," Visser said. "We don't really value it as a resource, it's seen as a waste, especially when it's being cut down."
In his project for the Design Museum in London, Visser worked with hairdressers and envisioned how hair would become a valuable resource in the future, coining the term "hair replacement" and redesigning the barber's chair. For hairdressers and recyclers.
Visser emphasized that using human hair in our products is not easy.
"There's still a lot of work to be done to get people to accept it (hair) as a commodity, and I can definitely see it entering our daily lives over time," he said.
"Freelance alcohol fan. Coffee maven. Musicaholic. Food junkie. Extreme web expert. Communicator."
50 athletes participated in the boat parade under the slogan Zero Carbon… Clean Water.
More than 50 male and female athletes took part in a boat parade on the Dubai Water Canal yesterday, coinciding with the country's 52nd Union Day celebrations and the Conference of the Parties to the United Nations Framework Convention on Climate Change. Transition (COP28). Emirates Modern Sailing and Rowing Federation and Dubai International Marine Sports Club, in collaboration with China-based International Rowing Channel, launched the "Zero Carbon…
Clean Water" aims to reach more than 100 locations around the world, with the aim of raising awareness about environmental protection, sustainability and climate issues.
Attending the official ceremony of the initiative, Sheikh Ahmed bin Hamdan bin Mohammed Al Nahyan, Chairman of the Emirates Modern Sailing and Rowing Federation and two members of the Board of Directors: Muhammad Abdullah Hareb Al Falahi gave the opening signal. , Khalid Al Owais, Managing Director and Chairman of the Technical Committee, Dubai International Marine Sports Club.
French Olympic champion Jean-Christophe Ronald, president of the International Rowing Federation and member of the International Olympic Committee, Dutchman Rudi van der Voon, president of the World Water Tourism Development Organization, presented the distinguished international athletes. and Asian Rowing Federation President Chin Wang Chi, Honorary President of the World Rowing Canal Organization. Vincent Gaillard, Executive Director of International Rowing Federation Manal Bahman, Emirates Nature-WWF Operations Director, Lee Can, Ambassador of International GCRA and World Wildlife Fund, Inland Waterways International and Leaders of the World Organization for Urban Cooperation. History Channel.
The participants of the parade signed their support and encouragement to the awareness initiative of the theme of the parade, "Zero Carbon, Clean Water", and various yachts including Olympic divisions, singles, doubles and quads took part in it. and the famous Dragon Boat, all of which traveled over three kilometers.
• The "march" took place on the Dubai Water Canal and aims to raise awareness of environmental protection.
"Freelance alcohol fan. Coffee maven. Musicaholic. Food junkie. Extreme web expert. Communicator."
Climate change has a negative impact on human health
The Relief, Recovery and Peace Day will focus on accelerating adaptation and addressing loss and damage, including in fragile and conflict-affected environments that face severe barriers to accessing climate finance and catalyzing action.
Health and the extent to which it affects and is affected by various climate extreme events is one of the most important issues to be discussed at the Conference of the Parties (COP28).
Increase in death toll
About 250,000 people could die from 2030 to 2050 due to malnutrition, malaria, diarrhea and heat stress, according to the World Health Organization.
Infectious diseases will also increase their prevalence due to climate change. According to researchers, these diseases such as malaria have increased their prevalence in recent years in many parts of the world affected by climate change.
This phenomenon has led to an unprecedented rise in temperature, and this has a direct impact on human health and increases the stress on those suffering from certain chronic diseases, especially heart and respiratory diseases such as sun stroke in summer. and mental health.
Water and air pollution
Water and air are basic resources for human health, but increasing their pollution can have serious consequences on human health and lead to the spread of food, water and other vector-borne diseases. Fossil fuel emissions are a major contributor to water and air pollution.
Nutritional deficiency
Good food is a very important factor in maintaining human health, but changes in its quality due to climate change, whether agricultural or animal, can have a negative impact on public health.
The risks of climate change affect the health of the most vulnerable and disadvantaged groups, including women, children, the elderly, poor communities and individuals suffering from difficult health conditions, and increasing pressures on the health services sector due to the abundance of diseases.
Despite the risks of climate change to public health, the global response to these challenges remains, according to many, equitable. Immediate action is needed to save millions of lives, especially reducing emissions and accelerating the transition to clean energy.
"Freelance alcohol fan. Coffee maven. Musicaholic. Food junkie. Extreme web expert. Communicator."
The Prince of Monaco reviews the role of charities in combating climate change
Prince Albert II of Monaco and Dr. Abdullah Al Mandouz, Director General of the National Meteorological Center and President of the World Meteorological Organization, emphasized the importance of supporting environmental charities at COP28 during a discussion session yesterday. World Meteorological Organization Pavilion.
The session was hosted by the MERI Foundation and moderated by the Foundation's President, Francesca Cortes Solari. The session brought together a distinguished panel of global leaders and experts, including Dr. Abdullah Al Mandoos and Prince Albert II, Jim Chia. , Bruno Bussi, Chair of the Intergovernmental Panel on Climate Change and Deputy Director of the Department of Ecosystems at the United Nations Environment Programme, Christian Chamber is Director of the Earth Fund.
Cooperation
The session addressed the theme "The Role of Philanthropy in Implementing the United Nations Climate Process" and strongly emphasized the importance of collaboration between the public and private sectors and civil society and the role of this collaboration in achieving the United Nations' ambitious goals. 2030, related to climate change, biodiversity and environmental sustainability.
Dr. Abdullah Al Mandoos stressed the strong ties linking the organization with the private sector and effective participation with civil society. He emphasized on valuable partnerships with organizations like the International Committee of the Red Cross and the United Nations Office for Disaster Risk Reduction. He also provided an overview of key WMO initiatives such as early warning for all.
Sustainable Monitoring Funding Facility (SOFF), and the Climate Change Early Warning Initiative (CREWS), and Dr Al Mandoos called for greater engagement with the philanthropic world, noting that this is an underserved resource. Exploited by the system.
Prince Albert II of Monaco provided insights into Monaco's commitment to environmental sustainability and addressing the challenges of climate change, both regionally and globally.
Investments
During the session, all emphasized the urgent need for major investments to mitigate and adapt to the effects of climate change. They emphasized the importance of the 2019 Geneva Declaration and its open consultative platform as important tools to promote dialogue and cooperation between the private sector and environmental initiatives.
In conclusion, the event activities of COP28 highlighted the essential role of philanthropy in supporting and strengthening the efforts of international organizations such as the World Meteorological Organization. They emphasized the importance of coordinated efforts across sectors to effectively address global environmental challenges, and made an urgent call for increased philanthropic participation to strengthen international action efforts to combat climate change.
"Freelance alcohol fan. Coffee maven. Musicaholic. Food junkie. Extreme web expert. Communicator."