Announcement of the Dubai Artificial Intelligence Alliance
Yesterday, the Dubai Future Foundation announced the "Dubai Artificial Intelligence Alliance", which aims to provide a platform based on partnership and collaboration to accelerate the adoption of emerging technologies, regulate innovation standards, and stimulate positive ideas and influential applications in these critical and critical areas. Department for the Economies and Societies of the Future.
Kalban Juma Belhole, CEO of Dubai Future Foundation, stressed that the alliance will provide an opportunity for all global technology companies, entrepreneurs and companies related to artificial intelligence technology to jointly find innovative solutions. Global collective action needs to be strengthened to fill the current gaps and gaps… regulating and managing artificial intelligence that can be developed, and focusing on and exploiting promising opportunities.
Belhole pointed out during the opening speech of the Dubai Artificial Intelligence Forum on October 11 and 12, chaired by Sheikh Hamdan bin Mohammed bin Rashid Al Maktoum, Crown Prince of Dubai, Chairman and Chairman of the Executive Committee. The Forum represents a global outlet of the Board of Trustees of the Dubai Future Foundation. Anticipate its future and its opportunities to serve humanity, promote collaboration, integration, partnership and communication among its developers and users including governments, organizations, organizations and individuals, to achieve the best results expected from it in various key sectors.
Bellhole said, "The dialogue with global investors, students and decision-makers from the private sector aims to create not just debate but practical plans to create a framework for the governance of this artificial intelligence world."
He added that Dubai is playing a big role in envisioning the future through the Dubai Future Foundation. When Sheikh Mohammed bin Rashid Al Maktoum, Vice President and Prime Minister of the UAE and Ruler of Dubai, guided us to establish this organization, the goal is to understand the future and create plans that will enable us to live a better future. .finding solutions that are most appropriate for humanity as a whole.
Bellhole told Emirates Today that the forum aside, the Dubai Artificial Intelligence Forum is one of the most important global discussions and dialogues the world can address, pointing out that artificial intelligence has become of global importance. The goal of the Forum is to bring together experts, investors and entrepreneurs to find… Participatory global solutions, frameworks and laws, because digital transactions are not limited to one country or one country's population, but the whole world.
In this regard, Dr. from the Institute of Technology Innovation. Ibtisam Al Mazroui, the UAE is competing with the world in the field of artificial intelligence development, and we are particularly focused on large linguistic models and conversational language. It is investigating how to develop an advanced model that facilitates communication between humans and machines and how to develop a linguistic model with it. It is based on generating text and images, so it can be used in media industry, medical industry, financial data as well. Analytics and entertainment sector.
Al Mazroui, the first female citizen to receive a PhD in wireless communications engineering and artificial intelligence for computer science, told Emirates Today: "There are risks that come with technology, namely transparency of information away from bias. We focus on the data entry process, and capacity building and investment in education. "and training and qualification so that the technology can be used properly, and in accordance with best practices, legislative and administrative frameworks, to benefit from the technology, and to minimize potential risks."
Experts who participated in the forum said that artificial intelligence is expected to evolve into more comprehensive and wide-ranging global intelligence systems very quickly, such that flights and complete reports can be recorded within 18 to 20 months, stressing that artificial intelligence will not replace. Humans, and it doesn't eliminate jobs, rather, it replaces it.
Ali Hosseini, CEO of PwC's Digital Transformation, emphasized that the freshness of artificial intelligence data is crucial in modern applications such as the "GBT Chat" application. Artificial intelligence.
He explained that we are now at a point where artificial intelligence can be used in the digital economy to assess the effectiveness of markets, prices and competitive pathways, and to automate individual processes that would otherwise take weeks.
He added: "It is now possible to create attractive offers for funds and investors through artificial intelligence and the ability of machines to communicate with each other using machine learning to get better results."
He explained, "Executing tasks, sending text messages, booking flights, generating reports and directing businesses will have a huge impact in the future, and it will happen within 18-20 months instead of years. We'll see complete models built and independent."
Ali Dalloul, vice president of Microsoft Azure AI, said Dubai is at the forefront of adopting disruptive technologies and is one of the most vibrant cities in the world, and the UAE is considered the most efficient at bringing about quality change.
While stressing the importance of privacy of individuals' data, he opined that artificial intelligence is not a panacea and that winning countries will lead the transition.
He explained that 49% of people believe that artificial intelligence will take over their jobs, and 70% are willing to use artificial intelligence applications to make their work easier, and after learning more about it, it supports like a co-pilot. on their journey, and free them from burdens which burden the employees and prevent them from doing their work.
• Consolidating Dubai's position as a global hub for emerging technologies and the digital economy.
• Experts: "Artificial Intelligence" is replacing jobs, not eliminating them.
Umar al-Ulama: Providing vital platforms to serve humanity
Omar Sultan Al Olama, Minister of State for Artificial Intelligence, Digital Economy and Remote Work Applications, and Deputy Executive Director of the Dubai Future Foundation, confirmed yesterday during a dialogue session at the Dubai Artificial Intelligence Forum that the UAE continues to explore opportunities for artificial intelligence. Expanding the scope of intelligence and its applications. Providing key platforms for developing practical applications to benefit from its best opportunities and use them to serve humanity emphasizes that governments are most capable of pioneering the development of artificial intelligence industry and its applications. the future.
"Freelance alcohol fan. Coffee maven. Musicaholic. Food junkie. Extreme web expert. Communicator."
The conference discusses securing export credit and stimulating positive climate impact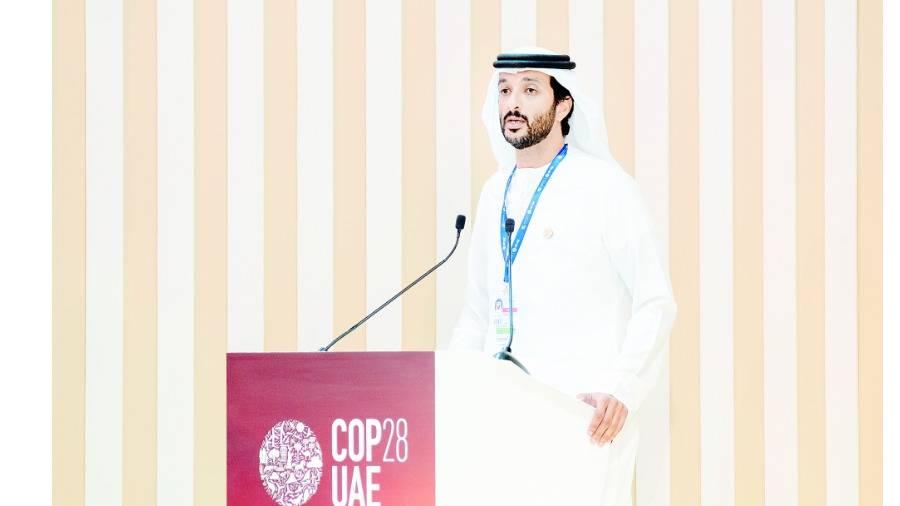 Dubai: "The Gulf"
Etihad Export Credit, a credit protection agency affiliated with the Government of the United Arab Emirates, hosted a conference on "Securing Export Credit and Driving Positive Climate Impact" on the sidelines of the Conference of the Parties to the United Nations Climate Change Conference. Transition (COP28), based on its commitment to promote international dialogue on sustainable trade and export credit insurance.
The event was opened by Abdullah bin Duq Al Marri, Minister of Economy and Chairman of the Board of Directors of Etihad Export Credit Company, where participants discussed the important role of export credit insurance in the transition to a low carbon economy. The importance of these financial solutions in stimulating environmentally responsible practices and driving innovation in climate-friendly sectors, and preparing financial resources to achieve climate neutrality by 2050.
Abdullah bin Duq said: "Today's event at the United Nations Climate Change Conference (COP28) represents an important step in our cooperation towards a greener future, and dedicates our efforts to laying the foundations for a more sustainable and prosperous tomorrow as the UAE. It is committed to leading sustainable economic development, and to extend.. . "Future generations will have the skills and opportunities to thrive in the world, aware of the environment around them and the importance of protecting it."
For his part, Raja Al Mazrouei, CEO of Etihad Credit, said: "The event reaffirmed Etihad Credit's commitment to drive sustainable economic growth and promote the UAE's position in promoting climate awareness initiatives. It can highlight the agencies' essential role in contributing to the global shift towards sustainable export credit practices, And its discussions contributed to identify avenues of future collaboration and innovation in the field.
The event brought together global leaders and experts from the fields of finance, technology, renewable energy and international trade, featuring keynote addresses and panel discussions. The discussions provided a comprehensive overview of the important role export credit insurance can play in supporting the transition to low-carbon economies and promoting green growth in regions such as Africa. In addition, participants highlighted the Green Investment Initiative in Africa, through which the UAE pledged $4.5 billion to stimulate African countries' efforts in the clean energy sector, as Etihad Export Credit contributed to the initiative. $500 million in credit insurance industry.
During the event, Raja Al Mazrouei released a comprehensive report for Etihad Credit, titled "Advancing the UAE's Global Trade with Etihad Credit", which presents the UAE's economic progress and the changing dynamics of global trade over the past three decades. The report confirms that Etihad Export Credit plays a key role in the country's economic diversification, and describes the UAE's strategic transformation based on diversity, flexibility and innovation, its contributions to global trade, strong infrastructure and alignment. Standard procedures.
In addition, Raja Al Mazrouei announced the launch of Etihad Export Credit's Green Credit Insurance product, designed to facilitate financing for exporters contributing to green change, climate change mitigation or adaptation efforts. The product will enable Emirati exporters to actively participate in environmentally friendly initiatives while positively contributing to the UAE's sustainable development agenda.
Earlier, during its participation (COP28), Etihad Credit Company announced that it will join the recently established "United Nations Alliance of Climate Neutral Export Credit Agencies", the world's first alliance committed to climate neutrality involving public financial institutions. … focus on financing efforts to advance climate solutions and transition through Alliance members' commitment to invest in green technologies, representing a key step in global efforts to achieve a net-zero economy by 2050.
"Freelance alcohol fan. Coffee maven. Musicaholic. Food junkie. Extreme web expert. Communicator."
Revolutionizing Beauty and Wellness: Anastasiia Hortman's Journey with Hortman Clinics
In the heart of Dubai, a city synonymous with innovation and luxury, Hortman Clinics stand as a testament to Anastasiia Hortman's visionary approach to healthcare. Founded with the ambition to blend unparalleled luxury with top-tier medical expertise, these clinics have redefined the boundaries of aesthetic healthcare on a global scale.
Anastasiia Hortman: A Visionary in Modern Beauty and Wellness
Anastasiia Hortman, the founder of Hortman Clinics, is a figure synonymous with innovation and excellence in the beauty and wellness industry. With a deep-seated passion for enhancing natural beauty and a commitment to the holistic well-being of her clients, Hortman has created an oasis of luxury and personalized care. Her journey is marked by a relentless pursuit of excellence and a desire to offer an unparalleled experience in the realm of aesthetics and wellness.
Redefining Healthcare with Personalized Care and Luxury
Anastasiia Hortman's Hortman Clinics are not just a healthcare facility; they are a movement, steering the course of aesthetic medicine across continents. By strategically situating in Dubai, Hortman Clinics capitalize on the city's diverse talent pool and global connectivity, thereby influencing international healthcare trends. Their presence in Dubai goes beyond geographical significance; it symbolizes a commitment to global healthcare excellence, attracting elite clientele from every corner of the world.
Hortman Clinics: A Hub of Innovation and Excellence
The strategic choice of Dubai as the base for Hortman Clinics is a reflection of the city's reputation as a hub for innovation and excellence. With a diverse pool of talent and resources, the clinic has positioned itself at the forefront of the beauty and wellness industry. The clinic's state-of-the-art facilities, combined with the expertise of renowned professionals, ensure an experience that is not only luxurious but also transformative.
Personalized Journeys towards Enhanced Well-being
At Hortman Clinics, each patient's journey is unique and deeply personal. The clinic's experts conduct thorough consultations to understand individual goals and concerns, leading to customized treatment plans that are as unique as the clients themselves. This personalized approach extends to all their services, ensuring that each client's experience is tailored to their specific needs and aspirations.
The Hortman Spirit: Comfort, Understanding, and Inspiration
The atmosphere at Hortman Clinics is designed to ensure the utmost comfort and well-being of its guests. Dubbed "The Hortman Spirit," the clinic's ambiance is a harmonious blend of peace, luxury, and inspiration. Every detail, from the inviting clinic ambiance to the unique fragrances, special coffee, healthy drinks, and fresh flowers, is meticulously crafted to make clients feel at home, understood, and inspired.
Expanding Horizons and Setting New Standards
Looking towards the future, Hortman Clinics are poised to expand their influence beyond the UAE, aspiring to set new benchmarks in the industry. Anastasiia Hortman envisions a world where aesthetic healthcare is not merely a service, but an experience that transcends geographical and cultural boundaries. The long-term strategy involves establishing more centers of excellence, each embodying the ethos of luxury, personalization, and medical perfection that Hortman Clinics are renowned for.
"Professional coffee fan. Total beer nerd. Hardcore reader. Alcohol fanatic. Evil twitter buff. Friendly tv scholar."
The Global Industry and Industrialization Summit launches a climate action initiative during COP28
The Global Industry and Industrialization Summit announced the launch of a Climate Action Initiative in partnership with UAE-based venture capital firm VentureSouq to stimulate seed funding for startups specializing in climate technologies.
This took place during a special event organized by the Summit at the UAE Pavilion in the Blue Zone at the COP28 Conference of the Parties in an effort to enrich the dialogue on decarbonising various industries and promoting climate action.
Nimir Hourani, Director General of the Global Summit on Industry and Industrialization, opened the event by announcing two key initiatives, the World Industry Day and the Climate Action Initiative. Industry and Advanced Technology, and His Gert Müller, Director-General of the United Nations Industrial Development Organization." UNIDO.
Al-Hourani stressed the importance of such efforts, adding: "The World Summit on Industry and Industrialization is committed to harnessing their potential to support innovation and accelerate the pace of achieving the United Nations Sustainable Development Goals. World, World Industry Day and the Climate Action Initiative are an ambitious step toward a better future." This decade requires bold and ambitious climate action. As we look to COP28, we must unite with a firm commitment to change ambition. Action, pledge real progress, and Transform innovation into meaningful and scalable solutions, and by doing so, we can "together, imagine a more eco-friendly and sustainable future for all."
The Climate Action Initiative aims to create a system that fosters innovation and leaves a visible, sustainable footprint at scale. The United Nations Industrial Development Organization will play a key role in identifying comprehensive global challenges, while the Global Industry and Industrialization Summit will encourage startups around the world to find innovative solutions to these challenges. In collaboration with incubators and accelerators, the Summit will provide guidance and support to promising innovators, while Venture Souk will assist in the process of developing these solutions and expanding their application.
The Ministry of Industry and Advanced Technology and the Office of Investment and Technology Development of the United Nations Industrial Development Organization will contribute to the commercialization of these solutions and their deployment in areas of greatest need.
For her part, Sonia Weimüller, co-founder of Venture Sooke, said: "We are pleased to announce Venture Sooke's collaboration with the Climate Action Initiative in collaboration with the Global Industry and Industrialization Summit. The power of innovation and its ability to bring about radical change in crisis." "Today emphasizes the role of startups in advancing climate action. By collaborating within these ambitious initiatives, we aim to enable startups to come up with effective solutions that can be used at scale to pave the way towards a sustainable future that addresses the most pressing global challenges."
Organized by the Global Industry and Industrialization Summit, this special event saw inspiring conversations with Dorothy McAuliffe, Special Representative for Global Partnerships of the US Department of State. Highlighted the important role of public-private partnerships in promoting sustainable industrial growth.
"Governments need private sector expertise, technological innovation and resources," said Dorothy McAuliffe. "The private sector also needs the ability of governments to implement policies that promote industrialization and sustainable development and facilitate cooperation that combines private and public financing instruments."
During the special event, a panel discussion titled "Future Energy: Renewable Energy Innovations" was held in the presence of Roger Martella, General Electric, Michael Train, Senior Vice President and Chief Sustainability Officer of Emerson and Lorena. Delgiovanna, Senior Vice President,
and Chief Sustainability Officer and Head of Design and Integration at Hitachi, and Gillian Ivanelko, Chairman, CEO and Director of Chart Industries.
Fatima Al-Sheikh, Adviser to the President of the Arab Bank for Economic Development in Africa, Dr. Sidi Old Da, delivered a keynote address on behalf of His Excellency, opening the second dialogue session on "Improving the Pace of Climate Projects: The Role". The Fifth Industrial Revolution in Transforming Industries." Moderated by President Matti Yetta. Managing Director of Sustainability at CGI, the session explored the capabilities of the Fifth Industrial Revolution. Alessandro Bresciani, Senior Vice President of Climate Technology Solutions at Baker Hughes, and James Dorris, CEO of Audi's Aviation, CEO, ICT Insights were provided by Omar Al Mahmoud, CEO of the Sector Development Fund and Professor Dr. Estelle LA Herlin, Member of the Global Energy Solutions Board of Directors.
Weixi Jung, Head of the Investment Promotion, Technology and Institutional Partnerships Division of the United Nations Industrial Development Organization (UNIDO), presented key points at the end of a stimulating dialogue session that contributed to supporting climate action plans during the COP28 Conference of Parties. .
"Freelance alcohol fan. Coffee maven. Musicaholic. Food junkie. Extreme web expert. Communicator."