Dubai is no exception to the new craze for sports and fitness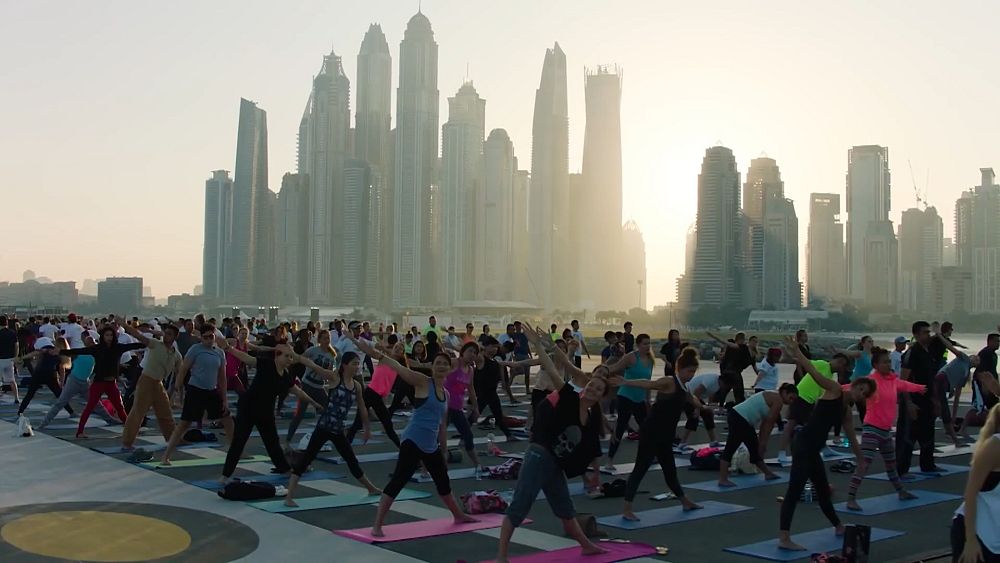 With anatomy, yoga or group gym classes, the gym is the most developed in Dubai. There are more than 400 gyms throughout the city, one of the highest rates in the world, and the offer of outdoor activities is very rich.
"All places are accessible to all kinds of games, in the air, on land, at sea," Says General Secretary Saeed Hareb Dubai Sports CouncilIt adds: "There are many potential activities in the mountains."
"Exercise to Control Sense"
Since the health restrictions were lifted and they reopened, many rooms have indicated a greater need for group sessions.
For example a program called Blitz is a complete high intensity training, the idea of ​​getting maximum results as quickly as possible. "We mix three things: cardio running on the treadmill, strengthening with different dumbbells to lift the bench and finally, the functional aspect," Says Aldrin Dela Vega, director of group sessions at Gymnasium. "So it's designed to achieve any fitness goal," He promises.
At the height of the epidemic, online home training became popular around the world as athletic grounds and gyms closed. A lot of people started exercising to maintain a sense of control. Saliha Afridi, clinical psychologist explains Lighthouse Arabia. "Sport builds self-confidence and helps release endorphins and this is what you are looking for when you start to feel this loss of control depending on the circumstances and how you feel." She believes.
Rise of home training
Due to the epidemic, many companies in the fitness and wellness industry had to change their offer.
"It's been a very busy year: we've been closed for about 75 days." Says Lauren Holland, co-founder and CEO of Gymnasium. "But during this period, we provided free and open access to the new site "Les Mills on Demand" To all our members, but to non-members who want to be healthy, active and active, " he said. "Then, after imprisonment, the demand for fitness increased drastically." He points out.
By 2020, the global home fitness equipment market represents 8. 8.9 billion and has recorded unprecedented growth over the past twelve months.
"Our products are designed for theaters and individuals." In Latfi Hamroni, Director of Marketing and Sales mentions Johnson Health Tech Middle East. "Home training equipment is 10% of our business, but we saw a 95% increase in this segment during epidemics. Home training is a new trend: it started at the height of the epidemic, but it continues, and today we see the emergence of a hybrid practice indoors and at home." He describes.
The most anticipated return to theaters
On the side of the gym's regulations, like those encountered at the gymnasium, many of them felt lost, and they were eager to reopen the doors of its training space. "The first four weeks of training at home were fun, but we quickly got bored." Recognizes a teenager. The room follower adds: "I've always exercised, it's part of my daily routine, it helps to stay strong, in shape and stay young."
"People who are treated go to the rooms and shout: I, the game allows me to get rid of stress," Refers to another coach.
Lauren Holland of the Gymnasium adds: "I think everyone is taking their health and fitness as normal. Now they realize it's time to devise an action plan to take care of themselves. So after re-opening, we registered for three to four months. Our company has never seen sales before," he said. Before adding he greets himself: "We also started a huge investment project and we opened four new theaters in three months.
Initiatives Joint
Launched in 2017 Dubai Fitness Challenge Is an annual event where the entire city is encouraged to get 30 minutes of physical activity a day for 30 days.
"Without sports and without functional training, at the community level, it means we increase the use of drugs." Saeed Hareb, General Secretary of the Dubai Sports Council. "So to reduce it, especially at this time of Govt-19, you need to take action to stay healthy and fit." He promises.
In addition, there are other benefits to the community as a whole. "We know that the sedentary lifestyle has to do with the provider: a behavior that can cause a problem, GDP, productivity and mental health at work, which is under pressure that affects the consumption of drugs and the health system." Psychologist Saliha Afridi insists. "So taking care of its shape does a lot of things for the community as a whole: a city that fits is happier, more productive and healthier." She promises.
So Dubai is organizing many events to encourage as many people as possible to participate in these joint ventures.
"Freelance alcohol fan. Coffee maven. Musicaholic. Food junkie. Extreme web expert. Communicator."
Dive into the Ultimate Relaxation at Rus Elite Spa
Located in the heart of Dubai, Rus Elite Spa stands as a beacon of relaxation and rejuvenation. This premier European spa in Al Barsha,, Dubai, offers an unparalleled experience that combines the best of European and Russian spa traditions.
Expert Therapists from Across Europe
The spa boasts a professional team of therapists from countries like Russia, Ukraine, Belarus, Poland,Turkey , Uzbekistan, Croatia, Slovenia, and Lithuania. Each therapist brings their unique touch, ensuring that every guest receives a personalized spa experience.
Unique and signature Massages and Services
Strawberry Massage: Dive into a fruity relaxation with durations ranging from 60 to 120 minutes.
Thermal Fire/Spirit Healing Massage: A 90-minute transformative experience.
Chocolate/Cream Massage: Indulge in a sweet escape for 60 to 90 minutes.
Honey Massage: A sticky-sweet relaxation lasting from 60 to 90 minutes.
Lomi-Lomi Massage: Experience Hawaiian healing for 60 to 120 minutes.
And many more, including Aromatherapy, Hot Stone, Deep Tissue, Swedish, and the luxurious 4 and 6 Hands Massage. For those seeking a complete body treatment, the spa offers combinations of massages with Moroccan baths.
COMPLIMENTARY SERVICES FOR OUR GUESTS : steam rooms and saunas are included.
WE ARE USING ONLY HIGH QUALITY ORGANIC SPA PRODUCTS SUCH AS OILS, SOAPS AND BODY SCRUBS
Special Deals and Packages
Our Dubai SPA center continually offers special deals like the VIP Treatment, which includes a 30-minute full-body scrub followed by any 60-minute massage. The Royal Body Treatment combines a 60-minute massage with a 60-minute Moroccan bath. There are also options for massage combined with waxing and complimentary access to the steam room and sauna with any massage.
A Glimpse into Rus Elite Spa
Nestled on the R Level of the prestigious 5-star Elite Byblos Hotel, Rus Elite Spa is more than just a spa; it's a complete wellness retreat. With state-of-the-art facilities, it offers amenities like a sauna, steam room, and a rooftop swimming pool. The tranquil atmosphere and exceptional service make it a must-visit destination in Dubai.
What Guests Are Saying
The testimonials speak volumes about the quality of service at https://ruselitespa.com/.  Guests like Khalid Salame and Abdirahman have praised the spa for its friendly staff, ambient rooms, and high-quality massages. Others, like Chathura Jayasinha and Ali Soliman, recommend the spa for its professionalism and the relaxation they found during their visits.
Connect with Rus Elite Spa
For those eager to explore more, check out the full menu of services or find them at the Elite Byblos Hotel, behind the Mall of the Emirates in Al Barsha 1, Dubai. Have free valet parking.
"Professional coffee fan. Total beer nerd. Hardcore reader. Alcohol fanatic. Evil twitter buff. Friendly tv scholar."
Experiences dedicated to spreading environmental awareness among students
The Green Education Center – Legacy from the Land of Zayed, run by the Ministry of Education as part of the COP 28 conference, has received 384 male and female students from 12 schools across the country. Students interacted with the educational and recreational activities provided by the center, designed to increase their environmental awareness through experiences that combine fun and knowledge.
Interactive platforms dedicated to focusing on environmental diversity in the UAE received significant response from students, in addition to a "Sustainability Craft" game inspired by the natural and biological diversity of the UAE and a room designed to provide educational content on climate issues. In cooperation with "SEE" company.
The list of schools that visited the center include: "Virgin International School", "Atbal Al Khair" School, "Arbor" School, "Dwight" School, Halimah Al Sadiya School, Al Tabianiya School, Al Fath School, Abdul Rahman Al Nasser School, Excellence School, and Raffles International School. », School of Principles, and Saeed Education Complex Al Warqa.
By the end of the sixth day of the COP28 conference, the number of visitors to "Legacy from the Land of Said" reached about 4,000 visitors, and the center will continue its work until the end of the Conference of Parties on December 12. .
The center has attracted a large number of visitors since its inception, who flock to its various halls to learn about the concepts of sustainability put forth by participating companies under the center's umbrella. The inauguration of the center was an epitome of partnership between the Ministry of Education and the United Nations Educational, Scientific and Cultural Organization (UNESCO). Last April, the Ministry announced the "Green Education Partnership" program, focusing on four key axes: Green Education, Green Schools, Green Communities and Building green skills. The number of visitors and visitors to the center during the conference is expected to exceed 18,000 participants, confirming the level of global interest in the role of education in sustainability issues.
"Freelance alcohol fan. Coffee maven. Musicaholic. Food junkie. Extreme web expert. Communicator."
President of the Arabian Horse Racing International Federation: The UAE is a pioneer in hosting races at more than 80 tracks around the world.
His Highness General Faisal Al-Rahmani, President of the International Thoroughbred Arabian Horse Racing Federation and Chairman of the State Cup Series for Arabian Horses, confirmed the organization's preparations to host the "remaining races" of the Cup. In support of achieving the goals of the 30th edition, progress is being made in full swing.
He pointed to the remarkable success of the past rounds of the current edition, thanks to the great demand for participation in the competitions in various countries of the world and the great appreciation the international and Arab competitions have received.
Al-Rahmani said the vision of Sheikh Mansour bin Zayed Al Nahyan, Deputy Head of State, Deputy Prime Minister and Head of the Office of the President, had a decisive impact on the organizational and public success of Jewel of the Crown. His Highness's support of the recently held Sheikh Zayed Race at the Abu Dhabi Equestrian Club track, bearing a name dear to all hearts, and worth 5 million dirhams, contributes to raising the standard of purebred Arabian horses. All over the world.
The World Forum for Arabian Horse Racehorses in Abu Dhabi has recently established its position of excellence in providing integrated programs and revising development solutions, with the best experts, researchers, owners and their contributions, said the President of the International Arabian Horse Racing Federation. Breeders in providing visions that support the advancement of Arabian horses around the world.
He added: "The International Federation of Thoroughbred Arabian Horses (IFHAR) greatly appreciates the great efforts of the UAE and the support of Sheikh Mansour bin Zayed Al Nahyan to host Arabian horse races at 80 tracks around the world. Countries that have revised races and increased their numbers by more than 300%." There is also a group of countries that have raised racing prizes and this increases the value and strength of purebred Arabian horse events.
His Excellency Al Rahmani praised the Abu Dhabi Equestrian Club Board of Directors for preparing for the new season and providing all developmental needs, which contributed to the successful running of the past races. A work structure that confirms its strong presence in the new season.
Al Ain Equestrian, Shooting and Golf Club General Supervisor of Racing Al-Rahmani, Deputy Chairman of the Organizing Committee, praised Al Ain Equestrian, Shooting and Golf Club for continuing its outstanding role in organizing good events and providing an attractive environment. To provide an opportunity to male and female citizens to develop their skills, develop their skills and practice sports activities related to Arabian horses. According to best practices.
"Freelance alcohol fan. Coffee maven. Musicaholic. Food junkie. Extreme web expert. Communicator."