James Webb Observatory.. How does a new NASA telescope see what happened in the past?
BBC


Posted: Thursday, 14 July, 2022 – 5:50 AM | Last Updated: Thursday, 14 July, 2022 – 5:53 AM

A "star incubator" and a "cosmic dance" – two amazing images captured by NASA's $10 billion James Webb Telescope.
NASA released these images to the world to demonstrate the telescope's readiness to launch science projects.
The James Webb Space Telescope has been in the testing and testing phase for six months since launch.
Webb is seen as the successor to the famous Hubble telescope. It is expected to represent a leap in research in at least twenty years.
The Webb Telescope is a joint project of the US, European and Canadian space agencies led by NASA.
Webb's telescope is powered to observe the sky in the infrared spectrum – light hidden at distances undetectable to the naked eye.
This will allow the Webb telescope to probe deeper into the universe than the previous Hubble telescope. Then stop at events that occurred in ancient times – about 13.5 billion years ago.
Astronomers are relying on the capabilities of modern-technology Web telescopes to study the atmospheres of planets belonging to the Milky Way in the hope of uncovering traces of life.
This batch of images is the first drop of rain to come, according to British researcher Gillian Wright, "Whenever you look at the sky in a new way, you'll see things you didn't expect."
"This new information is promising, it's high-quality and the telescope found it in just a few hours – that fact simply means there are many more discoveries to be announced," the director of the UK's Wright Space Technology Center told the BBC.
Carina Nebula (Cloud Base)
The Carina Nebula was a classic target for the Hubble telescope — the precursor to the Webb — but with the latest telescope we came to a very different conclusion.
The Carina Cloud is one of the largest and brightest nebulae in the sky. The Carina Nebula is 7,600 light years from Earth.
A nebula, as astronomers know it, is a nursery for stars that appear as huge clouds of gas and dust from which new stars form.
We can't see the stars except for this image observed through a web telescope. Not only that; We even see clouds of gas and dust.
Here, astronomers refer to what are described as cosmic mountain barriers that separate the dust in the lower half and the gas in the upper half.
One of the goals of the Webb telescope is to study how stars form. The Carina Nebula is an ideal place to achieve this goal.
SMEX 0723
SMAX 0723 is a massive galaxy. Astronomers describe them as "attractive lenses" because they collect and amplify light emitted by distant objects.
An arc-like formation can be seen in every direction – and this formation or arc is actually a galaxy far away in both space and time. Yes; Light from some of those arcs takes more than 13 billion years to reach us.
Here's something a little different – some of the arcs scattered on both sides of the image are actually the same objects, but their light is being attracted by the SMAX 0723 lens from more than one direction.
Southern Ring Nebula (Eight Bursts)
The Southern Ring Nebula, or Eight Banks Nebula, is a large envelope of gas and dust from the ancient burning of a now-extinguished star at the center of this nebula.
As stars age, they change the way they produce energy and shed their outer shells. But once the heat returns to the star's core, it supplies energy to all the envelopes it previously ejected.
The Southern Ring Nebula is about half a light-year in diameter. The nebula is located about 2,000 light-years from Earth.
This type of celestial body is called a "planetary nebula", although, in fact, it has nothing to do with planets, but was mistakenly given this name in the early days of telescopes, which did not have the ability to observe their counterparts. Be happy today.
As much as the people behind the Web telescope want to know how stars are born, they also want to know how they die.
Stephen's Five
There, 290 million light-years away, in the northern sky is Stephen's Quintet, where five galaxies are called the Winged Horse.
Stefan's Quintet are the first galaxies ever discovered. Of these five galaxies, four dance repeatedly in narrow closed orbits.
At first glance, this image taken by the Webb telescope may not seem that different from the previous image taken by the Hubble telescope, but the new image's sensitivity to infrared light highlights new features for astronomers.
That's the hope: the James Webb telescope will complement its predecessor, the Hubble; Each has its strengths, and the difference between the images they capture can benefit researchers in their astronomical studies.
It is not known how much longer scientists will use the 32-year-old Hubble telescope. But NASA officials for Hubble had a budget plan of no more than five years. However, we must not lose hope.
It's not just a pretty picture. It is very beautiful. Half of what Web telescopes do is spectroscopic microscopy.
This involves breaking down light into its structural components, its 'colour', to reveal things about the characteristics of the target object – what is it made of? How fast is it moving? And what is its temperature? And so on.
This image shows a spectrum taken by the Webb Atmosphere Telescope of the giant planet "WASP-96b" located about 1,150 light-years from Earth outside our solar system.
Wasp-96b is similar to Jupiter; With its large gas envelope.
The James Webb telescope is capable of distinguishing particles in the atmosphere with amazing precision. The picture clearly shows signs of steam.
Wasp-96b is not considered a habitable planet; It is very close to its host star, so it is very hot.
But the Webb telescope will target planets with Earth-like atmospheres. And then we wonder about the possibility of human habitation on those planets.
"Professional coffee fan. Total beer nerd. Hardcore reader. Alcohol fanatic. Evil twitter buff. Friendly tv scholar."
Simple Ways to Fix Camera Not Working Problem on Mac
Apple Mac computers have a built-in webcam, which you can use to make video calls with friends and family through the FaceTime application, or participate in online meetings with various applications such as Zoom, Microsoft Teams, Google Meet, and other video conferencing applications. On a MacBook computer.
But sometimes, when using a particular application, the Mac computer camera may suddenly stop working and a message will appear saying that the camera is not connected. In this case, you can easily fix the problem by following the methods we describe below:
1- Close and restart the app:
First, you can close the application you are working on and try launching it again. This will help you fix any problems or errors that prevent the MacBook computer camera from working properly.
Using more than one Mac camera app at the same time can also cause this problem. This can be easily fixed by using the Force Quit option to close apps. To access this option, you can click the Apple menu, choose Force Quit from the bottom to display a list of active apps, and close them.
Topics related to what you are reading now:
2- Update the application and operating system:
Another simple solution to this problem is to update the apps and operating system on your MacBook to the latest version. Sometimes, the problem may be with the app and not with the MacBook camera. So check if the app is updated and if it is up to date then try uninstalling and reinstalling the app.
On the other hand, make sure that the macOS operating system on your Mac computer is updated to the latest version. The importance of this is that Apple releases software updates to fix bugs and vulnerabilities that can prevent applications on Mac computers from working properly.
Additionally, you can try launching another app that uses your MacBook camera to make sure the camera is working. If it works, the problem is with the app, not the computer's camera.
3- Grant the app access to the camera:
You may not grant access to the app you want to use the camera. So, to allow this app to access your MacBook camera, follow these steps:
Click the Apple menu and select System Settings.
Choose (Privacy and Security) from the sidebar and click (Camera).
A list will appear with all the applications installed on your MacBook that require access to the camera. From there, turn on the toggle next to the app you want to use the camera for.
After granting the application access to the camera, it must be closed and restarted for it to work properly.
4- Restart your Mac computer:
Restarting your Mac computer is one of the easiest ways to fix many of the most common problems you may encounter while using the computer, and it can also help fix a problem where the camera stops working.
To restart your Mac, click the Apple menu and select Restart from the bottom. After restarting the computer, launch the app you want to use the camera and make sure it works.
5- Check if the camera light appears:
To check that your camera is working properly, launch any app that uses your MacBook's camera: FaceTimeThen make sure the camera light is on.
Otherwise, you can check whether your Mac computer detects the camera or not by following these steps:
Go to (System Settings), then (General).
Click About, then System Report.
Select Camera from the Hardware section in the sidebar on the left side.
If you can see information about the camera model: Model ID and Unique ID on the right, it means that your Mac computer can detect the camera. If you don't see these details, it means your computer is not detecting the camera.
"Professional coffee fan. Total beer nerd. Hardcore reader. Alcohol fanatic. Evil twitter buff. Friendly tv scholar."
Lenovo introduces its ThinkCentre M90a Pro business computer
revealed Lenovo announced the ThinkCentre M90a Pro Gen 4, which sets a new standard for business desktop computers. The company has designed this Windows 11 operating system to meet the needs of modern workplaces and content creators. Equipped with QHD resolution and smart features that enhance connectivity and privacy and are easy to use.
The ThinkCentre M90a Pro Gen 4 device delivers performance when needed, as the company provided advanced components including Intel vPro Enterprise with 13th generation Intel Core i9 processors, NVIDIA GeForce RTX 4050 graphics processing unit and 64 GB DDR5 random access memory.
The device has two M.2 slots for an SSD drive and an optional 2.5-inch hard drive, and is equipped with a Power Optimizer that uses machine learning to categorize tasks and maximize performance.
The ThinkCentre M90a Pro Gen 4 enables lightning-fast file sharing with Thunderbolt 4, which can reach speeds of up to 40Gbps and is capable of transferring videos and large files.
The system supports an additional 8K screen or two 4K screens, and can be equipped with external graphics processing units and storage drives, and it can also act as a screen when connected to other devices. The ThinkCentre M90a Pro Gen 4 has a 27-inch screen with QHD resolution and a brightness rate of 350 nits.
Topics related to what you are reading now:
The business desktop comes with TÜV Rheinland-certified Eyesafe 2.0 and Flicker Free features, and natural low blue light technology is built-in to reduce eye strain and fatigue.
Lenovo also provided the ThinkCentre M90a Pro Gen 4 with a Thunderbolt 4 port, a USB Type-C port, five USB Type-A ports, a DisplayPort port, an HDMI port, an RJ45 Ethernet port, and an optional Thunderbolt 3 port that lets users. Share the screen as Thunderbolt display when connected via USB-C cable.
With this feature, users can share a second M.2 SSD drive with their laptop or PC at high speed data transfer rates.
The new system gains security and privacy using artificial intelligence and next-generation human presence detection with a radar sensor and RGB-IR camera. The all-in-one device allows for touchless entry and exit, which automatically dims the screen. A person behind the user.
The ThinkCentre M90a Pro Gen 4 includes a unique TPM 2.0 security chip for secure encryption, comes with ThinkShield to protect data and assets, and can block USB storage devices with Smart USB Protection.
Users get a set of 5-watt stereo speakers, a 5-megapixel webcam, and optional support for Windows Hello and human presence detection.
"Professional coffee fan. Total beer nerd. Hardcore reader. Alcohol fanatic. Evil twitter buff. Friendly tv scholar."
Airless tires… developed in collaboration with NASA
Bicycle tires may have seen little technological development over the past decades, especially in terms of design, but a recent innovation could change this trajectory and confirm the adage of "reinventing the wheel."
American company Smart Tire, in collaboration with NASA, announced a new model of airless tires that innovatively uses the ability to remember their original shape when exposed to pressure!
What's new?
Unlike many traditional runflat tires, which often come for rider comfort and are criticized for their stiffness, rolling resistance and high effort required when pedaling, inside the new tire is a coiled cord called a "medl". In rubber tire design..
This wire is NiTinol, a combination of nickel and titanium, which is unique in its combination of strength (due to the nickel) and rubber-like elasticity.
The tire's exposure to pressure causes deformation of its shape, but it returns to its original state due to the materials it is made of. This feature allows Metl tires to provide the same compression and rebound dynamics as conventional pneumatic tires.
Other benefits
Coating the Nitinol spring with a polyrubber material creates transparent sidewalls and makes the tire tread (the rubber on the tire in contact with the road) flexible.
It is also worth noting that a metal tire requires half the amount of rubber as a regular tire. Although its tread needs to be replaced after 8,000 to 12,000 km, the basic tire is designed to last the life of the bike.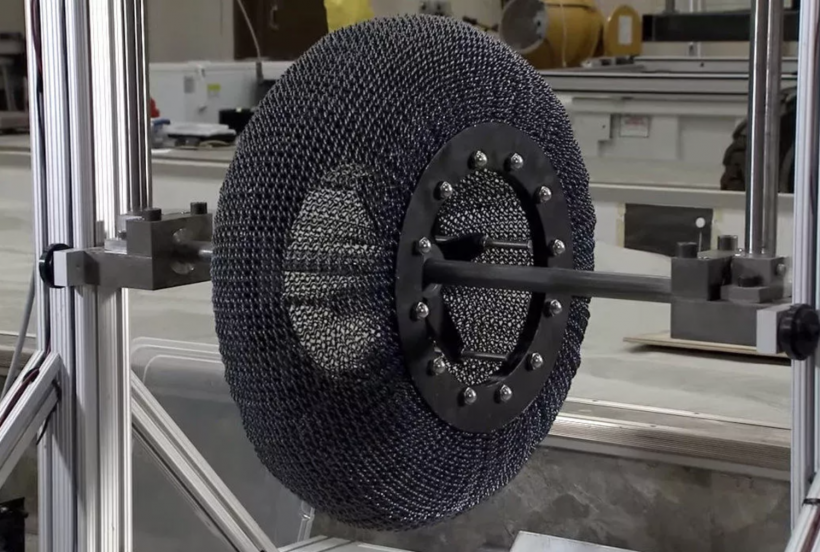 Technology inspired by NASA
This innovative approach is called "SMART" (Shape Memory Alloy Radial Technology) and aims not only to redefine the quality of bicycles, but also to extend it to a wide range of off-road vehicles.
Although this technology was originally designed by NASA to address the challenges faced by extraterrestrial exploration, particularly missions to Mars, it has found a transformative application on Earth.
Experts say these futuristic designs could offer flexibility in tightness by allowing controlled air inflation, making them act like compressed air.
Such advances in tire technology, eliminating flat tires, regular monitoring of air pressure and reduced maintenance requirements, represent a major advance in the world of cycling.
"Professional coffee fan. Total beer nerd. Hardcore reader. Alcohol fanatic. Evil twitter buff. Friendly tv scholar."