Birthday and article… What is Biden saying at 81? | principle
Washington- Celebrating President Joe Biden's 81st birthday today, Monday, November 20, is not good news for a circle of senior White House officials and advisers, as Biden has become the oldest president in US history, while he often shows signs of a deficit. mental health and physical ability to perform tasks.The President who is also the Commander-in-Chief of the US Space Force.
When Biden turned 80 a year ago, at a time when 77% of Americans say so, the White House arranged a wedding for his granddaughter in the back garden of the White House to distract the press and American public opinion from a president who had reached this critical age. He is too old to run for a second term. It starts in January 2025 and continues till January 2029.
An Associated Press poll last August found that 69% of Democrats, 74% of independents and 89% of Republicans disapprove of Biden running in the upcoming elections.
Yesterday, a Wall Street Journal editorial said, "Given President Biden's age, running for re-election is a profoundly self-serving act," adding, "His advisers and his family must put country first before offers of office, and they must tell the truth, which is that the president is a great man." "Old for another term, if he refuses to ask for it, the expected course of action is to resign and stop covering for him."
Birthday and Essay
In honor of the president's birthday, Biden chose to write an opinion piece in Sunday's weekly Washington Post. Words.
The article is titled "Both Putin and Hamas will not back down from facing the challenge", linking the Russian war on Ukraine with the Operation Al-Aqsa flood against the Israeli occupation and the unprecedented aggression against the Gaza Strip. Biden attempted to achieve several goals with his exceptional essay.
In his essay, President Biden placed Russian President Vladimir Putin in the category of, as he called it, "evil and aggressive" by linking Russian President Vladimir Putin with Hamas to push his agenda, which has been blocked by Republicans in Congress.
Biden asked Congress to approve a $106 billion aid package, including $14 billion for Israel and $61 billion for Ukraine, which was rejected by the Republican-majority House of Representatives. The House later approved $14 billion in aid to Israel. , it was rejected. Biden approves full aid package, including allocations for Ukraine.
Biden is trying to portray himself as a strong and tough leader, repeating what he has repeatedly said since the start of the Israeli occupation of Gaza. Biden wrote, "He ordered the deployment of two US aircraft carrier battle groups to the area to increase the deterrence. And to go after Hamas and its sponsors and facilitators of terrorism."
In his article, Biden wrote, "We are imposing multiple rounds of sanctions to weaken the financial structure of the Hamas movement, cut off external funding, and block access to new funding channels, including social media."
Biden noted that the United States will do what is necessary to protect American forces and civilians throughout the Middle East, and that his country's forces have "repeatedly responded to strikes against us."
Biden celebrated his trip to Israel, saying, "I immediately traveled to Israel to show solidarity with the Israeli people and to assure the world that the United States supports Israel, and I am the first president of the United States to do so during a war."
By choosing to write for the Washington Post over the more liberal New York Times or the more conservative Wall Street Journal, Biden reflects his desire to connect with traditional forces in the Democratic Party that support Israel. At a time when Biden is refusing to call for a ceasefire, it is trying to sideline progressive voices within the party who oppose the administration's stance on the Israeli occupation of the Gaza Strip.
Despite the sacrifice of at least 13,000 Palestinians, pressure is mounting from a growing number of traditional Democrats in the White House to completely reverse its stance in favor of the Israeli occupation.
Some Democratic members of the House and Senate are debating placing conditions on future military aid to Israel, a public move to pressure the Biden administration to impose a cease-fire.
Biden's goal may be to improve his image among a broad American electoral sector angered by media and social media showing images of destruction, killing and destruction of schools and hospitals by Israel without US condemnation.
Biden put a human face in his article, writing, "Pictures coming out of Gaza and thousands of civilians, including children, killed and the children of Palestine crying today for their missing relatives, and so saddened by the parents. Write their children's names on their hands or feet… "If the worst happens. They can be identified, and Palestinian nurses and doctors are desperately trying to save every precious life they can, with little or no resources."
Although Biden said that "every innocent Palestinian life lost is a tragedy that tears apart families," he did not point to Israel as a party to the suffering and killings to which Palestinian children are exposed, and he considered the children of Gaza. There were no casualties from the munitions that reached Israel by American planes. The daily approach has not stopped since October 7.
In his essay, Biden tried to tell the world that Washington is the force that carries the banner of good and good values ​​in today's world, and that the Israeli occupation and the associated American green light have led to a major decline in that image. America's reputation, as stated in various reports from US embassies around the world.
Biden pointed out that his country will spare no efforts to shape a better future for future generations and that America is the main country standing against the occupiers to move towards a bright and peaceful future.
This is "a time when clear vision, big ideas and political courage are most needed, a strategy my administration will continue to lead in the Middle East, Europe and the world," he said.
"Creator. Award-winning problem solver. Music evangelist. Incurable introvert."
The Gaza war will last more than a few weeks
Jerusalem / Abdel Raoub Arnaud / Anatolia
Hebrew newspaper Maariv said on Friday that Israeli army chief Herzey Halevy informed US Secretary of State Anthony Blinken on Thursday that the war in Gaza would take more than a few weeks.
Halevy's words came in response to Blinken's question on the matter, the newspaper quoted two Israeli sources familiar with Thursday's meeting with the Israeli military cabinet in West Jerusalem.
He said: "Blinken raised the issue on his own initiative, and how long the Israeli army's operation in Gaza is expected to continue in its current scope, which includes very large ground forces."
According to the newspaper: "Blinken explained that (US President Joe) Biden's administration is concerned that continued Israeli military action in Gaza, especially with the scale and intensity it is currently taking, will significantly increase international pressure. On Israel and America."
He continued: "According to the sources, Blinken asked Israel to take additional measures to ensure that the operation in the southern Gaza Strip does not cause serious harm to civilians."
It reported that Halevy responded that "the IDF's operation in Gaza, including in the southern region, is expected to continue for more than a few weeks."
Maariv pointed out that the Biden administration "has yet to call for a cease-fire in the Gaza Strip, or demand that Israel cease military action."
He added: "But there is deep concern in Washington about the resumption of military action in the Gaza Strip after the (temporary) ceasefire that ended on Friday morning, especially about the (anticipated) Israeli military action in the south of the Gaza Strip, home to two million Palestinians.
He added: "Prime Minister Benjamin Netanyahu, Defense Minister Yoav Gallant and Levy told Blinken that ground operations in southern Gaza would be less harmful to civilians than airstrikes."
On Friday morning, a temporary cease-fire in the Gaza Strip ended on November 24 with Qatari-Egyptian mediation and lasted for 7 days, during which prisoners were exchanged and humanitarian aid brought into the enclave of about 2.3 million people. Palestinians.
During the pre-ceasefire round, the Israeli military repeated its messages, which asked residents of the northern Gaza Strip to move to the southern Gaza Strip, but targeted the displaced in areas and roads it said were "safe". It committed documented massacres, which met with international and international condemnation.
Since last October 7, Israel has been waging a devastating war in the Gaza Strip that has caused massive infrastructural destruction and tens of thousands of civilian casualties, most of them children and women, in addition to an unprecedented humanitarian disaster, according to an official Palestinian official. and UN
The message published on the official page of Anadolu Agency is a summary of a part of the message shown to subscribers via the News Streaming System (HAS). To register with the agency, please contact the following link.

"Creator. Award-winning problem solver. Music evangelist. Incurable introvert."
Martyrs and Injured in Israeli Attacks on Gaza After the End of the Ceasefire | news
12/1/2023–|Last Updated: 12/1/202308:56 AM (Makkah Time)
4 Palestinians were killed and several others injured in attacks by the Israeli occupation army in different areas of Gaza.Clashes erupted on multiple axes in the area minutes after the end of a week-long humanitarian ceasefire. And its extension has not been announced.
Al Jazeera's correspondent in Gaza reported martyrs and wounded as a result of an Israeli attack targeting a house in central Rafah, south of the Gaza Strip.
The 4-day ceasefire that started last Friday was extended twice and ended today at 7 am local time.
The Israeli military said it had resumed operations against the Palestinian Islamist movement (Hamas) in Gaza, accusing the movement of violating ceasefire terms and firing into Israel. Gaza
The Israeli military confirmed that its warplanes were bombing all areas of the Gaza Strip, and military radio quoted a senior political source as saying, "We are back to fighting with full force and no negotiations have been held to release the abductees."
Al Jazeera's correspondent monitored the Israeli offensive in the northwest of the Gaza Strip and artillery attacks targeting various parts of Gaza City. He confirmed that clashes broke out between the opposition and occupation forces in more than one area in Gaza City and the northern Gaza Strip. He said the Israeli strike targeted a site near Nasser Hospital in Khan Yunis, south of the Gaza Strip.
The reporter confirmed that casualties were reported as a result of Israeli strikes and artillery fire in various parts of Gaza.
The government media office in Gaza announced a series of raids targeting the south of the Strip, while Gaza's Interior Ministry confirmed that Israeli aircraft had targeted the town of Abasan east of Khan Yunis and a house in the Abu Iskandar area in the northwest. of Gaza City.
The seven-day ceasefire allowed for the exchange of prisoners from occupied prisons to Palestinian prisoners in Gaza, and facilitated the entry of humanitarian aid into the Strip.
"Creator. Award-winning problem solver. Music evangelist. Incurable introvert."
Prosecutor of the International Criminal Court visits Israel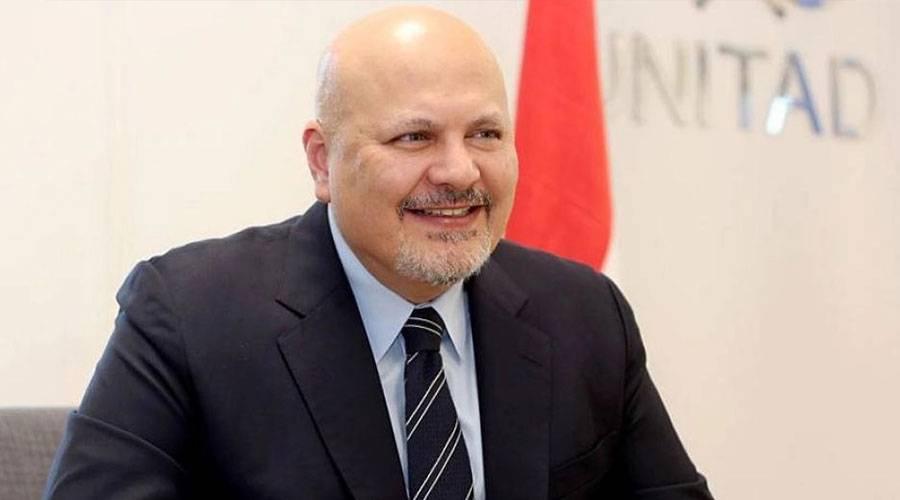 Hack – AFP
The International Criminal Court announced Thursday that public prosecutor Karim Khan traveled to Israel "at the request and invitation" of survivors and families of victims of the October 7 Hamas attack.
The court explained through the "X" site that the visit was "not investigative in nature" but it "represented an important opportunity to express sympathy and initiate dialogue for all the victims."
Khan is scheduled to travel to Ramallah in the West Bank, where he will meet with senior Palestinian officials, the court said.
Since October 7, Israel has launched a military campaign in the Gaza Strip, killing more than 15,000 people, including more than 6,000 children.
The International Criminal Court, established in 2002 to prosecute the world's worst atrocities, began investigating possible war crimes in the Palestinian territories in 2021, including possible crimes committed by Israeli forces, Hamas and other armed Palestinian factions.
Khan announced that his mandate would include crimes committed during the current war. But the tribunal's teams could not enter Gaza and were not allowed to conduct trials in Israel, which is not a member of the tribunal.
The five signatories to the International Criminal Court's founding treaty requested an inquiry into the "situation of the State of Palestine," Khan announced, explaining that he had gathered "a large amount of information." Both sides could face war crimes charges, legal experts said.
"Creator. Award-winning problem solver. Music evangelist. Incurable introvert."